China's president could not hide his delight yesterday, as the BRICS group of emerging countries announced it was bolstering its numbers with the addition of six new members.
Xi Jinping, who had arrived at the 15th BRICS summit in Johannesburg on the back of growing pressure over China's faltering economy, hailed the expansion as "historic," saying it would herald a new dawn of international co-operation.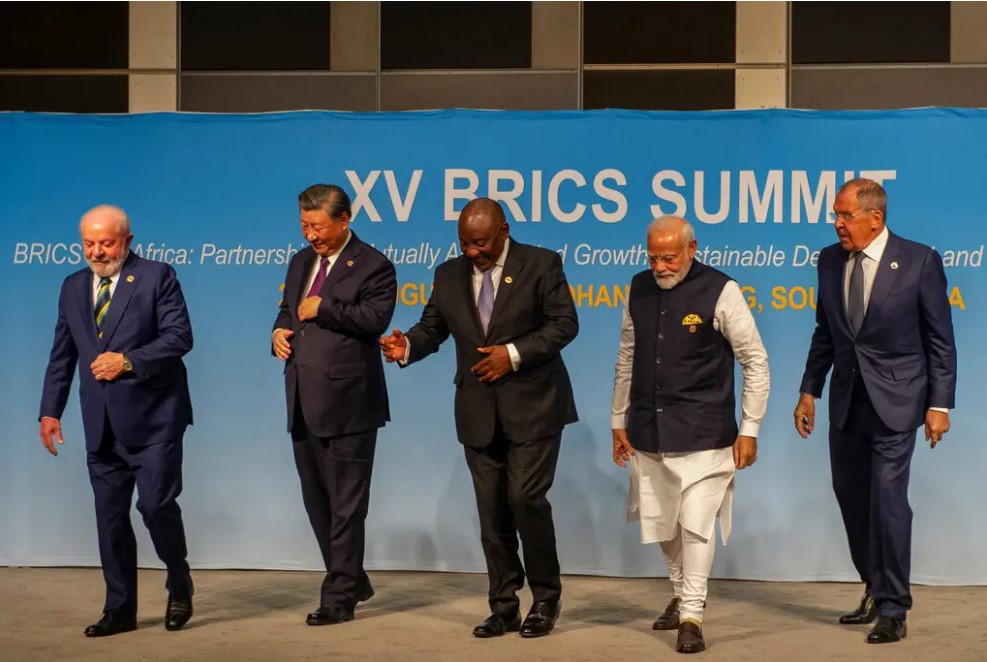 Representing the BRICS nations in Johannesburg were, from left, President Luiz Inácio Lula da Silva of Brazil, President Xi Jinping of China, President Cyril Ramaphosa of South Africa, Prime Minister Narendra Modi of India and Sergey V. Lavrov, the foreign minister of Russia.Credit…Pool photo by Alet Pretorius
The original BRICS grouping of Brazil, Russia, India, China and South Africa – seen as an alternative to US-led forums – will be joined from next year by Iran, Saudi Arabia, Egypt, Argentina, the UAE, and Ethiopia.
Jinping told a press conference: "The expansion is also a new starting point for BRICS cooperation. It will bring new vigour to the BRICS cooperation mechanism and further strengthen the force for world peace and development."
Brazilian president, Luiz Inácio Lula da Silva, said the admission of six new member states, would mean the bloc would represent 46 per cent of the world's population and an almost third of the world's GDP.
According to data from the IMF, the bloc has already overtaken the G7's nation shares of the global economy which will amount for 32.1 per cent of global GDP this year, versus G7's share of 29 per cent when measured on purchasing power parity – where purchasing power of different currencies is equalised.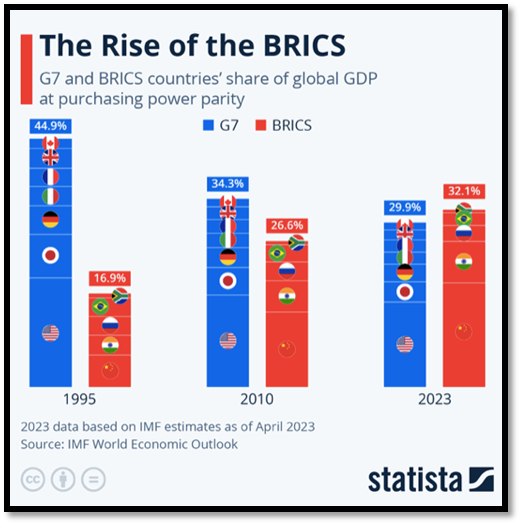 Projections by Goldman Sachs, meanwhile, suggest China will overtake America as the world's largest economy by 2050.
There have been widespread concerns that the expansion of the BRICS group is not a sign of the group's strength, but of Xi Jinping's growing influence on the world stage, and China's agenda to shift the international order away from the West, and towards a more unipolar world.
The agenda is shared by Russia, which finds itself less isolated as a result of the BRICS expansion.
Despite claims of a growing global divide and a polarised new world order, White House national security advisor Jake Sullivan affirmed that he did not see BRICS turning into a geopolitical rival of the United States.
"This is a very diverse collection of countries … with differences of view on critical issues," he said.
International Relations and Cooperation Minister of South Africa, Naledi Pandor, meanwhile maintained: "We are not in some form of competition with G7. We wish to establish our own place in the world and are doing so rapidly."
That said, the summit highlighted divisions with Western nations over Russia's invasion of Ukraine emphasising the backing that Russia receives from its BRICS counterparts during a period of worldwide isolation.
This has been evidenced by South Africa, China, and India along with other smaller non-western countries refusing to condemn Russia's invasion, while Brazil has rejected pleas to send arms to Ukraine or implement sanctions against Moscow in a bid to maintain some form of middle ground and not lose favour with Russia.
China and Russia have been pushing to enlarge BRICS for some time now, and experts say Beijing is keen to create an alternative world group to counter the US on the global stage – particularly amidst trade tensions with the United States looking to diversify its supply chains from China and increasing US-China tensions over Taiwan.
Russia sees the bloc expansion as a way to gain more international allies following its full-scale invasion of Ukraine.
While South Africa has been vocal in its support of the expansion, behind the scenes, democratic nations, Brazil and India, want a more measured approach with their concerns being that the group is leaning towards being too autocratic, and have called for specific requirements for admission to ensure balance amongst member states, so it doesn't become an autocratic G7.
The question is, what will the criteria look like for the new members joining BRICS?
And, with the next summit due to take place next year in Kazan, Russia, what message will it send to the rest of the world and institutions to see President Vladimir Putin standing shoulder to shoulder with the newly admitted autocratic member state leaders joining BRICS?