Trump Ally Johnson Takes the Speaker Reins: A New Era for Congress and Allies, with Ukraine in the Balance
In the heart of the United States House of Representatives, a remarkable political chapter unfolds. Mike Johnson has been sworn in as the Speaker of the House of Representatives, putting an end to the unprecedented 22-day vacancy since Kevin McCarthy was ousted.
The unoccupied Speaker seat posed a barrier to the U.S. in allocating resources to key allies, notably Israel and Ukraine, whose funding remained in a dangerous balance.
Now, with Speaker Johnson at the helm, the nation awaits, wondering what lies ahead for these crucial alliances and internal policies.
The Chaotic Path to Speaker Johnson
This historic turn of events unfolded when eight Republican members, in an alliance with Democrats, voted to remove Kevin McCarthy from his role.
This marked the first-ever ousting of a Speaker of the House in a no-confidence vote.
Amid this political turmoil, the House stood at a standstill, the Speaker's chair remained vacant, with a looming November 17th deadline for a deal to avoid another potential government shutdown.
Steve Scalise and Jim Jordan initially emerged as nominees but faced revolt. Jordan was eventually removed after a secret ballot.
Mike Johnson's win represents a victory for the ideologically right-wing, Trump-aligned group of the Republican Party and a loss for its more moderate wing.
Johnson's victory speech emphasised key priorities, including border security, addressing inflation, and managing the ongoing Middle East conflict.
He expressed his commitment to Israel: "The first bill I'm going to bring to this floor in a little while will be in support of our dear friend Israel and we are overdue in getting that done."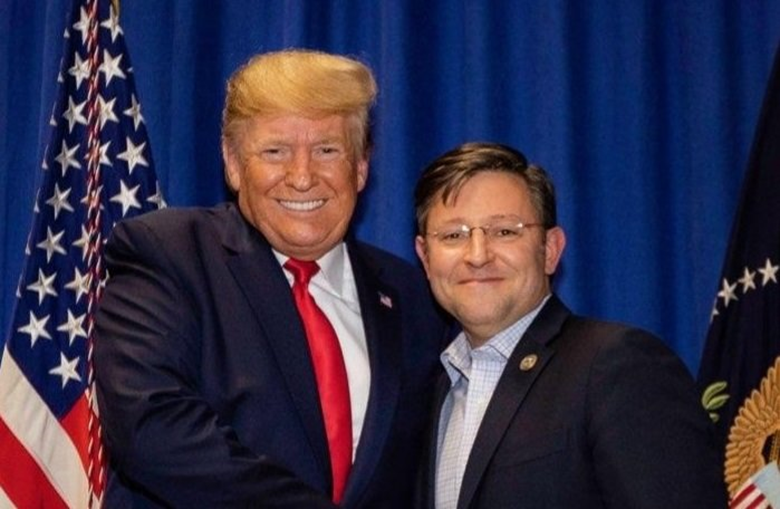 Troubling news for Ukraine?
According to Republicans for Ukraine, a pro-Ukraine initiative affiliated with the conservative nonprofit group Defending Democracy Together, Johnson received a "Very Poor" rating on his support for Ukraine.
He opposed five out of six measures outlined in the report card aimed at aiding Kyiv. Notably, in May 2022, Johnson was among just 57 members who voted against an initial $40 billion in aid for Ukraine.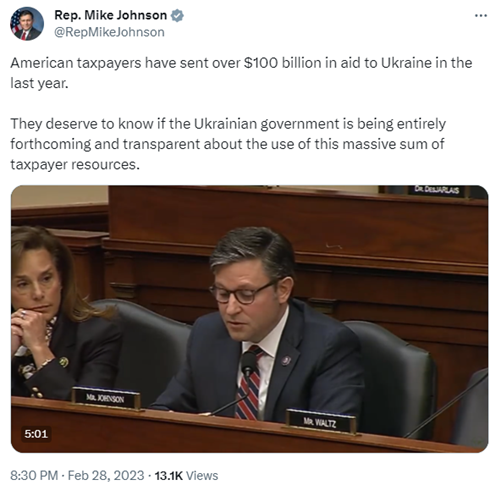 Challenges posed by Johnson's stance on Ukraine aid are yet to fully unfold, the urgency of passing a Ukraine supplemental remains paramount.
Failure to do so could have dire consequences, potentially costing lives, hindering reconstruction, and altering the course of the war.
Speaker Johnson's Challenges and Controversies: He faces several pressing challenges, including the urgent need to pass a spending bill before the November 17th deadline.
Johnson's staunchly conservative stance on various policy issues, including abortion rights, same-sex marriage, and U.S. aid to Ukraine, could hinder efforts to find common ground with Democrats and moderate Republicans.
Concerns have been raised among some representatives in relation to LGBTQI+ rights, saying he has demonstrated history of "attacking LGBTQI+ people across the country."
He is an election denier, offering his political endorsement and legal counsel to former President Donald Trump's efforts to challenge the 2020 elections.
Even so, as the House welcomes a new Speaker, there is a renewed sense of confidence, aligning with President Biden's declaration that "American leadership is what holds the world together," emphasising its pivotal role in global stability and the security of the United States.
Tagged:
united states