Putin Capitalises on Israel-Hamas War
Ukraine's President Zelenskyy has said that Russia stands to gain from the escalating conflict between Israel and Hamas in the Gaza Strip, and the attack on Israel could distract allies from the ongoing devastation continuing to unfold in Ukraine.
"Russia is interested in triggering a war in the Middle East so that a new source of pain and suffering could undermine world unity, increase discord and contradictions, and thus help Russia destroy freedom in Europe," declared Zelenskyy on 9th October.
The question revolves around how much credit to give to the Kremlin for the mounting crises and conflicts taking place in Israel, Kosovo, the Caucasus, and Africa — that are posing challenges for America and Europe.
For many, there is temptation to view Putin as an orchestrator or puppeteer, stirring up more conflicts for the West to deal with.
While Putin may not have orchestrated the Israel-Hamas war or had any advance warning of the Hamas attack on Israel, he is relishing in its chaos, and according to the US, Moscow and Tehran have now developed a comprehensive defence partnership.
Israel's ambassador to Moscow, Alexander Ben Zvi, told the Kommersant newspaper this week, "We do not believe that Russia was involved in any way,", saying that it is "complete nonsense" to suggest there is any Russian connection to the atrocities committed by Hamas in Israel.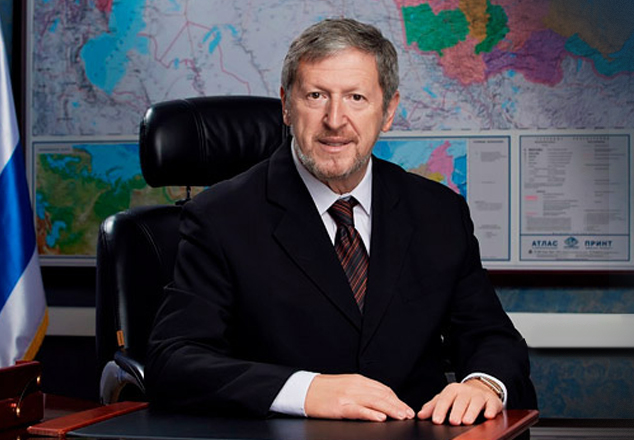 Alexander Ben Zvi (Source: Embassy of Israel in Moscow)
"I haven't seen any evidence of direct Russian weapons supplied to Hamas, or of the Russian military training Hamas operatives," said Hanna Notte, a Berlin-based expert on Russia and the Middle East at the James Martin Center for Nonproliferation Studies.
"It's true that Russia has a long relationship with Hamas. Russia never declared Hamas a terrorist organisation. Hamas delegations were in Moscow last year and this year.
"But I would not infer from that, that there has been extensive military support. Even though we know that Russian-made systems made their way into the Gaza strip, probably via the Sinai [in Egypt] and with Iranian assistance."
Distraction from Ukraine
Amidst the escalation of violence in the Middle East, Moscow is relying on attention-grabbing headlines from Israel to shift the focus away from Russia's war in Ukraine.
However, Russia's agenda goes beyond this in that Russian authorities are hoping the developments in the Middle East will prompt a redirection of certain Western arms supplies from Ukraine to Israel.
"I believe this crisis will directly influence the course of the special military operation [in Ukraine]," Russian diplomat Konstantin Gavrilov told the pro-Kremlin Izvestia newspaper.
"Ukraine's sponsors will be distracted by the conflict in Israel. That doesn't mean that the West will abandon Ukrainians. But the amount of military aid will go down…and the course of the operation may turn sharply in [Russia's] favour."
US Defence Secretary Lloyd Austin said at a NATO meeting that, "We can and will stand by Israel, even as we stand by Ukraine."
US defence secretary Lloyd Austin (© Getty Images)
That said, a long drawn-out conflict in the Middle East will challenge America's ability in being able to provide military and humanitarian aid to support both allies in two separate wars.
Putin has even gone as far as making claims that Russia is 'ready' to play the role of mediator in the Israel-Hamas war and potential peacemaker, with President Putin's spokesman Dmitry Peskov asserting "Russia can and will play a role in the resolution [of the conflict].
"We're maintaining contact with [both] sides in the conflict."
Putin's offer to mediate the Israel-Hamas war comes just days after Iraq's prime minister, Mohammed Al-Sudani, directly appealed for his help in ending Israeli strikes on the densely populated Gaza Strip in retaliation to Hamas' onslaught of attacks.
Putin seized on the opportunity to blame America as he has done many times before, and portrayed the conflict as a "failure" of U.S. foreign policy in the Middle East, expressing uncertainty about the fighting subsiding "any time soon."
Nevertheless, the Kremlin has stated its engagement with both Israel and Palestine as it works towards halting hostilities, which have tragically cost more than 2,800 lives on both sides thus far.
Israel issued an evacuation order for hundreds of thousands from Gaza City on Friday in anticipation of a potential ground assault, a move cautioned against by international aid groups due to the anticipated increase in civilian casualties.
Putin emphasised that a ground assault on Gaza would result in "grave consequences" and "unacceptable civilian losses."
Tagged:
russia
ukraine