From Pyongyang to the Frontlines: The Secret Routes of North Korean Munitions
In a startling revelation that spans land and sea, it appears that Russia may have kickstarted a clandestine munitions supply route with North Korea.
As the conflict in Ukraine grinds on, Russia, facing a munitions shortfall, has scoured the world for supplies. Iran heeded Moscow's request at first, but North Korean arms have remained relatively absent from the equation—until now.
Illicit supply lines, uncovered by research from the Royal United Services Institute (RUSI) and the Centre for Strategic and International Studies (CSIS), are a game-changer, with potentially profound consequences not only for the war in Ukraine but also for global security and diplomacy. RUSI's report reveals the "Orient Express", which commences with an unusual connection between Pyongyang and Moscow, which were observed just weeks after the visit of Russia's Defence Minister Sergei Shoigu to the North Korean capital in July.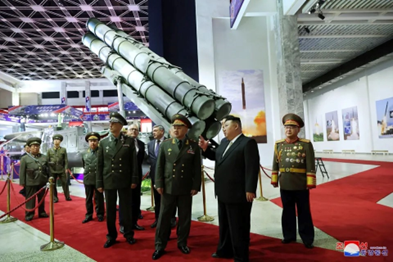 Recent satellite imagery, meticulously examined by RUSI, reveals an intricate web of clandestine deliveries, covert facilities, and sanctioned vessels. The spotlight shines on the once-obscure Russian port of Dunai, transformed into a crucial link in the supply chain.
RUSI outlined how the containers, likely filled with North Korean weapons, flow from North Korea's Rajin port, making their way to Dunai, before ultimately heading towards Tikhoretsk, near the Ukrainian border.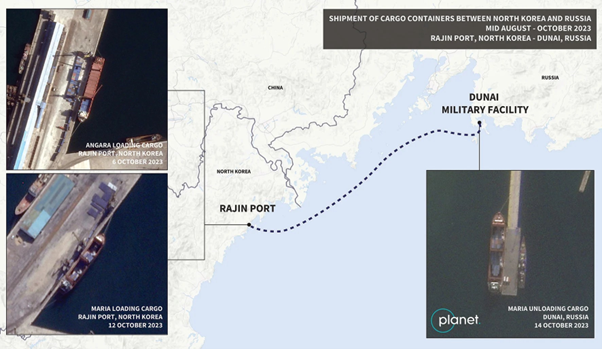 This covert supply line poses a new challenge for Ukraine, potentially demanding increased support from its allies in response to the escalating threat posed by the surge in North Korean munitions flowing into Russia.
The impact also stretches beyond the battleground in Ukraine, as the financial gains from this munitions trade will prop up North Korea's regime, as it seeks access to sophisticated Russian weapons technologies for its nuclear and ballistic missile ambitions, despite strict UN sanctions.
CSIS additionally observed a surge in rail traffic between the two countries, with a focus on Tumangang Rail Facility, bordering Russia.
CSIS reported that while it indicates the supply of arms and munitions to Russia, the use of tarps obscures the exact nature of the cargo.
Notably, the US government emphasised the information that North Korea has indeed supplied arms to Russia. On Friday, October 13th, White House spokesman John Kirby made the announcement, "Our information indicates that in recent weeks, North Korea has provided Russia with more than 1,000 containers of military equipment and munitions.
"Due in part to our sanctions and export controls, Russia has been forced to desperately search around the world for military equipment," he explained.
"We condemn the D.P.R.K. for providing Russia with this military equipment, which will be used to attack Ukrainian cities, kill Ukrainian civilians, and further Russia's illegitimate war," Kirby added.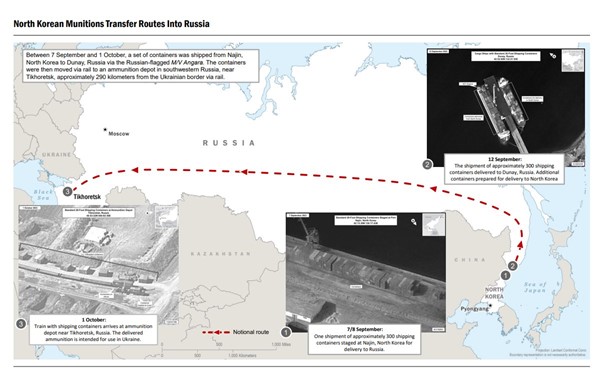 These reported developments emphasise the gravity of the situation. Military transfers between North Korea and Russia would violate multiple UN Security Council resolutions, subjecting the nations to additional sanctions from the US and its allies.
In a press briefing last month, Matthew Miller, spokesperson for the US Department of State said "It is troubling when you see the Russians talking about cooperating with North Korea on programs that would violate UN Security Council resolutions that Russia itself voted for."
The strengthened partnership between North Korea and Russia will also trigger alarm bells for the likes of Japan and South Korea, who are already grappling with North Korea's provocations.
In a global context, these clandestine operations emphasise North Korea's role as a persistent menace to international security, with its actions fuelling a European conflict that has claimed lives and consumed significant resources. As intrigue deepens, the imminent visit of Russia's Foreign Minister Sergey Lavrov to North Korea on Wednesday and Thursday adds another layer of uncertainty, raising further questions about the motives and potential outcomes of this diplomatic journey.
Tagged:
north korea
russia
ukraine