Pro-Russia Victory in Slovakia's Election Upends Regional Dynamics and Threatens Ukraine Support
Amidst a backdrop of lingering allegations of corruption, Robert Fico has defied expectations by emerging victorious in Slovakia's recent election. Known for his pro-Russian stance and contentious campaign promises, Fico's mandate could have far-reaching consequences for the region.
What's at stake: Slovakia's membership in both NATO and the EU has, until now, contributed to Western efforts in the Ukraine conflict. This electoral outcome and Fico's aversion to providing military support has the potential to disrupt these established alliances.
Throughout the war, Slovakia has been a strong supporter of Kyiv, exemplified by its donations of an air defence system and the provision of MiG-29 fighter jets, among other military supplies, as the former Slovakian president emphasised that the country aimed to align itself "on the right side of history."
If Slovakia were to withdraw this support, it could weaken Ukraine's defence capabilities and hinder international efforts to counter Russian aggression. Furthermore, Ukraine's EU membership talks require the unanimous backing of all 27 members, making each member's stance crucial.
More on Fico:
Three-time former Slovak Prime Minister, Fico resigned in 2018 amid mass protests linked to a journalist's murder and corruption scandals.
Known for his close ties to Russian President Putin and admiration for Hungarian Prime Minister Viktor Orban, Fico has consistently held pro-Russian views.
Fico has asserted that Ukraine initiated the conflict with Russia through its actions against ethnic Russians and has pledged not to provide military or financial support to Ukraine.
Fico's election win may signal a broader shift towards conservatism in the region, impacting not only Slovakia but also neighbouring countries.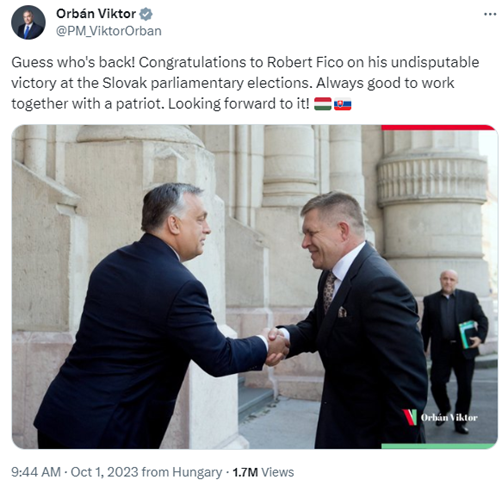 Hungarian PM congratulates Fico on X.
Ukraine's response:
Foreign Minister Dmytro Kuleba, said that Ukraine "respect the choice of the Slovak people," but it is "too early to say" how this will have an impact, as Fico still needs to form a coalition.
What's next:
With Fico's electoral victory and his firm stance on Ukraine, Slovakia must now focus on forming a coalition government and navigating its role in international relations.
Fico's potential coalition partners in Slovakia include a mix of political orientations.
While the Progressive Slovakia party is a liberal, pro-West newcomer, and the left-wing Hlas (Voice) party led by Fico's former deputy, Peter Pellegrini, suggests diverse views, the presence of the ultranationalist Slovak National Party, a pro-Russian group, could potentially influence the country's stance on Ukraine.
The outcome remains uncertain, but the composition of the coalition will play a crucial role in determining Slovakia's approach to supporting Ukraine.
These election results will be closely monitored by international observers and policymakers, particularly concerning Eastern Europe, NATO, and the EU, as Fico has two weeks to form a government.