Qatar Funding Hamas Terror Group
Oil rich Qatar widely condemned for sponsoring extremist groups with the intent of destabilising the Middle East, has been identified as having strong ties to Hamas and being one of its key financial backers, having allegedly donated over $1.8 billion so far.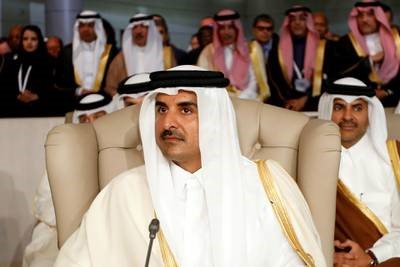 Emir Sheikh Hamad bin Khalifa Al Thani (Source: X)
Unlike its Gulf neighbours, the UAE and Bahrain, Qatar has not normalised ties with Israel, despite keeping channels of communication open.
Qatar's capital Doha has become a lavish home to many of Hamas' senior officials, and this week Hamas terrorists have continued to use Qatar as a base to work from and incite its followers to fight Israel while the people of Gaza live under continued rocket fire fighting for their lives.
Ismail Haniyeh in particular, Hamas' Chairman and the public face behind the terrorist attack on Israel, relocated from the Gaza strip to Qatar in 2016, where he is alleged to have watched the assault orchestrated by Mohammed Deif play out from his office.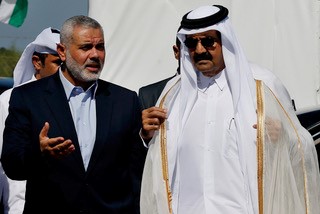 Emir Sheikh Hamad bin Khalifa Al Thani with Ismail Haniyeh (Source: X)
Also in Qatar's capital is Khaled Mashal, head of Hamas' political bureau, who preceded Haniyeh as the terrorist organisation's leader and now serves as his second-in-command, alongsideKhalil al-Hayyah, who served as the deputy of Hamas' leader in Gaza.
Hamas' relationship with Qatar dates back to when Israel blockaded Gaza after the 2006 elections. During that time, many countries refrained from providing aid to the Palestinians. However, Qatar, Turkey, Malaysia, and a handful of Arab and Islamic organisations, stepped in to provide assistance.
This relationship was further bolstered during the Doha summit, which coincided with the first Israeli war on Gaza in 2008 and 2009.
The summit saw Hamas leader Khaled Meshaal, seated alongside Arab and regional heads of states including Qatari Emir Sheikh Hamad bin Khalifa Al Thani, Syrian President Bashar al-Assad, Iranian President Mahmoud Ahmadinejad, and Turkish Prime Minister Recep Tayyip Erdogan.
It was at this summit that Qatar pledged its support for Gaza in the form of a donation of $250 million marking the beginning of Qatar's continued political, humanitarian, and charitable support to Hamas.
When Hamas seized control of Gaza in 2007, it could have opted to do so via peaceful means; however, it instead turned to creating a complex network of terror tunnels, focusing more on the procurement and development of rockets than the needs and wellbeing of the Gazan residents.
Since 2018, Qatar has been delivering funds in cash to Gaza amounting to $30 million per month, and in 2021, Qatar committed to providing $500 million in support of the reconstruction of Gaza.
Didier Billion, deputy director of the French Institute for International and Strategic Affairs, said Qatar's financial support of $30 million per month is "proven and public. These payments are [purported] to pay civil servants in Gaza, and we know perfectly well that these are members of Hamas. Doha's money is therefore the equivalent of direct support for this organisation which has held the Palestinian enclave with an iron fist for many years."
While the majority of these donations were allegedly intended to fund Hamas government salaries and assisting impoverished Gazans, it is claimed that a significant portion was diverted to fund Hamas' terrorist operations.
Qatar hasn't only contributed capital. In May 2021, following an Israel-Hamas conflict, an arrangement was made for Qatar to ship fuel valued between $7-10 million per month to Gaza via Egypt, enabling Hamas to allocate funds through resale proceeds.
Like Iran, Qatar's foreign ministry blamed Israel for Hamas' attack saying, "the Ministry of Foreign Affairs holds Israel solely responsible for the ongoing escalation due to its ongoing violations of the rights of the Palestinian people, the latest of which was the repeated incursions into Al-Aqsa Mosque under the protection of the Israeli police."
Concerningly, Qatar's support for Hamas doesn't stop at funnelling hundreds of millions into the terrorist organisation, but now extends to brokering the release of Israeli hostages in exchange for a possible prisoner swap.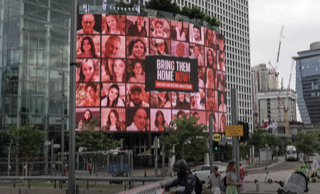 A building in Tel Aviv displaying images of missing people captured in the aftermath of Hamas' terrorist attack on Israel. (Source: NIR ALON/ZUMA PRESS)
There have thus far been no signs of headway or breakthrough from either side.
Secretary of State Antony Blinken, who met Qatar's Emir Sheikh Tamim bin Hamad Al Thani on Friday in Doha, affirmed that while the United States and Doha are earnestly working together to broker the release of hostages, including American citizens, he cautioned that there can be no more dealings with Hamas. Blinken told Qatar reporters "Murdering babies, burning families to death, taking little children as hostages. These are unconscionable acts of brutality."