A Qatar bribery scandal aimed at buying influence over the European Parliament's economic and political decisions, has backfired spectacularly on the FIFA World Cup hosts, as well as casting a long shadow over the tournament.
EU Vice President Eva Kaili, a Greek MEP, and her Italian husband Francesco Giorgi, were among six people taken into custody last Friday following a four month long probe by police in Belgium.
Both have since been charged with corruption and money laundering, along with another Italian, former European Parliament MEP Pier Antonio Panzeri. Giorgi worked as an aide to Panzeri during the latter's time in office, and set up an NGO, Fight Impunity, with him. Italian police have also detained Panzeri's wife Maria Colleoni, and their daughter Silvia. Both are reportedly being extradited to Belgium.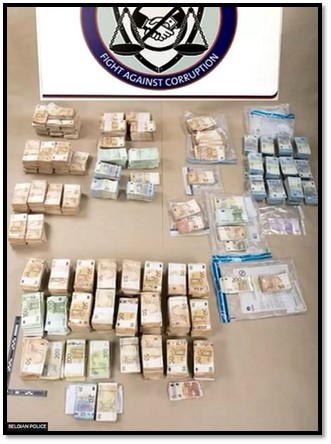 Belgian police have meanwhile released photographs of a huge haul of cash in piles of €200, €50, €20 and €10 denominations. Cash worth around €600,000 was recovered from the home of one suspect, €150,000 at the flat of an MEP, and "several hundred thousand € Euros) in a suitcase at a Brussels hotel room.
If convicted the suspects face up to 15 years in prison. Qatar has denied any involvement, but the EU has already begun the process of ensuring its lawmakers are not seen to be favouring the country in any way. The European Parliament has, for example, suspended a vote on introducing legislation which would have allowed Qataris and Kuwaitis to travel without a visa to the EU for 90 days, conditional on their having a biometric passport. It is thought the waiver – which would have likely been introduced despite concerns from many about human rights abuses in Qatar – was the main aim of the corruption campaign.
The European Parliament has also suspended its work with Qatar, as angry MEPs calls for a US-style Foreign Agents Registration Act to prompt greater openness when it comes to funding NGOs which operate in and around the EU.
Sven Simon, of the center-right European People's Party, was one of many who called for a shake-up to the EU's ethics laws. "For too long we have turned a blind eye to the lobbying efforts of supposedly non-governmental actors," he said.
The Green and Renew Europe groups have also both called for an inquiry committee to be set up alongside an independent ethics body with a mandate to investigate EU institutions.
"It is now our duty to put in place the strongest possible measures to ensure that such corruption can never happen again," said Terry Reintke, Greens/EFA Group president.
Despite early hopes that the scandal would only throw up a few bad actors, it now seems more likely it will mushroom to include many more.
Yesterday ten offices in the EU stronghold at the Strasbourg Parliament were sealed off, as investigators poured over the files inside. These included the office of Mychelle Rieu, a political advisor to the Parliament's subcommittee on human rights. Observers believe this to be significant, as it suggests the investigation is moving in from specific individuals to fully-fledged committees. The sub-committee was previously headed by Panzeri, who also wrote a fawning piece in Qatar for the Fighting Impunity website back in February.
There are reports that European Commission Vice-President Margaritis Schinas is also under investigation over Qatargate, but he came out fighting yesterday, against suggestions that pre World Cup talks between European Parliament representatives and Qatar over worker's rights, and also the visa changes, may have been compromised.
"Let me be very clear and very simple because I think this is the moment to be clear and simple," Schinas told reporters in Strasbourg. "Across the year, all my public statements on Qatar are fully, 100 percent compatible with the position of the Commission."
Kaili turned up to vote in favour of a proposal to grant Qatar visa-free access earlier this month, even though she was not a member of the so-called LIBE Committee taking the vote. Belgian MEP Marc Tabella, whose home was also raided by police, also sat in on the vote, even though he too wasn't a committee member.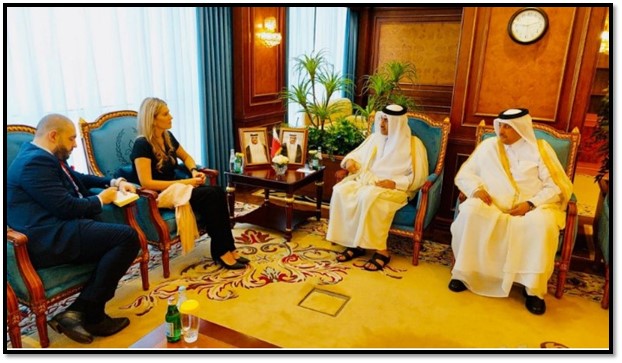 Kaili, 44, has been suspended from her duties, and stripped of EU Vice President Status. She is a former TV presenter and had been ear-marked for a bright political future before she became engulfed in the scandal.
Days before the tournament began, Kaili was photographed meeting Qatar's Labour Minister Ali bin Samikh Al Marri, and spoke positively about the country's progress in labour reforms.
In a further development, it was revealed that MEPs are to review whether Qatar unduly influenced a key air transport agreement giving Qatar Airways unlimited access to the EU market.
The EU-Qatar aviation negotiations were criticized at the time by European airlines, which feared unfair competition from Qatar Airways' flight connections to destinations throughout Asia, as well as by Qatar Airways' direct Gulf competitors, whose connections to Europe remain capped.