CHINA has launched a bizarre Twitter attack on the UK, accusing it of "having no respect for justice & [the] rule of law."
In a series of late-night tweets, the Chinese embassy in the UK – which had earlier pulled six officials out of the UK to avoid them being quizzed by police over a violent assault – ludicrously claimed their staff were "actually victims."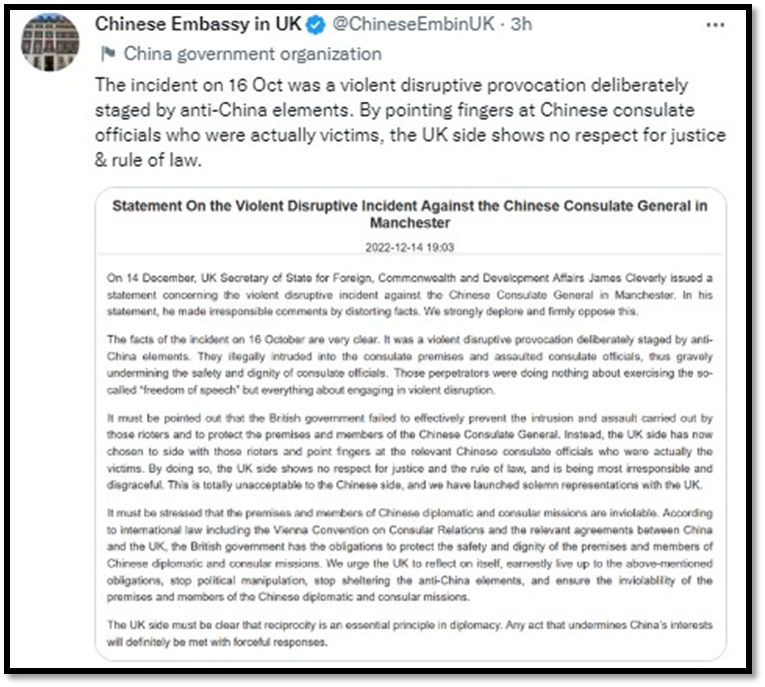 The officials had been given a deadline of Tuesday this week to submit themselves for questioning over an attack at the Chinese consulate in Manchester which left a pro-democracy campaigner needing hospital treatment.
Bob Chan, originally from Hong Kong, was left battered and bruised when five men dragged him into the consulate and kicked and punched him.
Quite how one man lying on the floor desperately trying to shield himself from a series of savage blows could be considered victimising his attackers, remains unclear.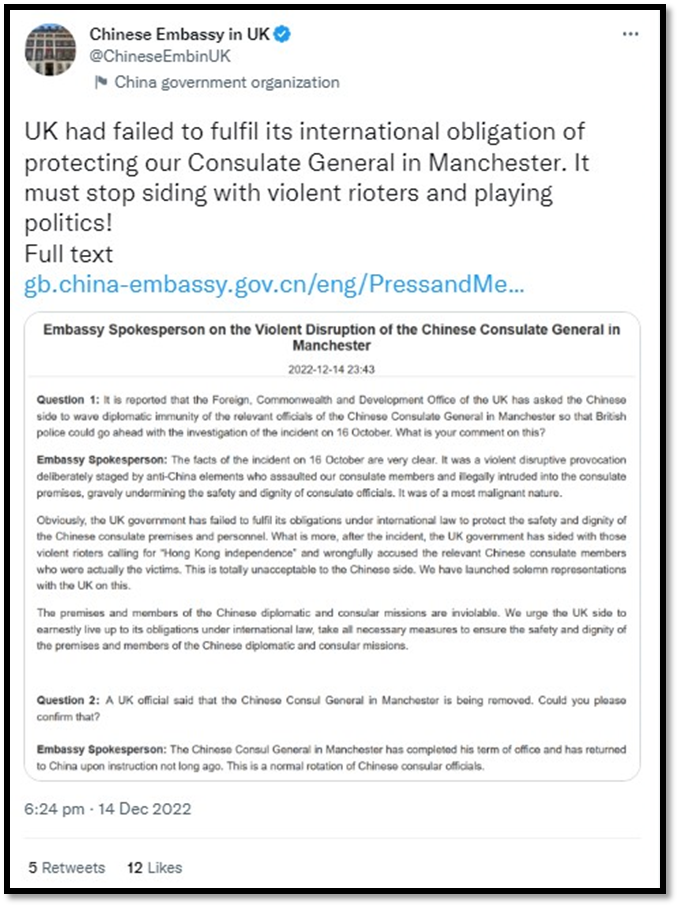 The embassy said the UK had failed to "fulfil its international obligation of protecting our consulate." A follow-up tweet included a statement in which the Chinese claimed their officials had been attacked, and that the UK "shows no respect for justice and rule of law."
The tweets will increase calls for the six to be declared as persona non grata and stripped of their diplomatic immunity.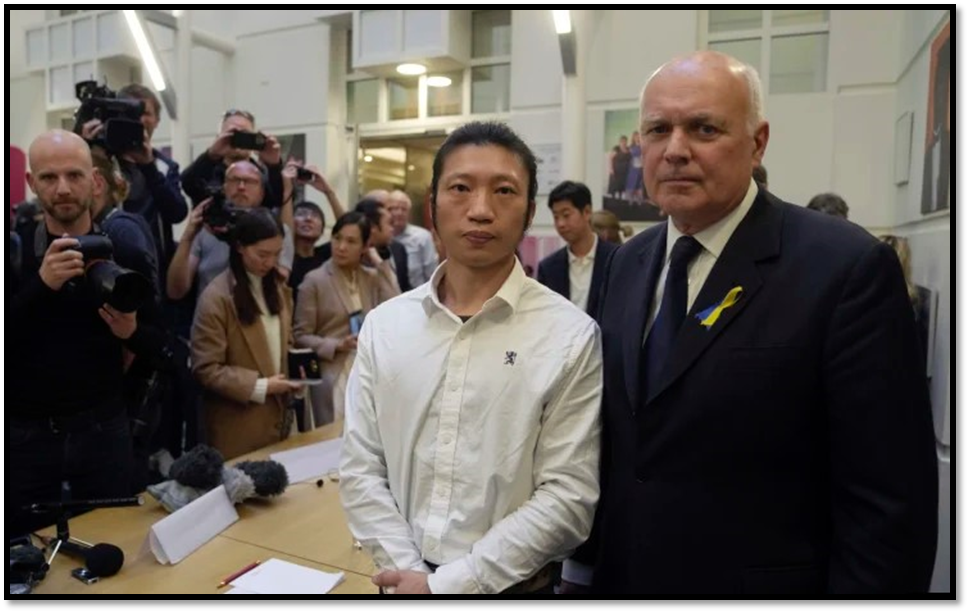 Photographs appeared to show consul-general Zheng Xiyuan joining in the attack. He and five other officials have either already left for China or are in the process of departing, according to Foreign Secretary James Cleverly.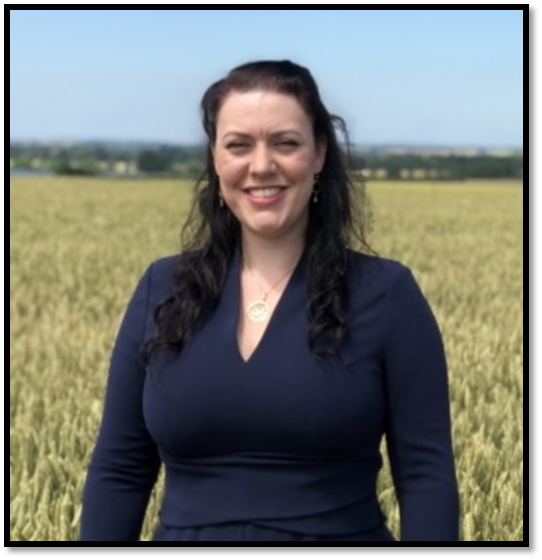 Yesterday, Alicia Kearns MP, chair of the Foreign Affairs Committee, accused the six as of being cowards and called on and called on the UK government to issue a lifetime ban against them.
"The people of Britain rightly expect those who commit crimes on our shores to face the consequences. That is what it means to live in a country with the rule of law.
"China's diplomats who attacked protestors have fled the UK like cowards, making clear their guilt and denying justice to those protesters grievously assaulted. The Foreign Office must now declare those who have fled persona non grata and make clear they are never again welcome in the UK."
Classifying someone as persona non grata means taking away their diplomatic immunity and arresting and prosecuting them like any other criminal suspect.
Sir Iain Duncan Smith, founder of the Inter Parliamentary Alliance on China (IPAC), said the diplomats should have been expelled, rather than leaving on their own terms.
He said: "The flagrant assault on a peaceful democracy campaigner in Manchester needs more than allowing those responsible to leave the UK uncharged and with their heads held high. Letting China take them back isn't justice. We should have kicked them out weeks ago."
Cleverly said: "This demonstrates that our adherence to the rule of law, the seriousness with which we take these incidents, has had an effect and we will continue on the world stage and domestically to abide by the rule of law and we expect others to do likewise."
He added: "We all saw the disturbing footage of the incident outside the Chinese consulate in Manchester.
"In response to that we initiated a process based on our adherence to the rule of law.
"Greater Manchester Police initiated an investigation, as part of that investigation requested that six Chinese officials waived diplomatic immunity so they could be questioned.
"We informed the Chinese Embassy of that and we set a deadline which expired today, making it clear that we expected them to take action.
"In response to our request, the Chinese government have now removed from the UK those officials, including the consul general himself."
Earlier, China somewhat implausibly claimed Xiyuan had left the UK simply because his term in office had come to an end.
A spokesperson said: "The Chinese consul general in Manchester has completed his term of office and has returned to China upon instruction not long ago. This is a normal rotation of Chinese consular officials."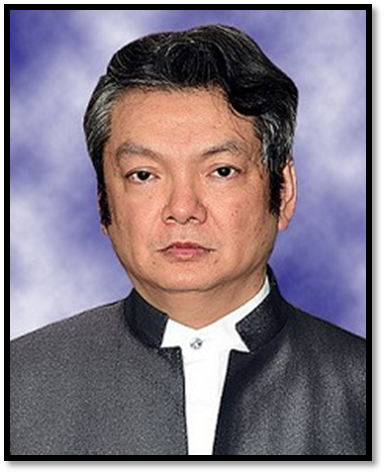 Clearly Xiyuan was in a hurry to leave however, since the consulate's official website still has him working there.
Speaking at a press conference, Chan, who has fully recovered from his injuries, said the removal of the six had given him a "sense of closure."
He added: "It has been two months since I was attacked in Manchester by staff members of the Chinese consulate.
"Today, I hear that some members from that consulate have been sent back to China. While it may have taken two months for this to happen, I believe this is one way of solving this complicated diplomatic problem.
"I relocated to this country with my family to live freely. What happened on October 16, 2022 was unacceptable and illegal, and the withdrawal of these Chinese diplomats gives me a sense of closure."