Russia beats a retreat from Kherson in a fresh humiliation for Putin
The Russian Army is retreating from the occupied key city of Kherson with commanders abandoning up to 20,000 soldiers in what is being viewed as Putin's Stalingrad.
The Russian leader is attempting to disguise the retreat as a humanitarian evacuation of civilians in what amounts to a personal humiliation for President Vladimir Putin, western officials have claimed.
But one intelligence source said that the loss of Kherson could quickly develop into "Putin's Stalingrad."
The source added: "The liberation of Kherson from occupation will be a disaster for the Russian high command. Putin will quickly single out several senior figures to blame so that he can distance himself from the fiasco. This could well emerge as Putin's Stalingrad moment, especially if 20,000 Russian soldiers are killed or surrender."
Kherson is the only major city that Russia managed to capture since its 24 February invasion.
The city's loss now appears imminent after Putin publicly approved the evacuation of civilians from parts of the city.
Official confirmation of the retreat from Kherson came in a Unity Day holiday speech in Moscow's Red Square.
Putin said people living in dangerous areas of the city should leave as "the civilian population should not suffer", adding that civilians at risk from shelling and attacks should be "removed".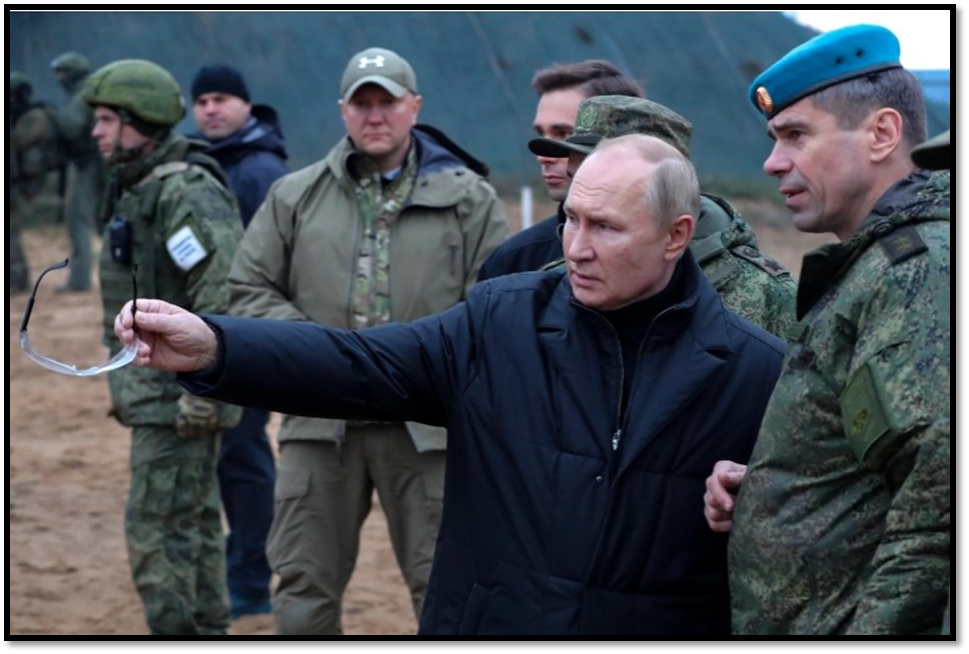 A western official told National Security News: "We are confirming the prospects of Russian military withdrawal from the Kherson bridgehead and planning is almost certainly well advanced.
"Most echelons of command have now withdrawn across the river, leaving behind demoralised and leaderless men to face Ukrainian assaults. A substantial portion of his men are recently mobilised reservists and they are often woefully equipped and unprepared."
The retreat will be "presented as an evacuation" but the loss could lead to an "uptick in pointed domestic criticism of Russia's national leadership", the official added.
The planned withdrawal was to bring Russian forces back across the 1,000 metre-wide Dnipro river to form strong defensive lines on its east bank.
But an official admitted they "cannot discount" the possibility of some of the estimated 20,000 Russian soldiers in Kherson being left behind and forced to surrender.
"The commanders are already across the river, which is terrible leadership in any environment," he said.
"Could Russian forces be trapped? It depends on the decision making processes and on what timescale they activate things but conducting a retreat brings risk with it."
The judgement of Moscow's commanders was that Kherson "isn't worth fighting for" and the natural barrier defence of the Dnipro river "is extremely valuable to them," the official said.
There was also a possibility that Russian special forces would "continue to operate on the other side of the bank" potentially carrying out reconnaissance and sabotage.
However, Ukrainian progress towards the city was at times "very slow going" but with "some instances of great success".
Taking Kherson will also give Kyiv a key port city on the Black Sea but officials warned it unlikely there would be a swift advance towards annexed-Crimea 90km away as Russia has robustly defended the ground.
The Western official cautioned that any decision to retreat "is more about Russians making long-term strategic decisions about where is best to defend in order to be effective, maintain their own munitions supplies, maintain their troop levels and set themselves for the winter.
"I think in their judgement, they have decided that Kherson city is not worth fighting for, that that natural defensive barrier of the river is extremely valuable to them."
Russian military doctrine is heavily reliant on artillery bombardments to flatten the enemy before advancing but stockpiles are so depleted they are relying on foreign supplies.
"The most glaring failure in Russia's inventory is an increasingly critical shortage of artillery ammunition," the official said.
"In the Russian way of war artillery enables everything else, without guns or rocket launchers being fired everything grinds to a halt."
The fall of Kherson is taking place as Moscow's forces in Ukraine run "critically short" of artillery ammunition forcing them to rely on North Korean imports as well as killer drones from Iran.
Russia has bought millions of so called "dumb" bombs such as rockets and artillery shells from North Korea as Putin's war stocks fall to critically low levels.
Western officials have also said that the Russian army is being forced to use precision weapons out of the role for which they were originally designed because supplies are running short. For example, ground-to-air guided missiles are being used to attack ground targets such as armoured vehicles and fortified buildings.
Newly mobilised Russian troops are also appearing in operational areas of Ukraine without weapons and with their morale already deeply diminished.
The Russian Army is losing up to an estimated 40 armoured vehicles a day in fighting which is equivalent in number to an entire battalion. Russian soldiers are also now openly complaining about the quality of armoured vehicles, with some troops referring to them as being as safe as "aluminium tin cans".
Meanwhile, the Ministry of Defence said that Russian senior officers have probably set up "blocking units" to shoot their own soldiers if their morale fails and they start to retreat.
Russian military commanders are also thought to be trying to keep their forces in place "to the death" defensively in areas currently being attacked by Ukrainian forces.
In a statement, the MoD said: "Due to low morale and reluctance to fight, Russian forces have probably started deploying 'barrier troops' or 'blocking units'.
"These units threaten to shoot their own retreating soldiers in order to compel offensives and have been used in previous conflicts by Russian forces."
The statement added: "Recently, Russian generals likely wanted their commanders to use weapons against deserters, including possibly authorising shooting to kill such defaulters after a warning had been given.
"Generals also likely wanted to maintain defensive positions to the death.
"The tactic of shooting deserters likely attests to the low quality, low morale and indiscipline of Russian forces."
The MoD also said that Russia was effectively unable to provide adequate combat training for its current mobilisation drive and Russia and the country's annual autumn conscription intake of a further 122,000 personnel.
Some of those recently recruited personnel face being trained in Belarus, due to a shortage of training staff, munitions and facilities in Russia.
The Russian President also said some 318,000 military recruits had signed up for duty during a mobilisation, now complete – exceeding his target of 300,000. Of these, Putin said 49,000 were already involved in active fighting.
The MoD added that deploying with inadequate training will add little to Russia's offensive capability.
It has also emerged that Wagner Group, a private military company owned by Yevgeny Prigozhin, the oligarch known as "Putin's chef" – so-called because he rose from being a restaurateur and caterer for the Kremlin – has opened its first official headquarters, in St Petersburg.
Wagner soldiers have repeatedly been accused of human rights violations, including in Syria, Libya and other conflicts.
Putin has now amended the Russian law on calling up reservists to include men convicted of serious crimes who recently left prison.
The change means that convicted murderers and drug dealers who have recently been released could be conscripted to fight in Ukraine.
But as revealed by National Security News, the Wagner group is also attempting to recruit fighters from outside of Russia after an estimated 5,000 mercenaries have so far been killed in Ukraine.
Tagged:
russia
ukraine
united kingdom