The paramilitary Wagner Group has been accused of "throwing Russian bodies into the meat grinder" after the deaths of 1,000 of its forces in Bakhmut, Ukraine, in recent weeks.
And of those, 90% were convicts – many with serious medical conditions – recruited by the mercenary outfit's leader Yevgeny Prigozhin, a convicted criminal and Putin ally.
John Kirby, strategic communications coordinator for the National Security Council at the White House, also believes that Wagner might be locked in a power battle with the Russian military itself.
The Wagner Group has been a key player in the ten-month conflict, and as former recruit Marat Gabidullin told National Security News, Prigozhin is Putin's self-styled personal warlord.
"It seems as though Mr. Prigozhin is willing to just throw Russian bodies into the meat grinder in Bakhmut. In fact, about 1,000 Wagner fighters have been killed in the fighting in just recent weeks, and we believe that 90% of those 1,000 fighters were, in fact, convicts," said Mr Kirby.
The claim was made as a bizarre video was released of Prigozhin touring a makeshift morgue piled high with the bodies of Wagner fighters, along with another clip in which a mercenary tells the Wagner co-founder they do not have enough ammunition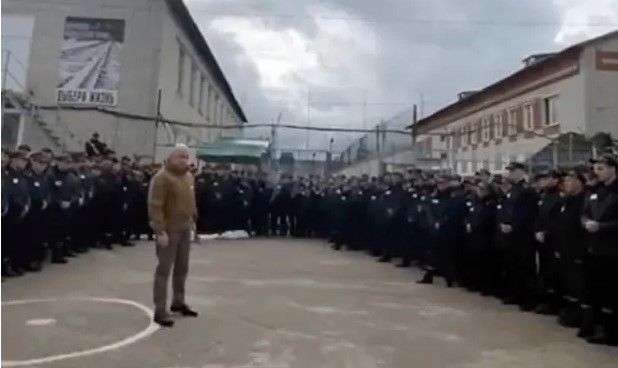 Wagner leader Yevgeny Prigozhin has been seen in leaked footage addressing prisoners in Russia
On the Wagner Group becoming a 'rival power centre' to the Russian military, Mr Kirby pointed to how Prigozhin has freely criticised the Russian Defence Ministry, as well as senior military brass.
The US administration believes the mercenary warlord's influence has been expanding during the conflict and "has only increased and elevated" with the poor performance of the Russian military.
"It's pretty apparent to us that Wagner is emerging as a rival power centre to the Russian military and other Russian ministries," Mr Kirby said.
Last month, North Korea completed what Mr Kirby called an "initial arms delivery" directly to the Wagner Group, made up of infantry rockets and missiles, which the US has assessed will not tip the military balance of power in Ukraine, though it is "concerned", as with all potential arms shipments.
"Just like the Russian government, Wagner has been forced to rely on pariah states to enable its campaign there in Ukraine," said Mr Kirby. "We urge North Korea to cease these deliveries to Wagner immediately. In addition, we're going to continue to help Ukraine defend itself against both Russian and Wagner forces."
Both North Korea and Prigozhin have denied that any kind of arms sale took place.
"Everyone knows that it's been a long time since North Korea has supplied weapons to the Russian Federation," Prigozhin said in a statement published on his Telegram channel. "And no other such attempts have even been made. Therefore, these arms deliveries from the DPRK are nothing more than gossip and speculation."
The Biden administration has, meanwhile, unveiled new curbs on technology exports to the Wagner Group.
The mercenary outfit, which is reportedly spending USD$100 million a month fighting in Ukraine, will be banned from accessing US military technology anywhere in the world.
"The Wagner Group is one of the most notorious mercenary organizations in the world and is actively committing atrocities and human rights abuses across Ukraine," said Under Secretary of Commerce for Industry and Security Alan Estevez. "Today we are sending a clear message to non-state actors seeking to pick up the baton of brutality from Putin's faltering military that the Department of Commerce will not hesitate to act against them."
The Wagner Group's numbers in Ukraine have also soared to more than 50,000, largely because the group is recruiting personnel directly from Russian jails.
The White House estimates that 4/5ths of its forces in the conflict are former inmates. But for Prigozhin, trading "quality for quantity" has come with a massive fatality account.
The convict mercenaries are told they will have six months commuted from their sentences on the front line, and that they will be paid. Their families are also compensated if they are killed or injured, but there have been reports of bereaved relatives receiving nothing.
Sorcha MacLeod, a member of the United Nations Working Group on the Use of Mercenaries under the Human Rights Council's Special Procedures, told Newsweek the Wagner Group has, since its inception, been employing predatory recruitment tactics.
"We have seen predatory recruitment practices taking place in other contexts. So for example, in Syria, we received information that the Wagner Group was recruiting individuals from Syria to fight in Libya," she said.
"These predatory recruitment practices involve people being taken advantage of, for example, in situations of armed conflict or poor socio-economic circumstances where unemployment is high."
The UN working group has also seen a "more insidious" form of recruitment by the Wagner Group, MacLeod said.
"In some cases, we heard that they didn't get the money they were promised. In some cases, where recruits were killed, the families did not get the money. So there was a fraudulent element involved in their recruitment which starts taking you into human trafficking territory. Some of them were told they were being recruited as security guards, and they didn't expect to end up on the frontline of an armed conflict," she explained.
UK intelligence sources say needless and indiscriminate violence is also a hallmark of the group.
Prigozhin recently sanctioned the release of a video in which an alleged deserter was bludgeoned to death in a Kyiv basement.
And what this all underlines is another significant change in its approach – actively courting publicity and promoting the brand.
In July it launched its own channel on the social media platform Telegram, and in September it widely publicised the opening of its new HQ in St Petersburg, named "PMC Wagner Centre".
Such is the Wagner group's notoriety that it was reported to be the third most searched subject on YouTube.
Yesterday a grim video emerged showing Prigozhin videoing a basement housing the bodies of his fighters, many of them convicts, in a makeshift morgue.
Prigozhin is seen being shown bodies on stretchers and in body bags – one pile of bagged bodies can be seen stacked shoulder-high in the corner of one of the rooms.
"Their contract has finished, they will go home next week," Prigozhin can be heard saying, adding: "These are getting ready to be sent. We all work during New Year's Eve.
"Here lie Wagner fighters who died at the front. They are now being put in zinc coffins and they will return home."