Fears of Humanitarian Crisis among Ethnic Armenians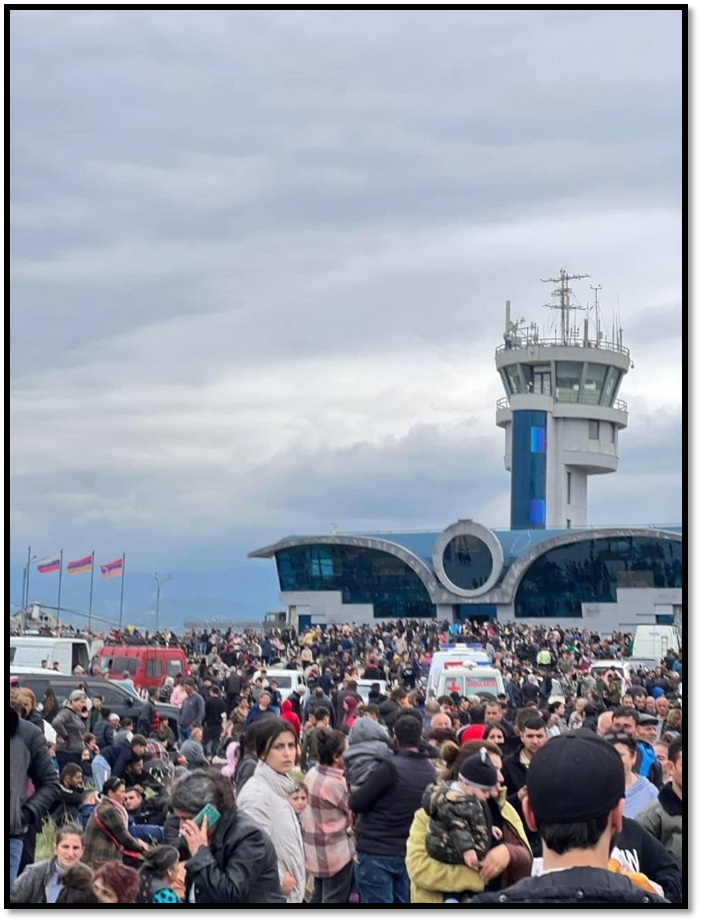 Residents of Nagorno-Karabakh attempting leave at Stepanakert/Khankendi airport Credit: @nexta_tv
PRESSURE is growing on the EU to halt a controversial gas deal with Azerbaijan, amid reports of thousands of ethnic Armenians fleeing Nagorno-Karabakh, fearing for their lives
The breakaway enclave is in a mountainous region 284km west of the capital Baku, and although it is internationally recognised as being part of Azerbaijan, most of it is governed by the unrecognised Republic of Artsakh, drawn from its 120,000-strong ethnic Armenian population.
But on Wednesday, lightning raids by President Iham Aliyev's land forces – in what the Azerbaijan government called an "anti-terrorist operation" – overwhelmed local defensive positions.
Shortly afterwards, a ceasefire was declared, the terms of which included all ethnic Armenian forces in Nagorno-Karabakh being disbanded and completed disarmed.
Russian peacekeepers, who have been deployed in the area since 2020, confirmed they had evacuated 2,000 concerned residents in the first 24 hours.
MEPs want to suspend the Azerbaijani gas deal, which would be a huge personal blow to European Commission President Ursula von der Leyen, who championed it as part of the bloc's efforts to wean itself off Russian energy exports.
And while her X (formerly Twitter) account has been actively promoting talks she led with Ukraine surrounding grain imports, she has been markedly silent about what is happening in Nagorno-Karabakh.
The big picture: The Ukraine Warhastransformed the fortunes of fossil-richAzerbaijan, as Europe sought an urgent alternative to Russia for its energy supplies. According to data from the Muslim-majority Republic's Ministry of Energy, natural gas exports to the EU rose 18 per cent between 2021-22.
What we're watching: All eyes will be onNagorno-Karabakh to see whether Armenia's warning of a humanitarian crisis ensues, or if assurances given by Azerbaijan's Ambassador to the UK that a "peaceful co-existence" is all that is planned for the local population.
Who is calling for a halt to the gas deal and or sanctions: French MEP François-Xavier Bellamy said: "We have to react now with immediate sanctions. We do not have the right to threaten, in exchange for a small gas supply, the rules of international law and the principles on which the Union has been founded."
Dutch MEP Thijs Reuten, who sits on the Parliament's Foreign Affairs Committee, tweeted: "EU Council and EU Commission must suspend Azerbaijan energy deal and out President Aliyev under full sanctions. The aggression an attempts to remove ethnic Armenians from the region under the pretext of 'evacuation' are unacceptable."

He earlier retweeted X accounts claiming Azerbaijani forces had been carrying out indiscriminate attacks against civilians, including children.
Between the lines: Discovering the true scale of what is going on in Nagorno-Karabakh over the next few months is going to depend very much on who you listen to, be it the Armenians who are clearly unhappy at this week's events, or Azerbaijan, which will be desperate to present itself as a peace-broker for fear of upsetting its oil deal with the EU.
Meanwhile, Russia will revel in the EU's discomfort after the bloc turned to Azerbaijan to replace the energy it previous bought from Putin, who miscalculated that the reliance on Russian oil and gas (it previously supplied 18 per cent of the EU's consumption) would deter, or at least weaken, support for Ukraine.
Tagged:
Nagorno-Karabakh
russia
ukraine
united states