Ukraine President Warns Against Making "Shady Deals" With Russia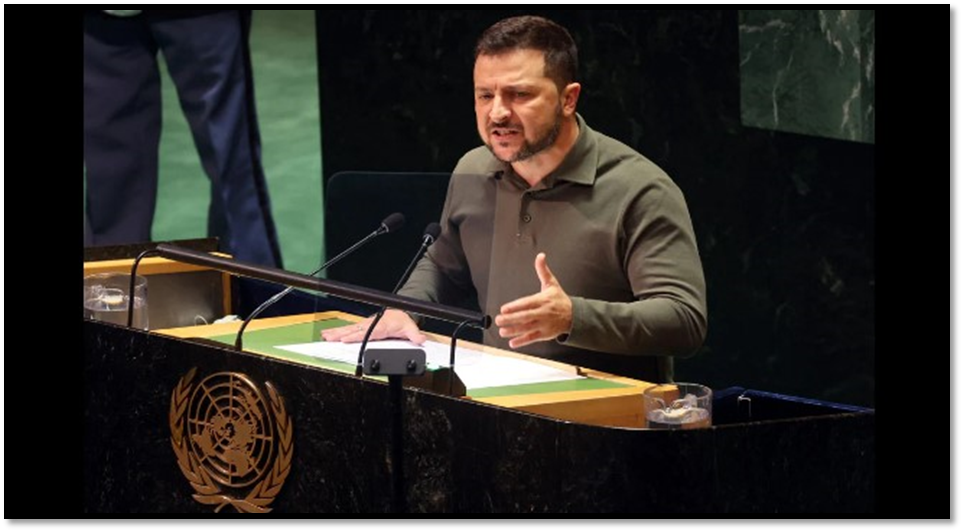 Zelensky addressing the UN General Assembly
As he took to the rostrum at the United Nationals General Assembly in New York, dressed in his trademark olive green military fatigues, President Volodymyr Zelensky once again called on the world to stand firm against the Russian genocide.
In a typically firebrand speech he said he had been made aware of what he called "attempts to make some shady dealings behind the scenes" with Russia.
The remark was a not-so-subtle reference to the expansion of the so-called BRICS bloc, which includes Brazil, China and India. The trio have remained on the fence over the Ukraine War, refusing to condemn Russia as their international counterparts have done.
The likes of North Korea and Iran, who are members of the UN, also appear to be increasing economic ties with Russia at a frightening speed.
Zelensky added: "Evil cannot be trusted. Ask Prigozhin if one bets on Putin's promises."
No-one has claimed responsibility for what is believed to be the assassination of Wagner leader Yevgeny Prigozhin last month, when a private jet he was on went down in flames north of St Petersburg.
All ten on board were killed and Western security sources have since claimed that a small bomb was placed on one of the wings.
According to Zelensky: "Russia is pushing the world to the final war. Ukraine is doing everything to ensure that after Russian aggression, no-one in the world will dare to attack any nation."
He continued: "Weaponisation must be constrained, war crimes must be punished, deported people must come back home, and the occupier must return to their own land."
Earlier a much anticipated showdown between Zelensky and Russia's Foreign Minister Sergei Lavrov failed to materialise when the latter waited until after the Ukraine President had spoken before entering the chamber.
Lavrov later scoffed at Zelensky's call to the 193-member United Nations General Assembly to remove the Russian veto power on the Security Council, where Moscow joins only Britain, China, France, and the United States in being able to block any resolution.
U.S. President Joe Biden followed Zelensky onto the rostrum to pledge his support again for Ukraine, calling for his fellow world leaders to stand firm and unite against Putin's aggression.
"If we allow Ukraine to be carved up, is the independence of any nation secure? I respectfully suggest the answer is no. We have to stand up to this naked aggression today and deter other would-be aggressors tomorrow," Biden said.
"That's why the United States, together with our allies and partners around the world, will continue to stand with the brave people of Ukraine as they defend their sovereignty and territorial integrity and their freedom," he added.
He accused Russia of manipulating global food markets to seek international recognition of ownership of land it seized from Kyiv. Zelensky also claimed Moscow was committing genocide by kidnapping Ukrainian children.
Tagged:
russia
ukraine
united states