The Unwavering Spirit of Jimmy Lai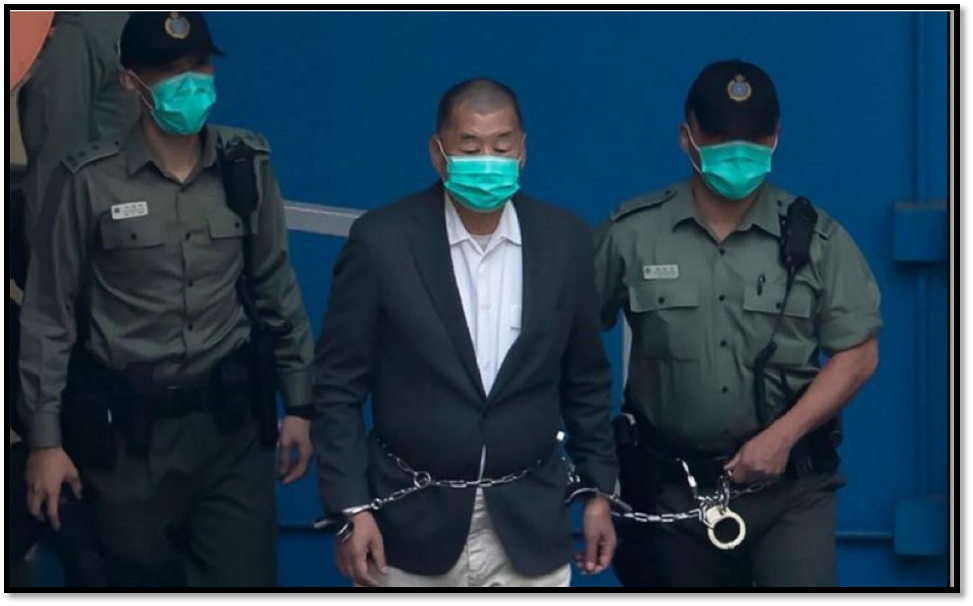 Lai struggling to walk as he was led to court in handcuffs and metal chain by two police officers Credit: Twitter
TUESDAY, SEPTEMBER 26, 2023, marked the 1,000th consecutive day that Jimmy Lai, founder of Chinese-language newspaper Apple Daily, has spent unlawfully incarcerated in solitary confinement for 23 hours a day within Hong Kong's Stanley prison.
Aged 75, Jimmy Lai is a peaceful pro-democracy campaigner, writer, publisher, and owner of Apple Daily which has been raided and shut down by the Chinese authorities.
He was arrested, unlawfully and arbitrarily according to the international community, in August 2020 and has been held in Stanley prison since December 2020.
Lai was convicted and sentenced for his involvement in peaceful pro-democracy gatherings and a vigil honouring the anniversary of the 1989 Tiananmen Square protests and massacre.
Lai is presently serving a five year and nine months sentence related to an unfounded fraud conviction, which Minister Trevelyan noted in a tweet following sentencing "was an obvious attempt to silence opposition voices".
The United States, denounced the conviction, describing the sentence as a "grossly unjust outcome" which"[b]y any objective measure… is neither fair nor just".
Mr. Lai awaits trial for foreign collusion and sedition under China's oppressive National Security Law (NSL). A law passed only in 2020 designed to squash dissent and threaten the very basics of civil liberties and stifle free speech.
A Foreign, Commonwealth and Development Office (FCDO) spokesperson said, "Mr Lai and others are being deliberately targeted to silence criticism under the guise of national security".
Former UK Foreign Secretary Liz Truss said in March 2022: "Since the National Security Law was imposed, authorities have cracked down on free speech, the free press and free association.
"We have seen a systematic erosion of liberty and democracy in Hong Kong."
The potential life sentence Jimmy now faces stems from his peaceful pro-democracy activism and his role at Apple Daily.
The United Nations human rights office and UN expert bodies have continually voiced concerns about the NSL, cautioning that its broadly worded provisions could lead to "discriminatory or arbitrary interpretation and enforcement which could undermine human rights protection".
Amnesty International meanwhile has dubbed the NSL "dangerously vague and broad" with widely defined "catch-all offences used in politically motivated prosecutions with potentially heavy penalties."
Mr Lai's NSL trial was due to commence on Monday 25th September, but has since been further delayed.
Earlier this week Lord David Alton called on the Prime Minister to press for Mr Lai to be freed.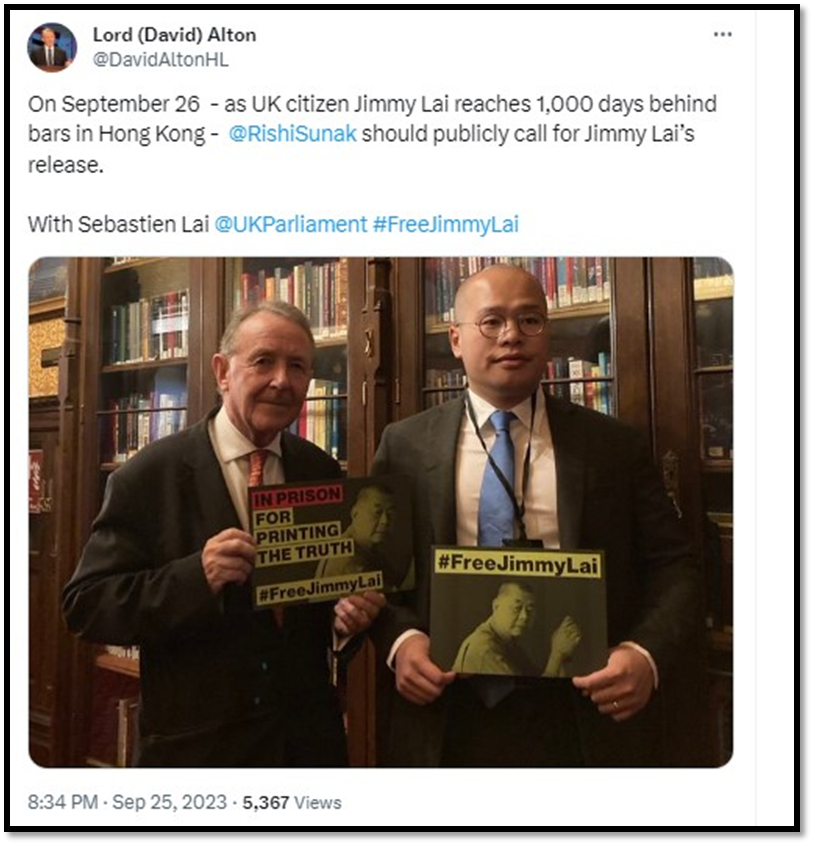 Speaking yesterday, Jimmy's son, Sebastien Lai said:
"Today marks 1,000 consecutive days that my 75-year-old father has been imprisoned for standing up for freedom and democracy in Hong Kong. I'm continuing my call for the free world to keep standing up for him and to demand that the Hong Kong government release my father."
A spokesperson for the FCDO told NSN, "The Foreign Secretary, James Cleverly raised Mr Lai's case with his counterpart as a matter of priority in Beijing last month, and the Minister for the Indo-Pacific met Sebastien Lai last week to continue discussion of his father's case."
The international community must now take a stand to protect Mr Lai's rights and secure his immediate release before it is too late, otherwise we may see an innocent British national die in prison for being a peaceful pro-democracy campaigner.
Calls for Mr Lai's release have also come from the EU Parliament, US Congress, and a string of UN bodies.
Tagged:
china
united kingdom
united states