Wagner Chief Perishes in Mystery Plane Crash: Putin Breaks His Silence
Yevgeny Prigozhin, the world's most notorious mercenary, and nicknamed "Putin's chef" because of his closeness to the Russian president, has died.
Last night Vladimir Putin broke his silence on the tragedy to send his condolences to Prigozhin's family, and relatives of the others who perished.
In an on-camera address, Putin said: "As for the aviation tragedy, first of all, I want to express my sincerest condolences to the families of all the victims." He added that that Wagner Group made a "significant contribution to our common cause of fighting the neo-Nazi regime in Ukraine."
"I knew (Yevgeny) Prigozhin for a very long time, since the early 1990s. He was a man with a complex destiny, and he made serious mistakes in life," Putin added. "He achieved the results he needed both for himself and, when I asked him, for the common cause, as in these last months."
Commenting on the investigation, Putin said: "But what is absolutely clear – the head of the Investigative Committee reported to me this morning, they have already launched a preliminary investigation into this incident. And it will be carried out in full and to the end. There is no doubt about that here. Let's see what the investigators say in the near future. Tests – technical and genetic tests – are being carried out now. This takes some time."
The boss of the Wagner Group, whose men have been accused of civilian killings and other atrocities in the Ukraine, was on a private Embraer jet which went down shortly after taking off from Moscow for what was supposed to be a 90-minute flight to St Petersburg.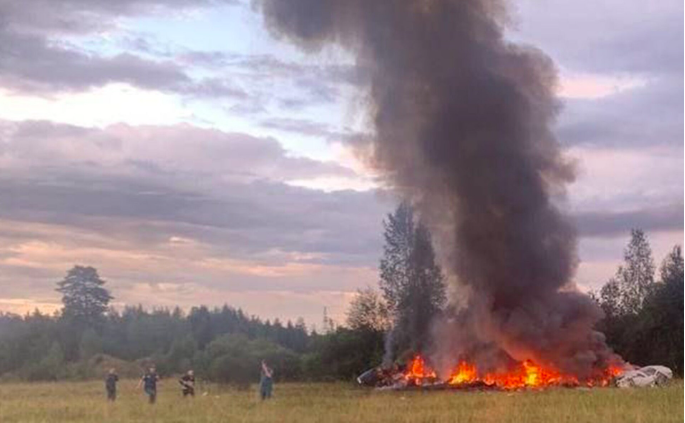 One of scores of images of the smouldering Embraer jet now going viral on social media
Wagner-linked Telegram channels later claimed the USD$46 million jet had been shot down by Russian defence forces, but Pentagon officials later ruled this out.
Grey Zone, another Telegram channel with close links to the Wagner Group, later claimed a second plane linked to Prigozhin had successful landed at St Peterburg, leading to speculation that he may have somehow survived.
The channel posted: "Where Yevgeny Prigozhin was himself in the end – at the moment there is no data."
Former British intelligence officer Christopher Steel claimed a contract had been put on the mercenary leader's head some weeks ago.
"We heard some weeks ago from a source that a price had been put on Prigozhin in Russia by senior members of the business community," he told Sky News.
Rosaviatsia, the Russian aviation authority, said a man with Prigozhin's name and matching his description was among ten on board who all died, including three crew members.
A spokesman said: "An investigation of the Embraer plane crash that happened in the Tver Region this evening was initiated.
"According to the passenger list, first and last name of Yevgeny Prigozhin was included in this list."
Grisly footage was later shared on social media of the wreckage, showing body parts strewn across the hilly Tver region, north of Moscow. Onlookers later described seeing a trail of smoke coming from the tail of the jet, number RA-02795, as it plummeted towards the ground.
Russian media outlets said eight of the bodies were visible at the crash site, but had been so badly burned they would have to be identified from DNA samples. One of the corpses was missing a head.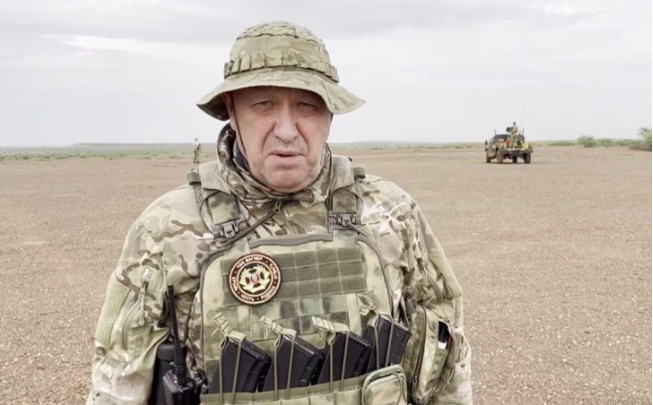 Yevgeny Prigozhin in the desert
Prigozhin, 62, has been a marked man in some circles since he marched his men towards Moscow in what was reported as short-lived mutiny, before changing his mind less than 24 hours later. The Wagner chief later said he had been seeking better terms for his mercenaries, who have been fighting alongside the Russian army's forces in the Ukraine.
A former convict, he rose from running a string of restaurants which provided food to the Kremlin to running a number of companies including the Wagner Group. He later admitted funding a disinformation campaign aimed at disrupting the 2016 and 2018 US elections, but it was his stewardship of The Wagner Group which gave him worldwide notoriety.
After only admitting that he was the founder of the group in 2022 (almost a decade after it had been formed) he played a key part in shoring up Russia's segregation of the Donbas Region of the Ukraine.
And when it became evident that Putin's idea of a three-day war to conquer the Ukraine foundered it was Prigozhin he turned to. The mercenary leader, however, could do little to counter the fierce counter attacking of the Ukrainian forces, as he frequently raged against the corruption and poor training which had led to a vast miscalculation as to the capabilities of the Russian army.
It was Prigozhin who turned to Russian convicts, many of them former soldiers imprisoned for murder and drug offences, to shore up the forces in the Ukraine.
He essentially quit the war on June 23 2023, briefly marching his forces towards Moscow before his sudden about-turn, and instead diverting them into an agreed asylum in Belarus.
Criminal charges against him over the rebellion were them dropped, and early this week he released a video which appears to show him in Africa, where many Wagner have relocated to since the aborted uprising.
Prigozhin's companies and associates also face criminal charges and sanctions in the United States, where the FBI offered USD$250,000 for information leading to his arrest. He is also a designated person under sanctions in the UK and the EU.