Something Doomsday This Way Comes
As Ray Bradbury once penned and William Shakespeare before him in Macbeth, "Something wicked this way comes" and it is likely coming from the Kremlin, perhaps as soon as Halloween Eve. Telegram went completely dark for approximately one hour in Russia on Saturday, raising considerable alarm before nationwide access was restored. Notably, on its own Telegram channel, Roskomnadzor – Russia's Federal Service for Supervision of Communications, Information Technology and Mass Media – felt compelled to issue a statement in effect saying, "Nothing to see here."
Or is there?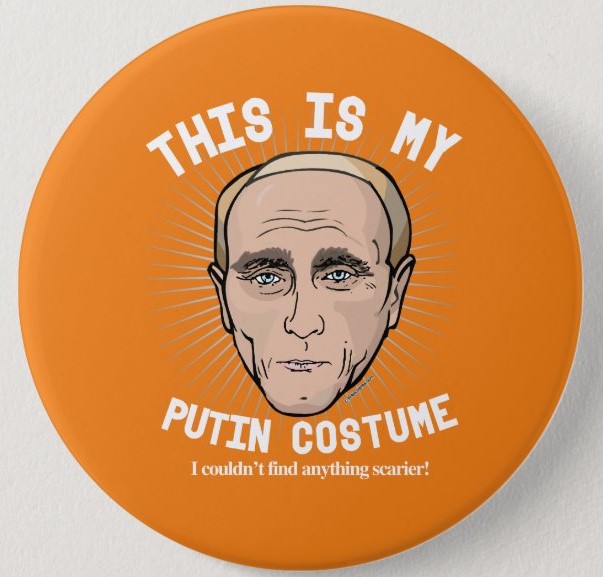 Initial speculation suggested Russian President Vladimir Putin was attempting to suppress snowballing military blogger (milblogger) criticism of his military regime in general – and specifically the failures of his 'special military operation' in Ukraine. Perhaps, but then again likely not. While Russia's milbloggers are angry and frustrated, they also traditionally comprise some of Putin's staunchest supporters. They are agitating as a whole for harsher action in Ukraine, not less – and as such still have propaganda value for Putin.
The more ominous interpretation in Macbeth terms is the Kremlin is conjuring "toil and trouble" and like in Bradbury's novel, Dr. Dark – allegory for Putin here – is bringing his 'Pandemonium Carnival' to a new battlefield in Ukraine or elsewhere in Europe. Silencing Telegram, even if just as a test run, might be a prelude in advance of such a military offensive to an across-the-board Russian domestic crackdown on operations security (OPSEC) – a glaring military and deadly weakness since Putin's war began in February.
Moreover, as Donalbain proclaimed in Macbeth, "There's daggers in men's smiles" and both Putin and his new overall commander in Ukraine, General Sergei "Armageddon" Surovikin, are smiling too much of late. So too are Russian Defense Minister Sergey Shoigu and Russian Foreign Minister Sergey Lavrov as they try to disingenuously fob off myths of a Ukrainian dirty bomb and an allegation the United Kingdom sabotaged the Nord Stream pipelines onto their military and diplomatic global counterparts and at the United Nations Security Council.
Even Putin's speech at the Valdai Discussion Club on October 27th, wherein he accused the West of playing a "dangerous, bloody and, I would say, dirty" game contained one smile too many. Putin is up to something and in essentially declaring a new cold war against Washington, London, Brussels, and NATO, the Russian leader is using his call for a multipolar world as cover to continue a pattern of likely calculated misdirection that has been growing exponentially since Surovikin assumed overall command.
In that vein, yes, to answer Lord Banquo in Macbeth, Bradbury's Dr. Dark or Shakespeare's devil in the form of Putin can "speak true," but in a distorted version of the truth. The 'truth' is not what we are seeing on the surface, however, what is lurking below in the dark shadows of Moscow's misdirection. If we channel Macbeth wherein "fair is foul, and foul is fair," Putin's machinations become increasingly clear – and foreboding.
Consider the extent to which Putin is going to misdirect the West by playing 'foul.' Dirty bomb accusations, charges of U.K. sabotage on the Nord Stream pipelines, nuclear bluffing by Russian state-controlled media and Russian false-flag shelling at the nuclear power plant in Zaporizhzhia, attacks on Ukraine's power grid and civilian infrastructure, Kamikaze drone attacks in Kyiv and elsewhere, and on and on. Dr. Dark's Russian carnival is in town – and it is, likely by design, bringing misdirection, pandemonium to the capitals of the West and evil to Ukraine. Putin's decision to suspend UN-sponsored grain shipments is Dr. Dark at his worst.
Misdirection only serves one purpose whether in a carnival magic show or on the battlefield in war. Disguising the big reveal or surprise attack. Ukraine itself – at least in terms of the Donbass or Kherson Oblast is not the likeliest next course of major military action for Putin. Surovikin, seemingly, is positioning his forces to strike elsewhere. Either from Belarus in a renewed assault on Kyiv and/or in the Suwalki Gap from Kaliningrad as a military fixing operation against NATO.
Recent reports of Russian troop movements – if accurate – support this notion. Upwards of 10,000 Russian soldiers are now in Belarus according to Latvia's defense minister, Artis Pabriks and Surovikin is replacing 'experienced' Russian soldiers in Kherson with freshly arrived mobilized Russian conscripts and reservists. Could Surovikin be repositioning them in Belarus or Kaliningrad?
Doing so, by extension, puts Crimea at strategic risk. Given Putin's historical and religious obsession with Kievan Rus' – and the religious importance of Crimea to Russian Orthodox Church Patriarch Kirill I, who bestows Putin with "spiritual cover" for his wars in Ukraine and Syria – it is highly unlikely Moscow would approve this switch out unless a counter military blow were being planned elsewhere.
Time will tell. Kyiv, Kharkiv, Zaporizhzhia, and Cherkasy in Ukraine awoke on Halloween morning to yet another wave of Russian cruise missile attacks. More distraction? Or retribution for Ukraine's drone attack on Putin's Black Sea fleet in Sevastopol that damaged three Russian warships? Or both?
Meanwhile, tomorrow looms. Moscow gave notice in a formal Notice to Air Missions that its 'Flying Kremlin,' Russia's version of the U.S. Air Force's 'Doomsday' Boeing 747 command center in the event of a nuclear war, will begin flying on November 1st in and around the White Sea near Murmansk, Russia – and adjacent to Finland. Doomsday – officially referred to as Maxdome by NATO – is 'coming this way' too.
Macbeth's cauldron is bubbling, and Bradbury's Dr. Dark is on the move. Washington, London, Brussels and NATO must be vigilantly on guard as long as Putin's pandemonium carnival is in town.
Happy Halloween.
That is, if the West can survive Putin and Surovikin's Russian witches, ghouls and goblins whenever and wherever they may next appear in Europe.
Copyright 2022. Mark C. Toth and Jonathan E. Sweet. All rights reserved.
Tagged:
russia
ukraine