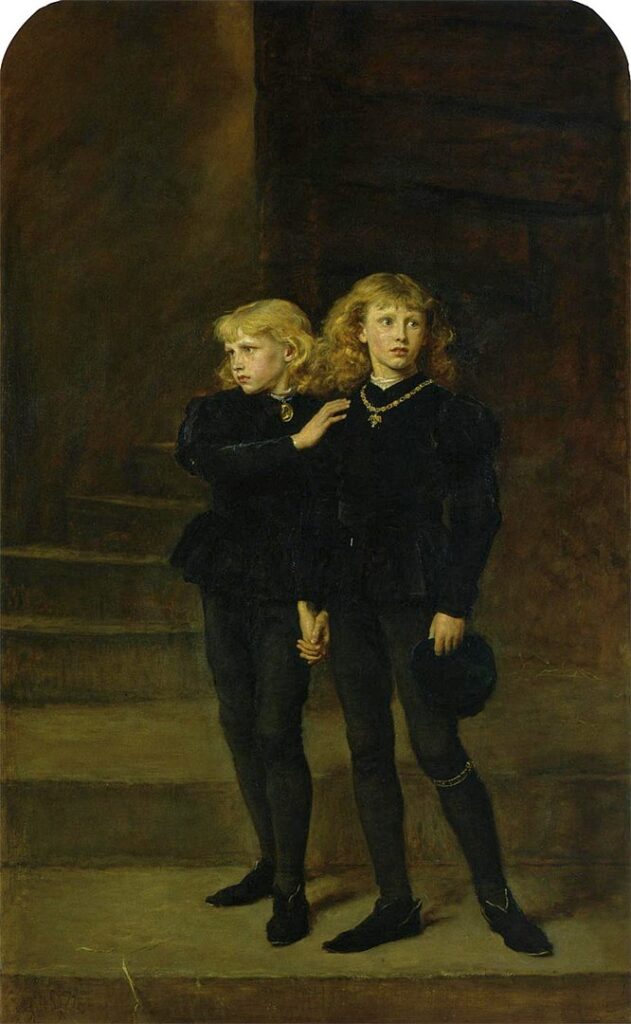 In 1483, two young princes of England – Edward and Richard – vanished after being dispatched to the Tower of London. Shortly thereafter, they likely were murdered by King Richard III and their remains hidden underneath a set of stairs. Now, 540 years later, another prince of England, Prince Harry, Duke of Sussex,is missing in plain sight after he and his wife Meghan, Duchess of Sussex decamped to Southern California. Ever since, seemingly, they are on a course that is selling out his princely reputation, while severely jeopardizing the national security of the United Kingdom and its allies.
Heavy are the crowns not worn by 'spares.' Heavier still are imaginary crowns traded for fleeting celebrity and self-enrichment, especially those of the shallow Hollywood variety.If Harry's autobiography entitled Spare is to be believed, or at least the Spanish version En La Sombra which was errantly released ahead of its authorized January 10th sale date, his "truth" must fully destroy his father King Charles III and his brother William, Prince of Wales, if ever their relationships are to be restored.
How very LA of Harry and Meghan. The fleeing couple is quickly adapting to their adopted home. Los Angeles is a city that thrives on demolishing its past and replacing it with flashy, yet ephemeral modern-day versions of itself. In that vein, Harry and Meghan's Oprah interview was the equivalent of sending Buckingham Palace a "Notice of Demolition" in advance of the releases of the Harry and Meghan Netflix series and Spare.
Truth and reconciliation, however, are unlikely to be found in the City of Angels. Especially by these two recalcitrant British royals who video diary their every move. Tinseltown is a strange place to look for truth. Truth in LA always ends where public relations begin. Truth, as a result, is frequently altered at will for profit in Hollywood and reconciliation rarely spares anyone divorce or chancery court.
Princess Diana, likely, would be deeply shocked and saddened by Harry's bleak version of his 'truth.' Particularly his characterization of William as his "archnemesis." Royal biographer Andrew Morton claims Diana envisioned Harry as William's "wingman." Now, however, as Morton notes, Harry has devolved into a vengeful "hitman." Indeed, to the extent Harry and Meghan's Netflix series is a full-throttled assault on"The Firm" as an institution and on Queen Elizabeth II's greatest legacy, the 56-member Commonwealth of Nations as we argued in The Hill, then Spare is a take-no-prisoners frontal assault on the Royal Family itself.
It is also a global multi-media blitz that is now squarely puttinga target on the back of every member of the Royal Family, including that of Harry and his own immediate family. Harry's self-aggrandizing admission that he killed 25 Taliban fighters is already prompting Islamic jihadists to post death threats on Twitter and other social media. Further, Harry's rationalization that the number of fighters he killed is "not a number that fills me with satisfaction, but nor does it embarrass me" demonstrates complete lack of self-awareness.
By referring to the number of Taliban fighters killed as if they were the day's total of a stag or pheasant hunt at Balmoral in Scotland, Harry compounded the threat of bodily harm he and his family are now facing by also inhumanely referring to Taliban deaths as though he was eliminating "chess pieces" from a match.
Harry, inexplicably, failed to consider that chess boards field Kings, Queens, and Knights as well and not just Taliban pawns. He of all people, himself a Knight Commander of the Royal Victorian Order himself, knew better, especially since his own father's close mentor, Lord Louis Mountbatten was assassinatedby the Irish Republican Army in his fishing boat off the Mullaghmore Peninsula in northwestern Ireland. Mountbatten along with his 14-year-old grandson Nicholas Brabourne and 15-year-old crew member Paul Maxwell were killed.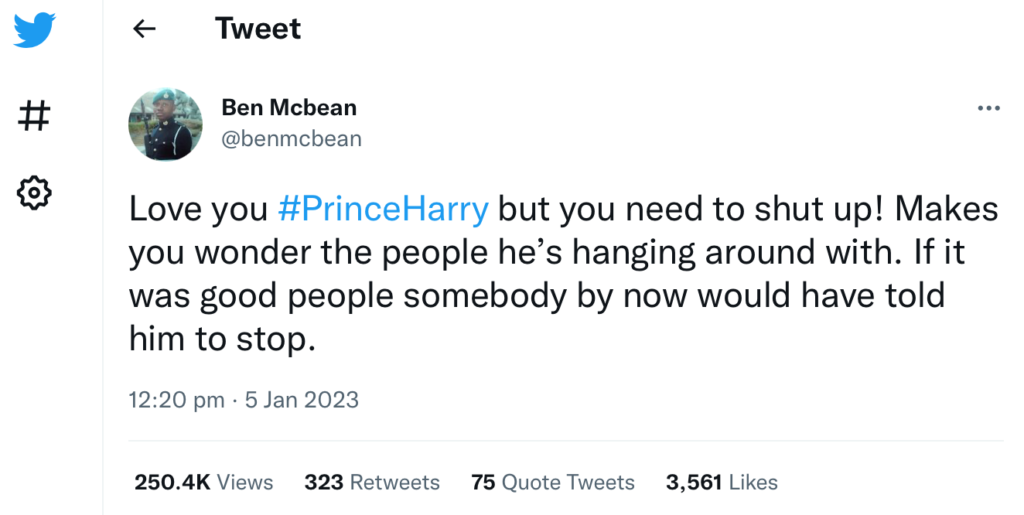 Reaction to Harry's war braggadocio from the British military community was swift and harsh. Former British Army Colonel Richard Kemp characterized Harry's claims as being tantamount to a "betrayal of the people he fought alongside." Former commando, Ben McBean, who Harry "once hailed as a hero after he lost an arm and leg in Afghanistan," wrote, "Love you Prince Harry but you need to shut up!"
Unfortunately, it is far too late. Spare is full of puerile accusations, petulant exposés of trite family squabbles, and an unseemly number of unnecessary salacious details. Even,bizarrely, a prurient passage about his royal appendage. ReallyHarry, shut up, already!
Harry's motive seems clear enough. Blame everyone save himself for every bad decision he has ever made. That Nazi costume? Turns out, if you believe Harry, it was William and Kate's fault. Truth? Projection? Who knows. We only have Harry's version of the event. Nonetheless, it is revealing. It seems Harry's pathway to 'truth' involves exhaustively absolving himself of responsibility for his own actions, including cocaine use and his loss of virginity in a field behind a pub.
Personal failings and responsibility aside, even if we assume Harry's versions of what transpires behind closed doors and palace gates, none of his tawdry revelations justify the cost Harry and Meghan are exacting from the Royal Family, U.K. national security, and even in terms of their own personal safety, simply so they can financially profit off of it all.
Duty as a concept, at least as exemplified by his late grandmother, Queen Elizabeth, is consistently missing from his memoir. Since exiling himself from the United Kingdom, Harry, seemingly, is operating as if England has a duty to him and not, he a duty to his King and country. In dystopian John F. Kennedy inaugural speech terms, Harry and Meghan's new modus operandi is, essentially, 'Ask not what we can do for our country, but what our country must do for us.'
Queen Elizabeth's death, tragically, is an all too familiar example of Harry and Meghan's narcissistic-like approach to all things Windsor and what he insists his country owes him and his wife versus his duty to King and country. Upon learning of the Queen's illness, Harry attempted to inject Meghan into his plans to visit his ailing grandmother at Balmoral. King Charles, understandably, refused, reportedly noting, it would not be "right or appropriate for Meghan to be at Balmoral at such a deeply sad time."
King Charles, likely, was forced to presume Harry and Meghan's real intent was to twist the Queen's death into a celebrity driven media frenzy that was to be all about them in advance of the release of their Netflix series. The King'srejection of Meghan was also a likely admission that the Duchess of Sussex had caused great pain to the Queen late in her life and that he was determined as her son that Meghan would not profit or capitalize off of his mother's death. Undoubtedly,given their recent media track record, King Charles feared Harry and Meghan choosing Hollywood spectacle over duty.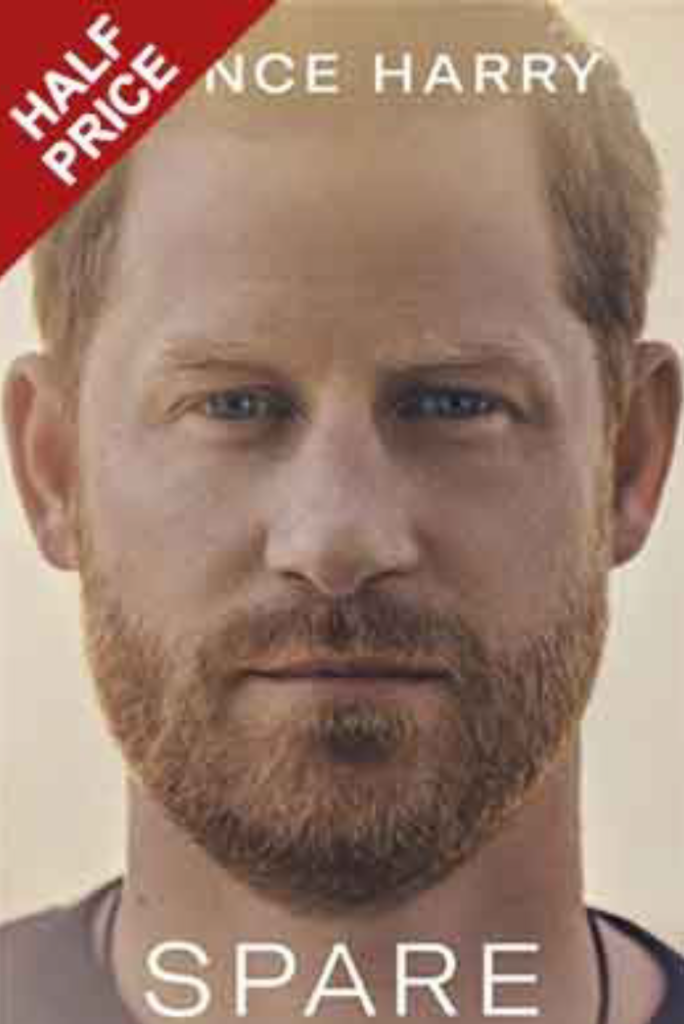 Somewhere along his path leading to LA, Harry conflated being a 'spare' with having no substantive role or duty beyond his place in the line of succession to the English throne. Nothing was or is further from the truth, nor should it be. The Royal Family in the United Kingdom, uniquely, is a combination of family, parliamentary law, and what is known as "The Firm." His duties as a working member of the Royal Family were very real and vital to the global national security interests of his country.
Harry is also a former soldier of the Crown, and his dutyremains to uphold and defend the monarch to whom he swore his allegiance. It is a duty, arguably, that he has failed repeatedly since his marriage to Meghan. Others can commentate on whether Meghan is the cause or an accelerant or a completely innocent bystander, however, for our purposes in analyzing the national security implications of Harry's recent actions, words,and choices, we can only note everything changed for the worse once she entered the picture.
Regardless of Meghan Markle's exact role, Beijing and Moscow are eagerly capitalizing on the opportunities Harry and Meghanare presenting. As extensively documented in our four-part exclusive series for National Security News, China, in particular, is targeting British interests in a sustained effort to usurp London's standing in the Commonwealth of Nations.
By associating themselves with British journalist Afua Hirsch's derisive description of the Commonwealth as "Empire 2.0" in the Harry and Meghan Netflix series, they are imprudently enabling Beijing to foment racial and cultural divide in East and Central Africa at the expense of Whitehall and King Charles.
As we observed in our National Security News series, Chinese President Xi Jinping is actively buying up portions of the Commonwealth vis-à-vis Beijing's Belt and Road Initiative, while aggressively militarily encircling large swaths of the Commonwealth in Africa and the Pacific, and hunting for ways to marginalize if not subvert entirely King Charles' position as the association's titular head. Similarly, Moscow via Yevgeny Prigozhin's Wagner Group is coercing political and economic influence throughout Africa by using the mercenary group to prop up oppressive and anti-democratic dictators. 
Labeling the Commonwealth as "Empire 2.0" is not without vast cost either. While reportedly earning $150 million for Harry and Meghan and $20 million for Spare, the two royal profiteers, intentionally or not, are blindly helping Beijing and Moscow subvert a global economic alliance that produces nearly 10 percent of the United Kingdom's foreign trade.
Equally disconcerting, are the growing threats Beijing and Moscow currently pose to democracy on a global scale. China and Moscow are working to undermine and destroy the shared democratic values of the Commonwealth as enshrined in the organization's charter. These nefarious efforts are already paying dividends. In March, only 51 percent of African nations voted to condemn Russian President Vladimir Putin's 'special military operation' in Ukraine. Notably, indeed alarmingly, five Commonwealth members abstained.
If Harry and Meghan failed in March to comprehend the geopolitical damage to British national security 'Empire 2.0" is causing the United Kingdom, then by October it should have been glaringly obvious to them. 10 Commonwealth countries abstained at the United Nations during a General Assembly vote demanding Russia "reverse course" after Russia illegally annexed Donetsk, Kherson, Luhansk, and Zaporizhzhia in Ukraine.
Likewise, in an active age of social media disinformation and digital warfare, Harry and Meghan going forward must also take notice that they are potentially empowering Chinese and Russian bot farms to foment and fuel domestic discord and distrust among "Team Harry & Meghan" and "Team William & Kate" supporters and groups. Celebrity catfights in Hollywood pitting the Kardashians against the flavor of the day are one thing. It is quite another when British social media starts trending as it did with #abolishthemonarchy.
Enough is enough.
Harry and Meghan likely viewed their Netflix series and Spareas Hollywood coronations of their own. Not only as one-upmanship of William and Kate as heirs to the English throne, but of King Charles and Camila, the Queen Consort as well. Instead, in the real world, the harsh reality is Harry and Meghan's machinations are rapidly devolving into one abdication of royal duty after another on a truly global scale.
Four months from now on Saturday May 6th, King Charles' coronation is to take place in Westminster Abbey in London. Initially envisioned as a day of celebration and renewal, Harry's Taliban passage in Spare has single-handedly transformed the sacred royal rite into a national security nightmare for the United Kingdom and its security services. Anas Haqqani, an influentialTaliban leader in Afghanistan is accusing Harry of committing "war crimes" and undoubtedly his words are being interpreted as a call to arms.
'Once upon a time in Hollywood' the Duke and Duchess were told repeatedly and loudly to shut up. What was a Quentin Tarantino-like dark dystopian comedy, however, is now a serious matter of British and American national security. The Hollywood they fled to no longer exists. It is high time Harry and Meghan finally listen. This time, however, it is not to 'spare us' as we implored them to do in our national security op ed atThe Hill in Washington DC, but to 'spare' themselves from the dangers they are creating for the entire Royal Family.
Meanwhile, Beijing and Moscow are betting they will not and the Taliban, alarmingly, are now looming dangerously on the horizon and are highly motivated to do it for them.