China's rapidly deteriorating relationship with Canada has plummeted still further after it was revealed that the former used a clandestine network of agents to interfere with federal elections.
According to the Canadian Secret Service (CSIS), the spies worked in the offices of political candidates who were sympathetic to China, then flooded them with campaign contributions.
The 2019 donations were masked as coming from intermediaries when in fact they were sourced directly from the Chinese Communist Party (CCP).
One agent channelled an eye watering CA$ 250,000 (£160,000) into the campaign office of an Ontario-based provincial candidate.
The fate of the agents is unknown, and CSIS has declined to name the politicians involved, though potential charges may follow. According to the secret service, the goal was to co-opt and corrupt the election candidates to gain influence in Ottawa legislature, and then pressurise them to attack critics of China.
Earlier this week, Canada told three Chinese companies to divest their lithium mining interests in the country, a move that sparked an angry reaction in Beijing.
In the meantime, Prime Minister Justin Trudeau responded to the espionage revelations by accusing China of playing "aggressive games" with Canada's democracy. Responding to this remark, Foreign Ministry Spokesperson Zhao Lijian said in a press briefing that China has no interest in Canada's external affairs and that "the Canadian side should stop making remarks that would harm bilateral relations."
It is believed that Trudeau was warned of the 2019 activity by CSIS back in January 2022.
Opposition leader Pierre Poilievre says it is "very troubling that the Prime Minister has known about allegations of foreign interference" and "hasn't taken any action". This is despite reassurances from the Prime Minister that the federal government is taking "significant measures" to counter foreign influence.
Following this week's reports, Conservatives have called on the government to come up with a "robust plan" to counter China's interference.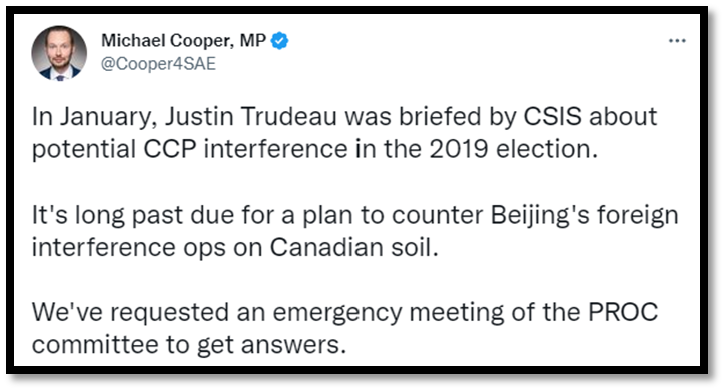 Michelle Tessier, CSIS's Deputy Director of Operations, reported to a panel of MPs earlier this year: "We are very concerned, and we know that there is certainly a desire to target elected officials at all levels of government — municipal, provincial, federal."
This news comes in the same week as Russian businessman and Putin ally, Yevgeny Prigozhin, admits to meddling in the US elections, highlighting the prevalence of foreign intrusion on domestic politics.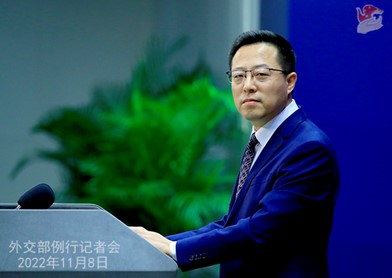 Founder and Senior Fellow of Ottawa-based Macdonald-Laurier Institute (MLI), Marcus Kolga, responded to this week's reports, stating: "Canada needs to wake up to the threats posed to our democracy by authoritarian regimes like China." Kolga further added: "The threats are not new, and they are increasing in scope and sophistication. The time for urgent action was years ago."
MLI's research has focused on the threat China poses to Canadian democracy for several years. They previously reported, on their DisInfoWatch platform, on the Chinese state interference in Canada's 2021 elections.
MLI's analysis identified that the Chinese government media and pro-Beijing actors were publishing and promoting disinformation narratives on various platforms, including Global Times, WeChat, and local Chinese websites, to target Chinese-Canadian voters, and discourage them from voting.
Former Conservative leader Erin O'Toole claimed earlier this year that interference from China in the 2021 elections cost the Tory party eight or nine seats.
It is unclear whether the operation of the 11 Beijing-funded candidates was successful; however, it emphasises the continued threat of Chinese interference in democratic elections in Canada and other western countries.