Germany is carrying out an urgent hunt for Russian double agents within the ranks of the Bundesnachrichtendienst (BND), its foreign intelligence service.
The review was prompted by the arrest of a BND employee on Thursday, who is suspected of leaking shared UK and U.S. wiretap intelligence to Russia.
The agent, referred to only as Carsten L, was detained in Berlin and searches have been taking place at his home, as well as two BND offices and another unspecified address.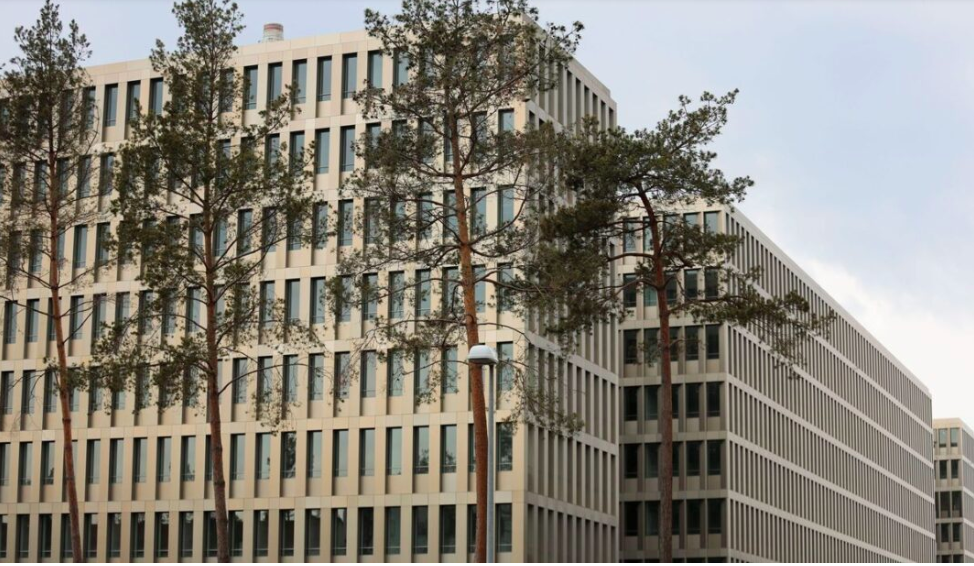 BND Headquarters in Berlin
Vice Chancellor Robert Habeck said the case was "particularly alarming", while also praising counter-intelligence services.
"We have to protect our interests and our services do that very well, as we saw yesterday," he told German broadcasters.
He is alleged to have been working for Russia since at least 2014, and concerns now centre on whether there are more Putin moles within Germany's equivalent of the CIA.
The BND also regularly receives intelligence from its British and American counterparts, so finding a double agent within its ranks is a severe international embarrassment as well.
The arrest follows the German government expelling 40 Kremlin spies in April this year, after they were discovered by the Federal Office for the Protection of the Constitution (BfV).
Thomas Haldenwang, head of the BfV, warned at the time that "this was far from all of them," while reflecting that there had been an an upsurge in espionage activities on the part of the Russian state.
National Security News (NSN) also reported in September how two alleged Russian spies had been unearthed working at the heart of Germany's economic affairs ministry.
In a statement, the BND said that its employee had been placed in custody and that searches at two BND offices had been carried out.
"After the BND became aware of a possible case of treason within its own ranks in the course of its intelligence work, the BND immediately launched extensive internal investigations," BND President Bruno Kahl said in the statement. "When these substantiated the suspicion, the Federal Attorney General was immediately called in."
Kahl added that the BND was working closely with investigators but would not be releasing any further details.
"Restraint and discretion are very important in this particular case," he stated. "With Russia, we are dealing with an actor on the opposite side whose unscrupulousness and willingness to use violence we must reckon with. Every detail of this operation that becomes public means an advantage for this adversary in its intention to harm Germany."
But news portal FOCUS Online reported Carsten L. was a senior official in a top-secret technical reconnaissance unit of the BND.
Part of his work was analysing information obtained through BND wiretaps worldwide, it said, citing Berlin security sources.
He also had access to information from wiretap operations by other Western security services, including in Britain and the United States, and there are concerns he could have passed this on to Russia, the report said.
Wolfgang Kubicki — vice chairman of the FDP party, a member of the ruling coalition — expressed concerns the scandal could affect ties between the BND and its counterparts overseas.
"If information could get to Russia from the BND, that will make cooperation with our partners even more difficult," he told financial daily Handelsblatt.
This is the first time that a BND employee has been arrested for suspected treason since 2014.
On that occasion German and US relations were strained when it emerged that a spy named Markus R. had been selling secrets to the CIA after offering his services as a so-called 'Walk In" to the US agency in 2012.
He was convicted in 2016 and sentenced to eight years in prison.
During searches of his home, German authorities recovered a USB computer memory stick with 218 documents stored on it. Markus R. told them he had received 25,000 euros for the information, a German security source said.
The news comes as Germany's Swedish and Norwegian counterparts also launched an unprecedented crackdown on espionage within their borders.
In Sweden, a couple aged in their fifties were detained in November in a quiet Stockholm suburb and accused of selling intelligence to Russia's GRU, which both deny.
Then there is the case of two brothers, Peyman Kia and Payam Kia, currently before the Swedish courts, alleged to have passed state secrets to the GRU for up to a decade. Peyman Kia, 45, the older brother, spent some of that time working for Sweden's security services and the army. Much of the trial is taking place behind closed doors. Again, both deny the charges.
Norway, meanwhile, is dealing with its own espionage problems. In Tromoso, its tiny regional courthouse has been hearing two cases of Russians accused of flying drones over the glacial landscapers of Arctic Norway. Neither is accused of spying, since this would be too hard to prove, but rather of breaching a ban on Russians flying aircraft in this area. One of the accused is Andrey Yakunin, the son of Vladimir Yakunin, a long-time ally of President Vladimir Putin. Prosecutors are pursuing a 120-day sentence. He denies the charges.
The other spy case which had gripped Norway is the alleged Russian illegal accused of posing as a Brazilian academic at the University of Tromso. He was arrested in October on suspicion of working for the Russian intelligence service NRK. Again, the suspicion was that Russia was seeking to gather intel on Norway's policies regarding the Arctic, where it and a number of countries, including China, are contesting access to huge mineral reserves buried under the ice.
Neither has the Netherlands been immune when it comes to illegal intelligence-gathering on the part of Russia. In March, it expelled 17 Russian diplomats accused of spying; and in June the Dutch Intelligence Service announced it had uncovered a Russian military agent attempting to infiltrate the International Criminal Court (ICC) using a false identity. The court is currently investigating war crimes in Ukraine.
NSN also reported last month on the case of David Ballantyne Smith, a security guard at the British embassy in Berlin, who faces up to 14 years in jail for selling intelligence about his colleagues to the Russians.