The movers and shakers from the biggest political party in the world – the 96 million-members who make up the Chinese Communist Party (CCP) – will gather in Beijing this Sunday, and for one man among the 2,296 delegates it promises to be history-defining.
China's 20th National Congress is expected to approve its leader Xi Jinping by a landslide vote to serve a historic third term, making him the most powerful leader China has had since Mao Zedong.
But despite local weather forecasts predicting sunshine, with temperatures at a steady average of 21 degrees Celsius, storm clouds are already gathering over the 69-year-old.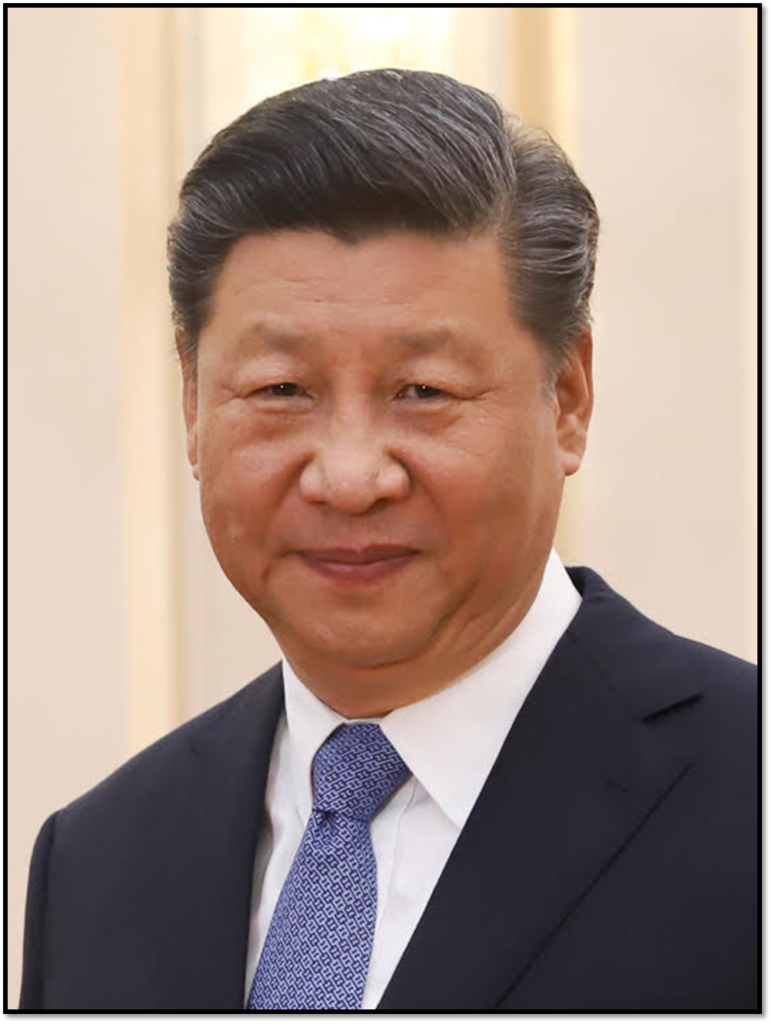 Two weeks ago rumours began swirling online that Xi Jinping was under house arrest and China's capital, Beijing, was under military control. For many it was an opportunity to not only poke fun at one of the most powerful individuals in the world, but also to question his authority when it came to his botched management of COVID and the worsening of relations with the United States of America.
The Chinese state media and the country's Ministry of Foreign Affairs remained silent, as social media was flooded with hundreds of videos and memes.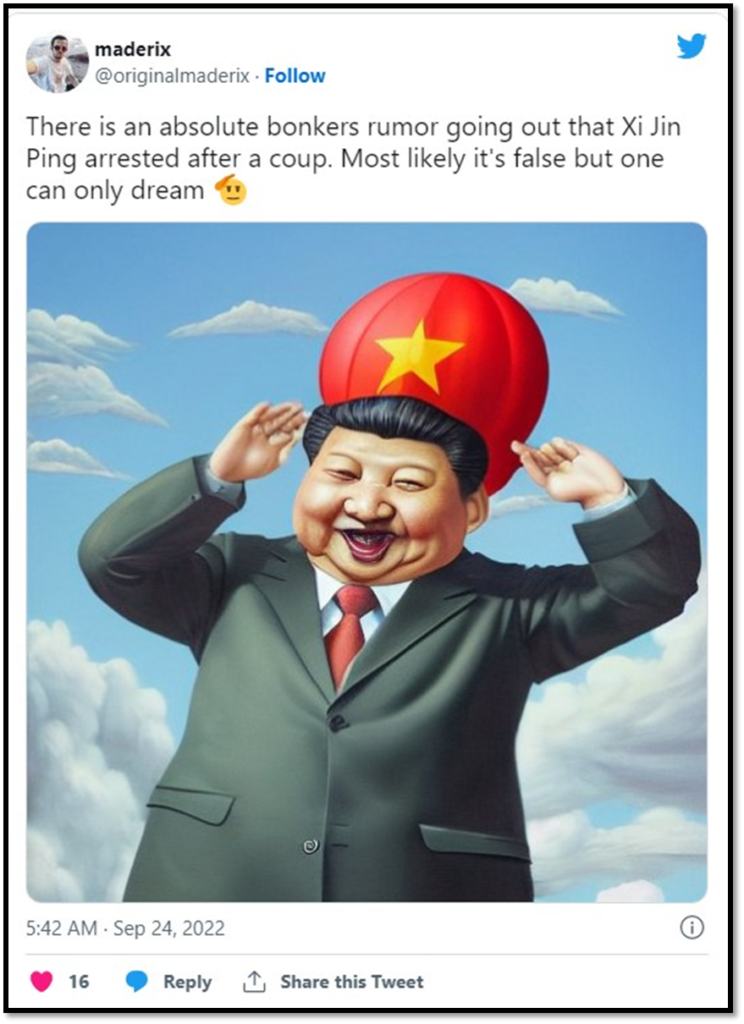 The false narrative originated from three accounts: two Twitter accounts and one YouTube account – all run by Chinese journalists operating abroad who took unrelated and meaningless titbits of information and manufactured the rumour.
The abrupt cancellation of 10,000 flights across the region, coupled with the fact that Xi Jinping had not been seen in public for several days, added credence to the story.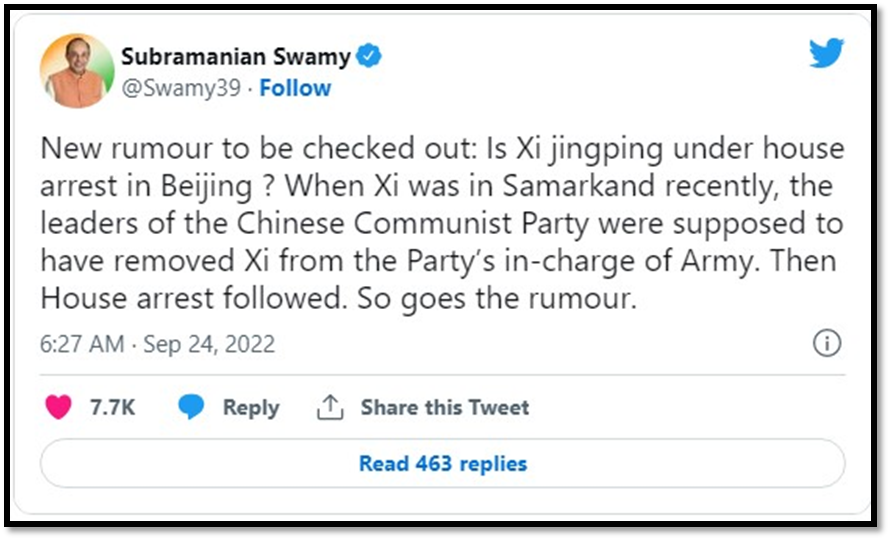 Further to this, a stock video, posted by Chinese Human Rights activist Jennifer Zeng, capturing a Chinese military convoy heading to Beijing, just 80km from Xi Jinping's home, fanned further speculations of a coup.
In reality, airline cancellations were due to Covid-19 restrictions that China had imposed, and Xi Jinping was in fact in quarantine following his attendance at the Shanghai Cooperation Forum where he held talks with other heads of state and came head-to-head with other prime ministers over border issues between China and India – his first trip out of the country in 2.5 years.
On Twitter, the hashtag #chinacoup was going into overdrive. OSINT analyst Atandra Ray tweeted, "I analyzed close to 2000+ accounts amplifying the hashtag #chinacoup."
He added: "I figured out a bunch of accounts with significantly low followers that acted as the key disseminators of the rumor."
Also debunking the rumours, disinformation specialist E Rosalie pointed out that footage released of a major explosion allegedly coming from Beijing was in fact a video taken of an explosion nine years ago in China's neighbouring city Tianjin in 2015.
The rumour was finally put to bed when Xi Jinping made his first reappearance on state television, after being absent from public view for a number of days, on top of several high-profile national defense and military reform meetings.
After a few days, the story lost momentum and began to be questioned and disbelieved by many.
But what it demonstrated, was that for all Xi Jinping's vice-like grip over his own people, power counts for little or nothing outside of even China's vast borders.
What the week-long 20th National Congress will perhaps show us is how much the delegates believe what many see as the Chinese leader's loosening grip as merely hype, or something which might mean Xi Jinping does not get to see out his third term.
Discussions will outwardly focus on the country's strategy for the next five years as it navigates a complex terrain both at home and overseas as it faces an economic slowdown, and heightened tensions with the United States and its allies in the wake of its aggression toward Taiwan.
But you can bet your Yen that behind considering the CCP's centenary vision to "build a moderately prosperous society in all respects" by 2049, there will be murmurs about whether Xi Jinping is still the right man for the job.