The notable alumni of Stanford University reads like a who's who of sport, politics and show business.
Former US presidents John F. Kennedy and Herbert Hoover; Pulitzer Prize-winning author John Steinbeck; justice of the Supreme Court Sandra Day O'Connor; entrepreneurs Larry Page and Elon Musk; actors Sigourney Weaver and Reese Witherspoon; sports star John Elway and golfer Tiger Woods to name but a few.
And ex secretary of state Condoleezza Rice is now on the staff, leading Stanford's world-famous Hoover Institution.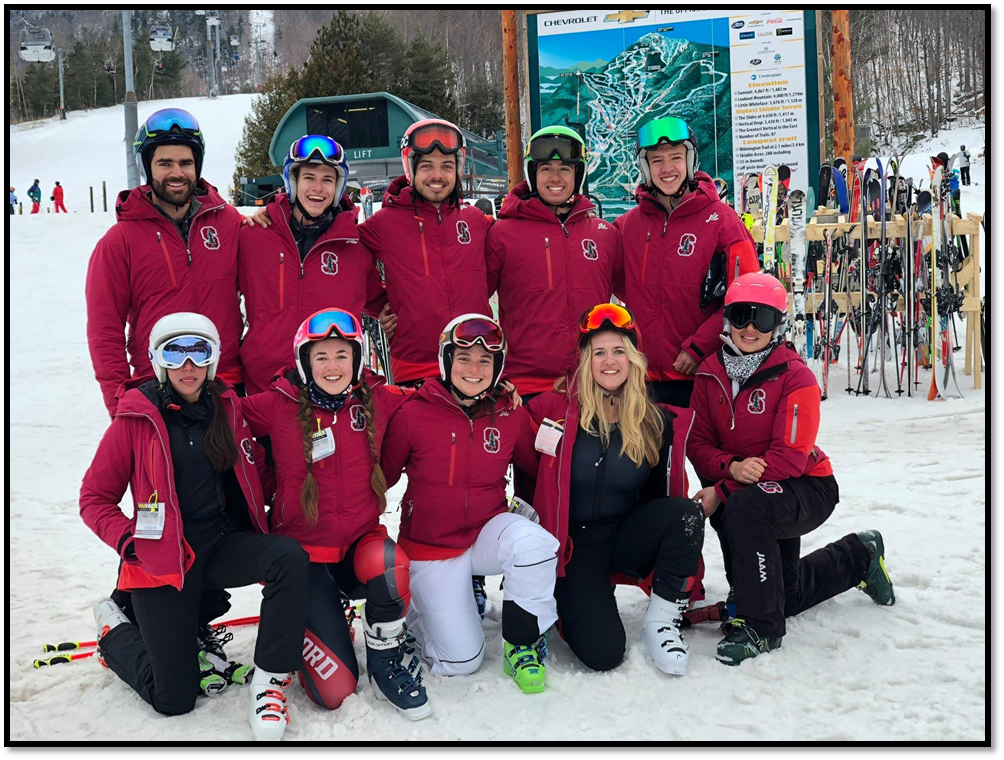 However, across the pond the most talked about Stanford graduate, currently at least, is a young Russian woman called Anastasia "Ana" Spiridonova who, until a few months ago, was rubbing shoulders with HRH Princess Anne, Royal Patron of The Security Institute where Ana was elected company director.
We say Russian tentatively, because according to conflicting entries in the UK's Companies House registry, Moscow-born Ana went from being Russian to British on its database after a fallout at The Security Institute in which some members accused her of being a Soviet spy.
Here is "Russian" Ana being elected to the board of directors at The Security Institute on 28 April this year, and previously when she was appointed as a director of an investigations and risk management firm The Lost Boys Detective Agency Limited on 1 September 2021.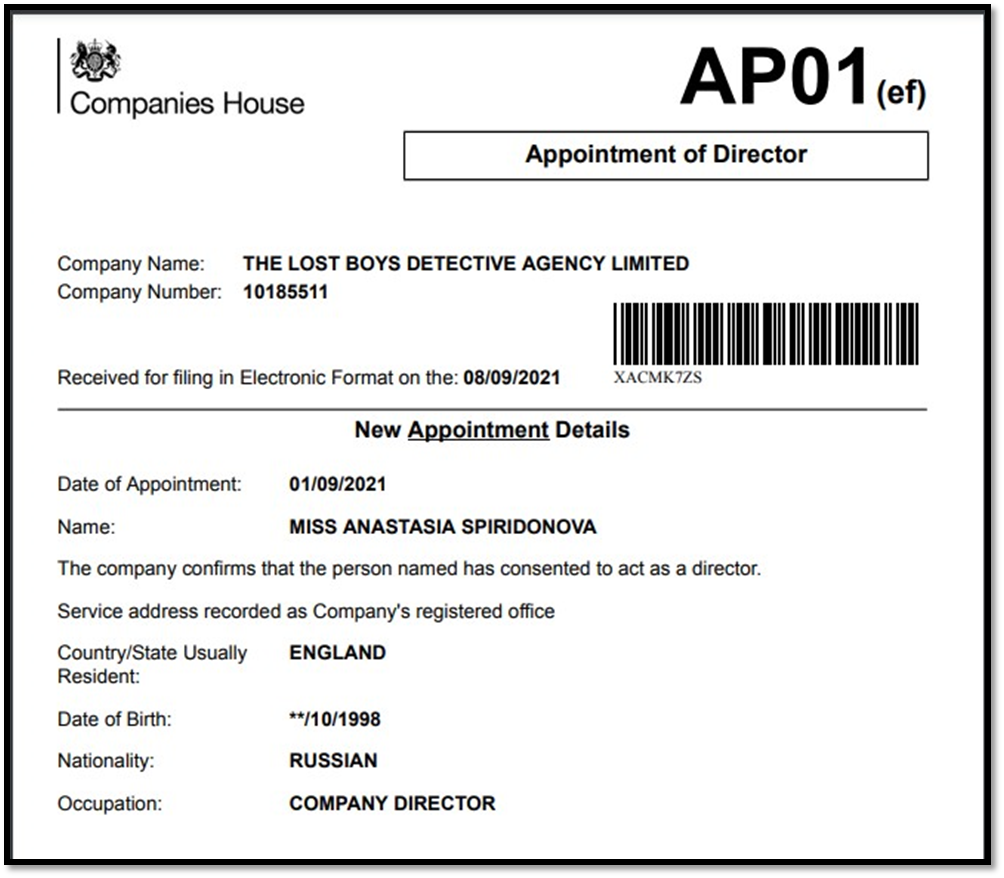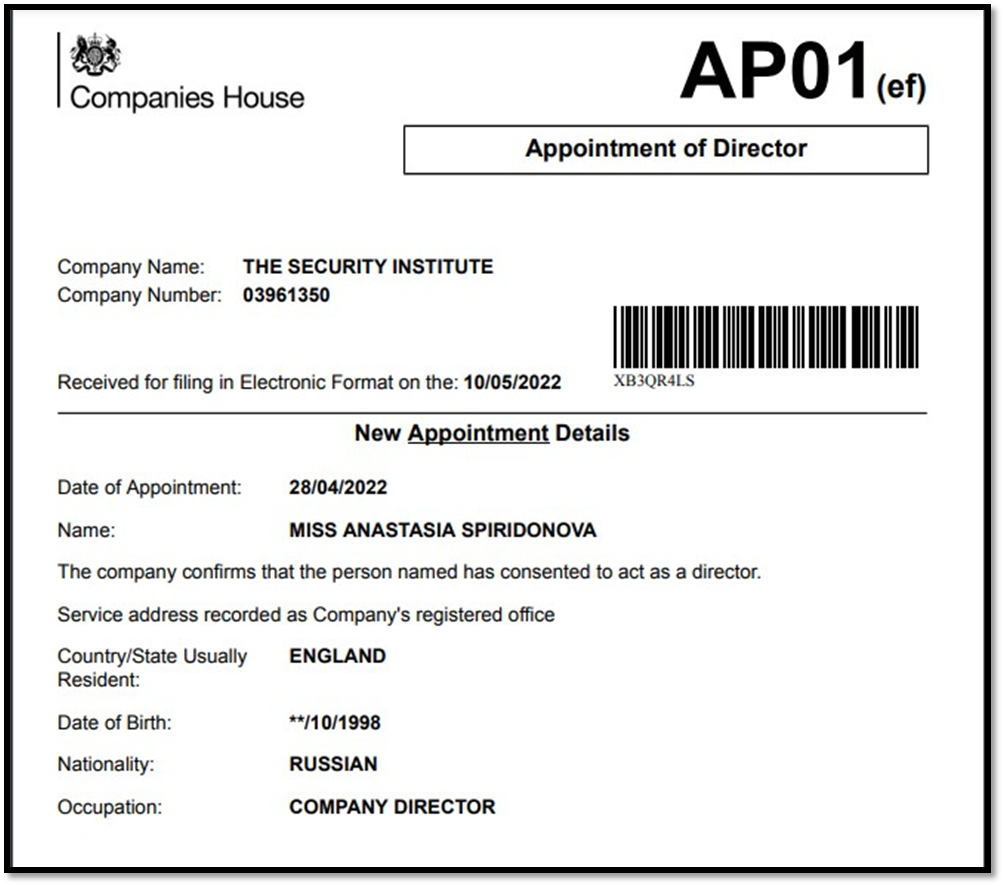 However, a month after Ana resigned from The Security Institute, two months into what was supposed to be a year-long tenure – sources said she was pressurised to step down after her links to the Kremlin were discovered – she notified Companies House that she had changed her nationality to British.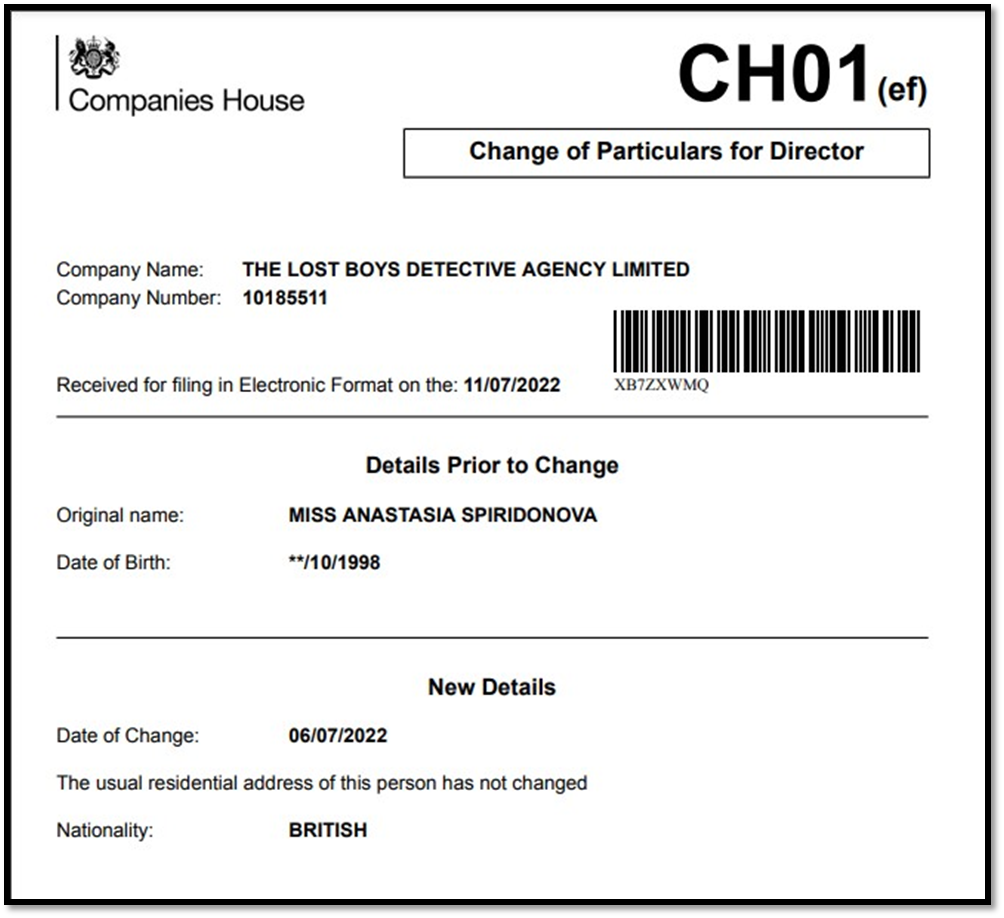 Ana had not helped her cause by earlier writing for The Security Institute's quarterly magazine of her Stanford connection, and how she was accidentally copied in on an email in which someone at a large law firm wrote "Sounds like a spy to me" when rejecting her application for an internship.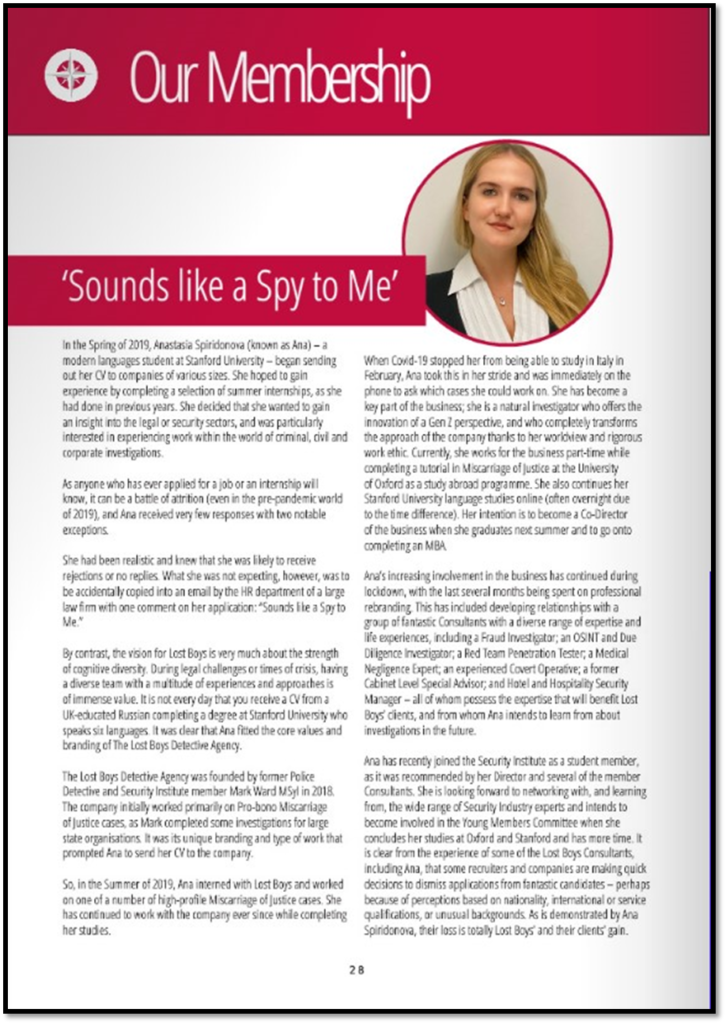 Inquiries by National Security News (NSN) also revealed that this was not the only example of unusual behaviour involving Ana.
Two accounts were found containing almost identical pictures of her on a Russian social media platform. The first one has her under "Anastasia", currently residing in Moscow, and noting her studies at Stanford University as a 2021 graduate. Nothing unusual here, until we turn to her second profile, which bears the name "Regina Gadzhibadzhi".
Ana as "Regina" lists her current city as Dnipro (Dnipropetrovsk) and hometown as Lugansk, both cities located in Ukraine. The date of birth also differs, as she lists that she was born on 10 June 1999, instead of the October 1998 date listed on UK Companies House.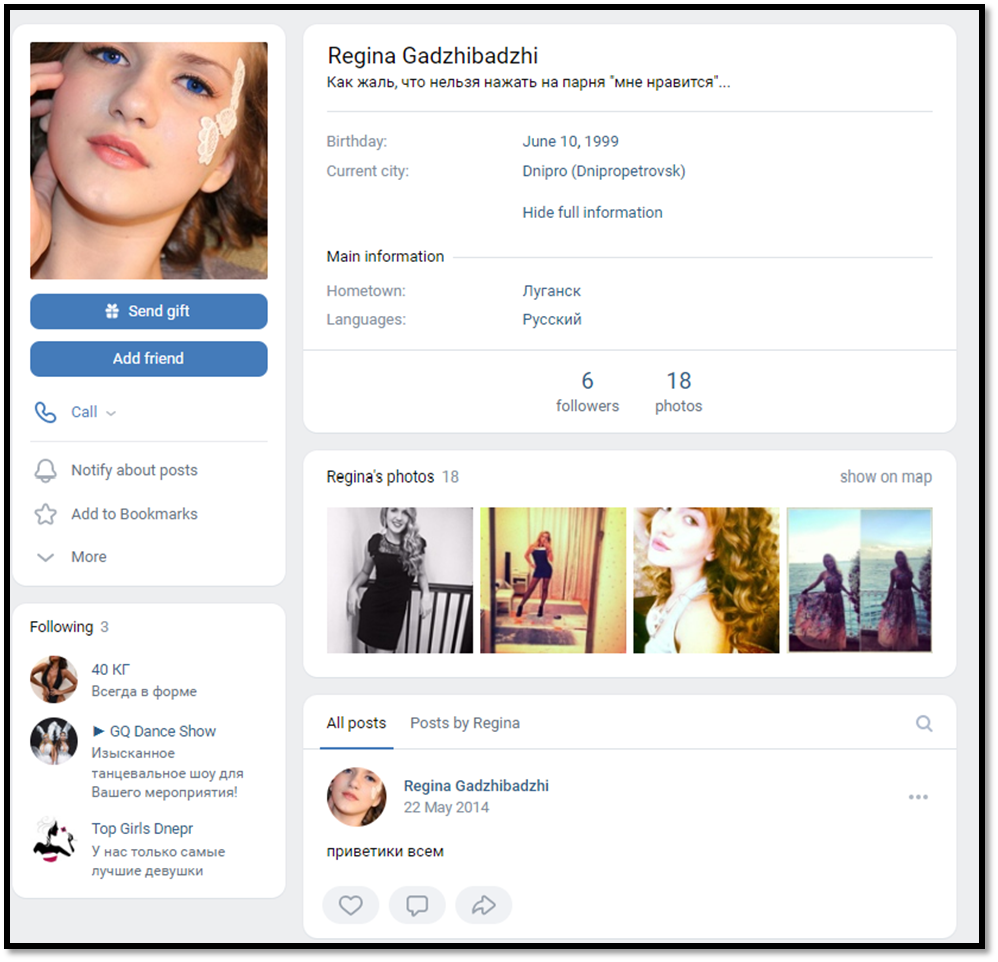 Interestingly, the posts on this profile, which are dated May 2014, are a short time after Russia's invasion and subsequent annexation of Crimea across February and March 2014, after which Russia then turned its attention to the Donbas region.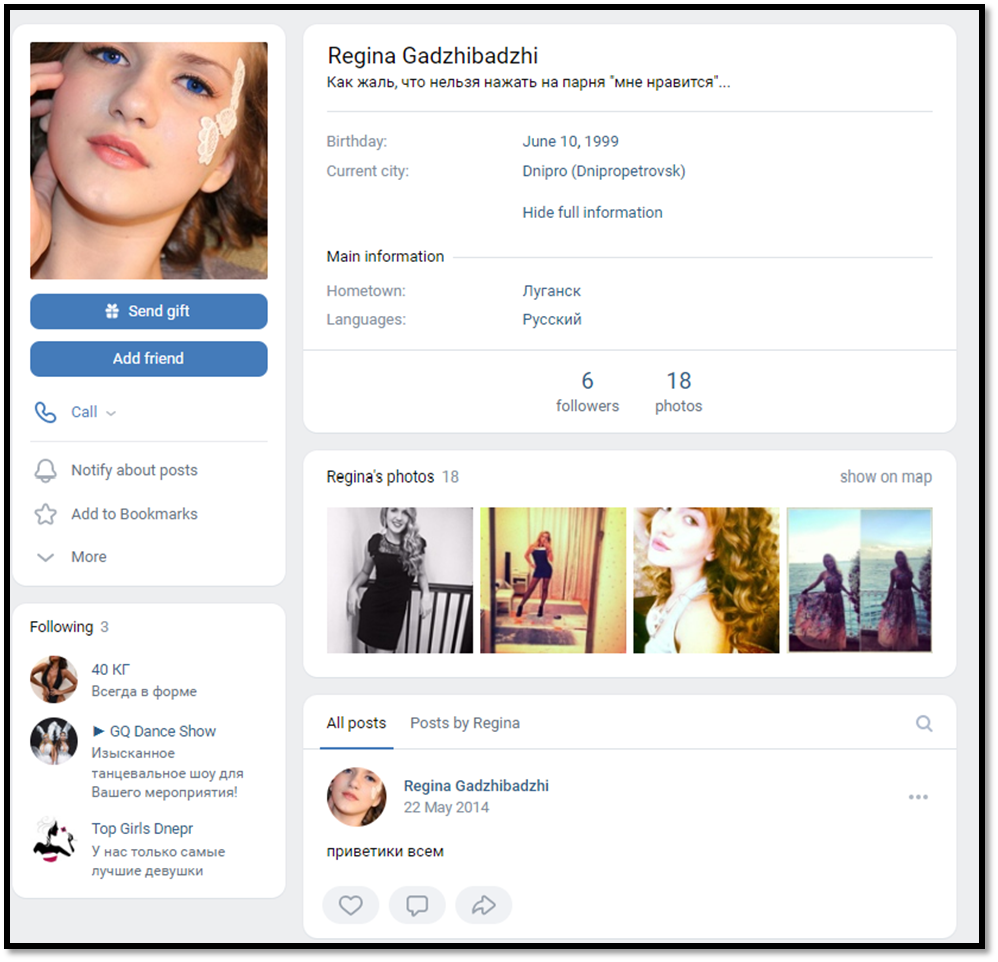 Image uploaded by "Regina".
Aged approximately 15 (at the time of post) in the image above, her choice of t-shirt is interesting: the hammer and sickle represent, respectively, workers and peasants, and the star symbolises the ultimate goal of global communist victory. In Russia, the hammer and sickle are present in the flags and emblems of the Communist Party of Russia.
Taking a look at her British education, at the highly selective and prestigious Sevenoaks School, Ana was involved in sport; but not just any old badminton or netball clubs on offer: she took up shooting. She was part of the National Smallbore Rifle Association and was selected by the school to represent England in a national rifle match. She was also a cadet sergeant at a military skills competition, training for which included firing air rifles and practising camouflage and concealment. Ana was required to identify and direct the team onto visual targets using correct military terminology and procedure.
The school's website speaks glowingly of its alumni's achievements, stating in 2019: "It was wonderful to welcome back Old Sennockian Anastasia Spiridonova (OS 2017), currently studying at Stanford and acting as an International Ambassador". She further gave an update on the School's website in 2021 on graduation from Stanford and directorship with The Lost Boys Detective Agency."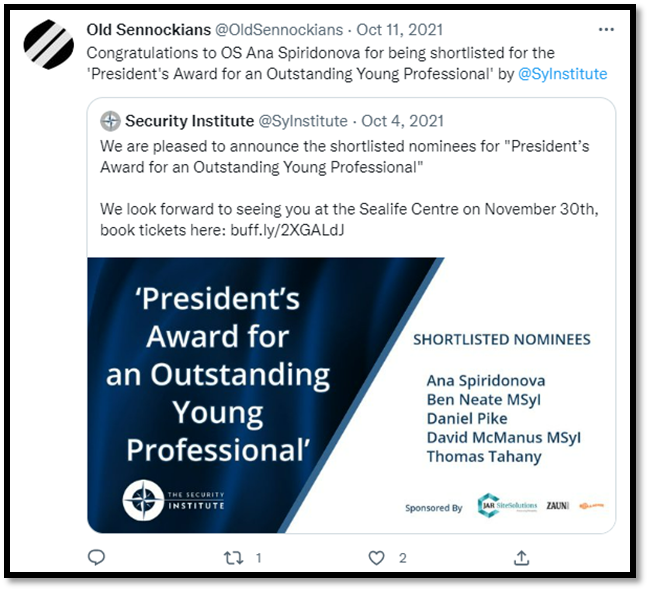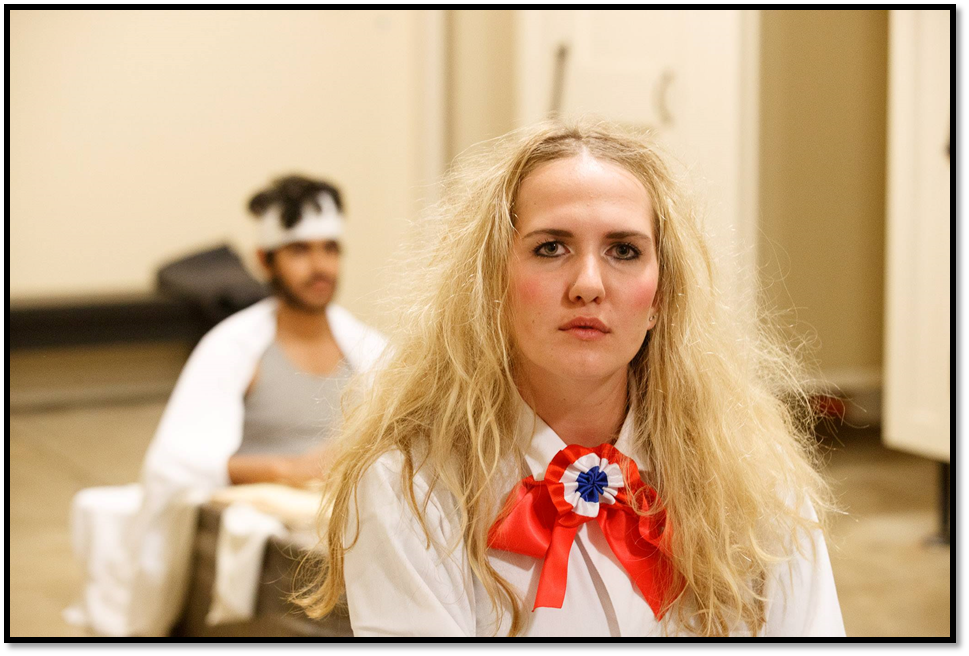 The Security Institute might perhaps have better taken Ana's advice, which she posts in TikTok videos, one of which states "Companies House: a detective's biggest love" with a caption that reads, "The first go-to place for corporate red flags". On her TikTok profile, she describes herself as "TikTok's Resident Detective", and posts content and guidance on due diligence steps, which highlights the need for social media checks.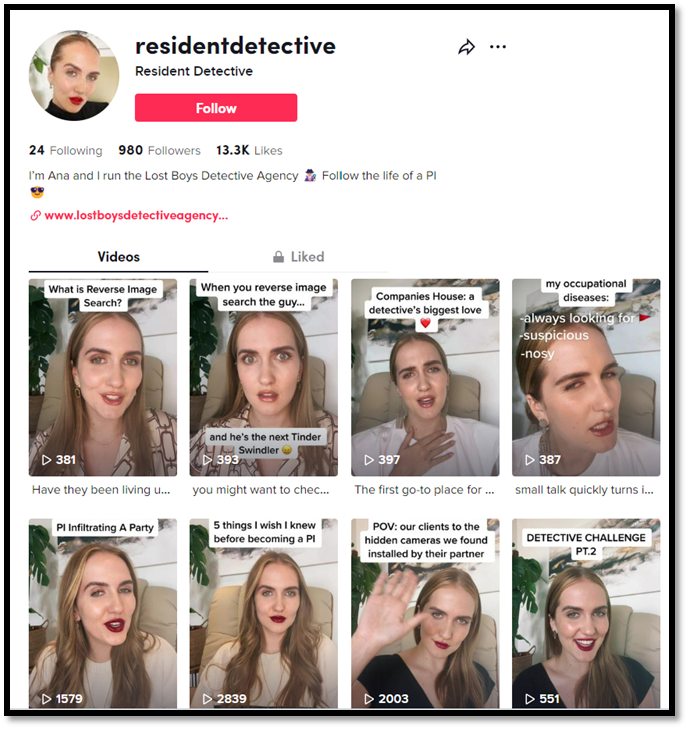 As co-director, Anna wrote a blog post for the Lost Boys Detective Agency: "You would be surprised and even shocked at just how much information about you is out there ready to be gathered from free public sources and databases."