PKK Terrorist Attack Threatens Regional Stability & Swedish NATO Membership
On Sunday 1 October, Turkey confirmed launching airstrikes on militant targets in northern Iraq and making arrests in Istanbul, shortly after Kurdish militants claimed responsibility for their first bomb attack on Turkey's capital in years, which detonated near government buildings in Ankara, killing two attackers and injuring two police officers.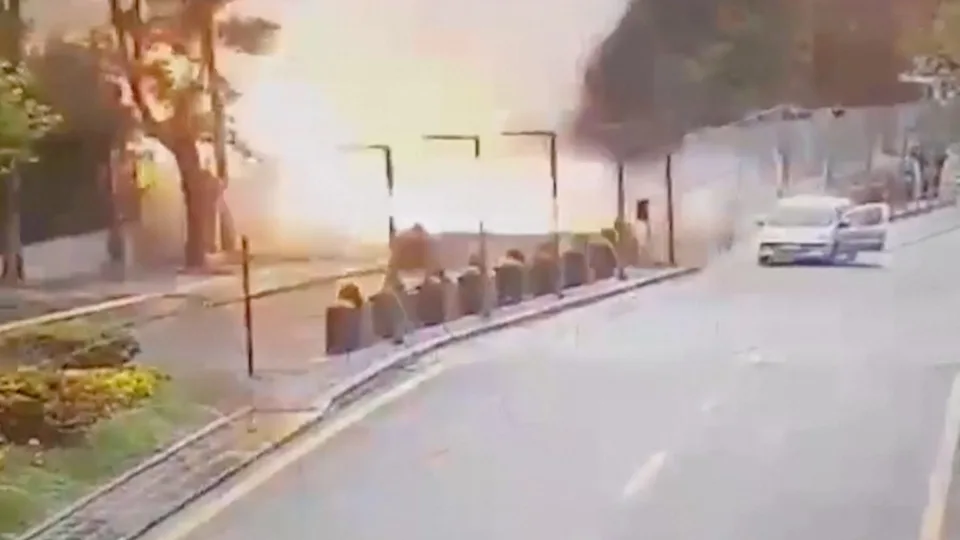 A screen recording showing the moment of the explosion outside the Turkish Ministry
The explosion shook the entire neighbourhood, home to ministries and the parliament, coinciding with the reopening of the assembly during which legislators were set to ratify Sweden's membership of the NATO defence alliance.
The internationally recognised terrorist organisation Kurdistan Workers Party (PKK) militant group established by Abdullah Ocalan in 1978, has been waging an insurgency since 1984 against Turkish authorities with the objective of establishing an independent Kurdish state.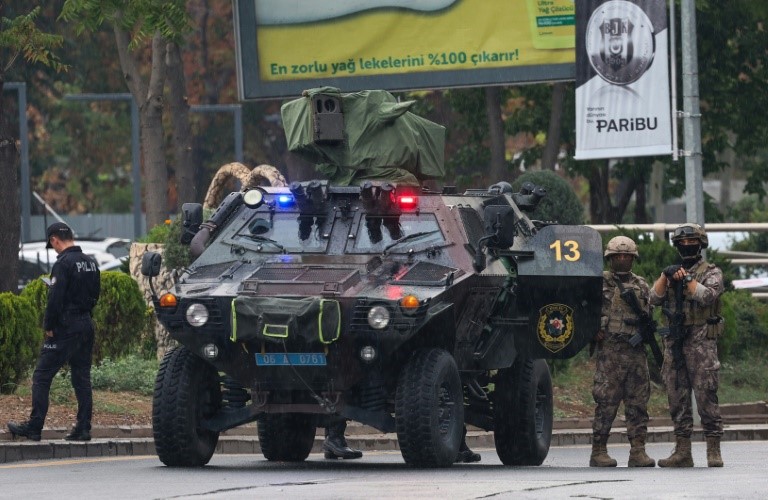 Turkish police securing the area near the interior ministry following the explosion
According to Turkey, the ongoing conflict has resulted in approximately forty thousand deaths.
Turkey's Defence ministry reported that a significant number of militants were "neutralised,", in the air strikes which wiped out a total of 20 PKK targets including caves, shelters and depots used by the militant group in Iraq's Gara, Hakurk , Metina and Qandil regions.
Why this matters
Over the last few years, Turkey has noticeably ramped up its military operations against the PKK in northern Iraq, asserting that these actions are granted under its self-defence rights, set out in Article 51 of the United Nations Charter, which explicitly allows a state to use force in response to an armed attack by another state.
Turkey's endorsement to ratify Sweden's NATO membership had been delayed due to resentment over the refusal by the Swedish police to ban marches by the PKK group and their backers in Stockholm.
Experts have speculated that the PKK may be attempting to hinder Turkey's endorsement, as it could serve to strengthen Ankara's strained relationship with Washington DC.
Turkey is actively working to persuade the United States to withdraw its backing for Kurdish fighters associated with the YPG group in Syria, a policy shift Ankara might expect in return for its ratification. Washington DC has relied on the YPG to combat Islamic State group militants in the region; however, Ankara views the YPG as a sister organisation of the PKK.
If the Kurds do succeed in establishing an independent state in Syria amidst the turmoil grappling the region, it could accelerate secessionist movements in other Kurdish areas of the Middle East. Meanwhile, heightened terrorist activity by Kurdish separatists continues to be an increasing concern for the United States and its allies.
Having stirred up fears of the PKK and heightened terrorism activity by Kurdish separatists, we can only expect Erdogan to continue his heavy-handed policies toward Kurds at home and abroad.