VLADIMIR Putin is pinning his hopes on Donald Trump winning back the Presidency and ending America's support for Ukraine, according to Western Intelligence officials.
The Russian president believes such a move would shatter international co-operation against the illegal invasion and inevitably lead to his smaller neighbour's surrender.
America has been President Zelensky's biggest cheerleader, providing more military assistance than the whole of the EU states combined.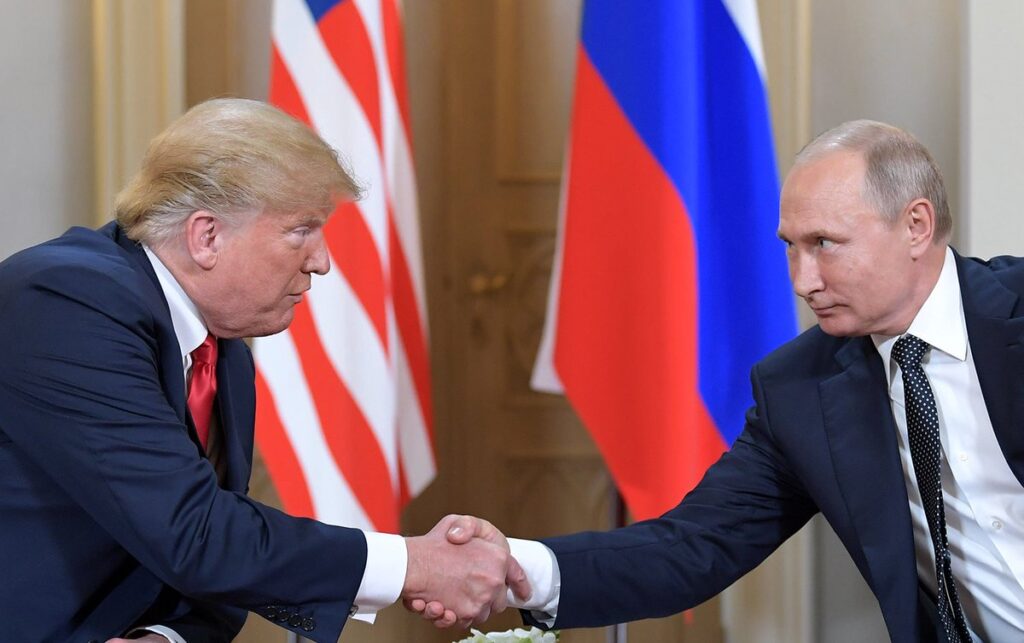 Trump and Putin meeting in Helenski in 2018 Source: Twitter
Trump and his supporters have made no secret of the fact that they consider support for Ukraine to be a low priority than securing America's own borders. Depressingly it is a stance which plays well with some Republican voters.
Trump has also previously mooted a plan requiring Kyiv to surrender its occupied provinces; something Ukrainian President Zelensky has ruled out doing.
Western security sources, however, add that Putin is once again under estimating the appetite of Ukraine's other allies, insisting there is "no war fatigue" among them at all.
In a top level briefing in London this week, they said Russia is losing the war despite the slow progress of the Ukrainian counter-offensive.
The officials added that months of international sanctions has seriously undermined Russia military industrial complex and Moscow's ability to regenerate lost equipment and expended ammunition.
Russian armed forces have suffered 270,000 casualties and lost 2,000 tanks and 4,000 armoured vehicles, the intelligence officials added.
Ukraine's counter offensive is going "slower than anticipated" but its armed forces have destroyed 50 per cent of Russia's combat power, a western official said.
"We aren't just about to walk away as this isn't really a war choice and our support for Ukraine will continue," they added.
"There's a no sign of war fatigue in Ukraine, they're not about to give up" and the Ukrainians were "determined to eject Russia from its territory".
Although in the past week Ukraine has made a potential breakthrough in Russian lines around the settlement of Robotyne, NATO's hoped-for armoured penetration has not happened after almost 100 days of counter-offensive action.
Senior sources have recognised that the progress could only be measured in kilometres, stating that Ukraine's western-supplied brigades had been rapidly put together and had to face "extraordinary well prepared" defences.
"It is incremental, methodical progress and it is slower than we anticipated a couple of months ago," a senior source told a media briefing. "That's an acknowledgement of Russian defences and the Ukrainians having to pull together a force that is a mixed fleet of both old equipment and donated equipment, and a civilian population that has been thrown to the fore."
The combat brigades are doing one of the "toughest things in land warfare" in breaching deep minefields while under enemy fire. "It's incredibly tough, but they're making progress."
Instead of "obsessing about how many hundreds of metres Ukraine has achieved today", it must be understood that the war "has been a catastrophic failure for Russia" as it had botched all its strategic objectives, the source added.
Furthermore, NATO has grown stronger and there is no evidence to suggest that Moscow is winning, the official added.
"Over the last year Russia has lost 50 per cent of the territory that it seized and never changed the government of Ukraine," he said.
By comparison, the source said, Ukraine was on a pathway to having a better air force than it started the war with and had "a substantially stronger army" that was likely the largest and best in Europe.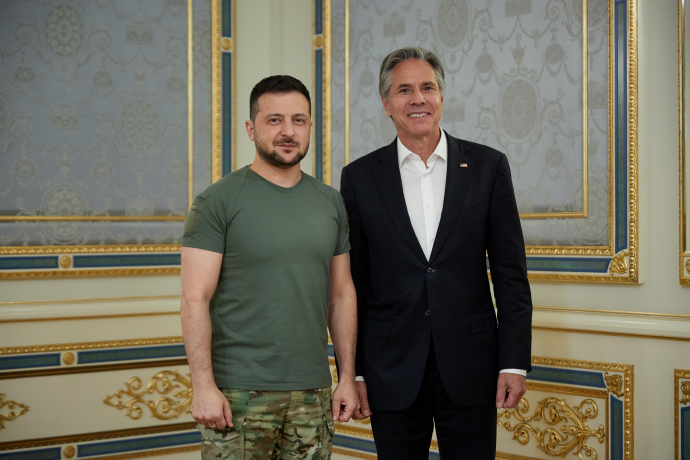 Zelensky meets US Secretary of State Antony Blinken, Source Ukraine government

The source also disclosed that a British-supplied Challenger 2 tank, which had been pictured on fire, had hit a mine and was then struck by a kamikaze drone. All the crew escaped unharmed but there were no plans as yet for the tank to be replaced.

The official concluded that Ukraine was a democracy that had a good future with likely membership of NATO and the EU but it needed to "put right the damage that has been inflicted by Russia" and that would take time.

By contrast, Russia "continues to diminish nation" and was a "closed country with millions of people trying to get out".
Meanwhile, Antony Blinken pledged to give Ukraine what it needs to succeed in its counter-offensive against Russian forces during a surprise visit to Kyiv.

The US Secretary of State arrived on unannounced visit, hours after Russia launched its first missile attack in a week against the Ukrainian capital.

His visit is the first trip to Kyiv by a top US official since the Ukrainian counter-offensive began.

Mr Blinken's trip aims to assess Ukraine's three-month counter-offensive and signal US support for Kyiv's efforts to drive out Kremlin forces after 19 months of war amid concern from some western allies about the speed of progress, US officials said.

"We want to make sure that Ukraine has what it needs, not only to succeed in the counter-offensive but has what it needs for the long-term, to make sure that it has a strong deterrent," he said during the visit.