Pictures have emerged of a police anti-drone unit forming part of the security cordon around the funeral of hometown favourite Yevgeny Prigozhin just outside St. Petersburg.
The hand-held devices were first introduced in Russia's second largest city back in May, following the shooting down of two drones near the Kremlin.
This, however, is the first time they have been seen at a burial service, reflecting the fact that even in death Prigozhin remains a divisive and dangerous figure.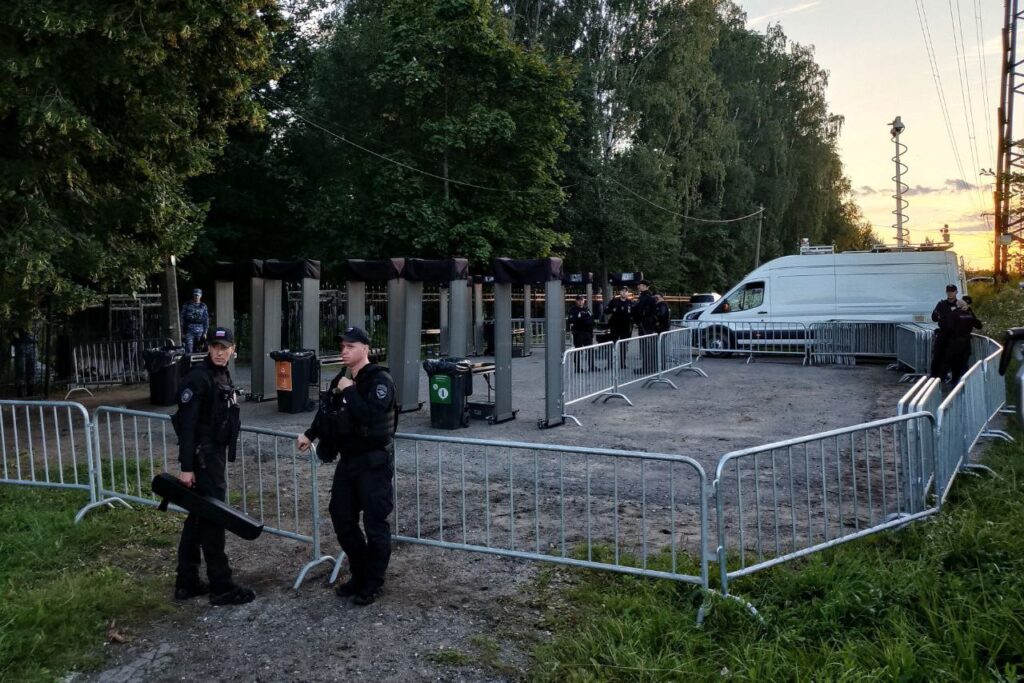 The point-and-shoot electro magnetic pulse weapon handles like a standard infantry rifle and is designed to jam a drone's communications signals, forcing them to either fall to the ground, or return to base. Snipers have also been assigned to the St. Petersburg unit as part of a shoot-on-sight policy against anyone seen operating, or marking targets for them.
Drone expert says more to come
Angus Benson Blair, MD and Founder of T Stop Aerials Limited, who spent 18 years  in the Army as an officer in the Royal Scots Dragoon Guards, said the presence of the anti-drone guns reflected a growing awareness in Russia and elsewhere that drones have now changed the face of war forever.
Mr Benson Blair told National Security News: "The guns themselves look on the face of it look to have a limited range, reflecting the fact it appears very unlikely that they were countering drones being launched from the Ukraine
"What this reflects I believe, and there is a growing body of evidence from recent drone attacks to support it, is that Ukrainian sympathisers within Russia itself are also launching attacks.
"A conventional drone costing £200 can be armed with little knowledge or experience and deployed at a local target without any tell-tale evidence trail. The Prigozhin funeral had the eyes of the world on it, so was an obviously attractive target, but pretty much any public space is vulnerable to attack."
Mr Benson Blair added that war is also about perception, and that while drone attacks so far in Russia have caused minimal damage, they have removed the prior belief that the only mortal danger to Russians was on the battlefield. Carrying the anti-drone guns, he believes, is about trying to reassure the Russian public that the authorities are ready to act.
The Kremlin has not commented on the development, and it is unclear where precisely the perceived threat is coming from.
Pictures reflect how divided Russia is over the mercenary's death
An excerpt from Joseph Brodsky's poem "Still Life", which ends with the words: "Dead or alive, there is no difference. Son or God, I am yours" Source: @DonbassSegodnya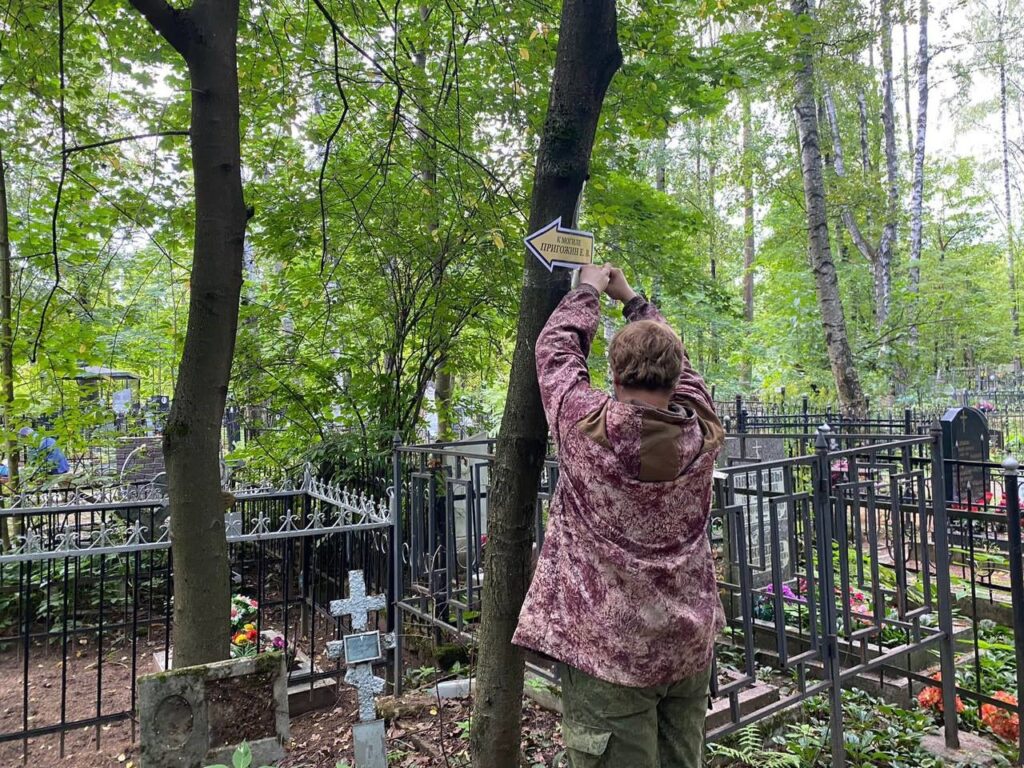 Such was the demand to see Prigozhin's final resting place, signs were erected to give directions. Source – Twitter @mkomsomolets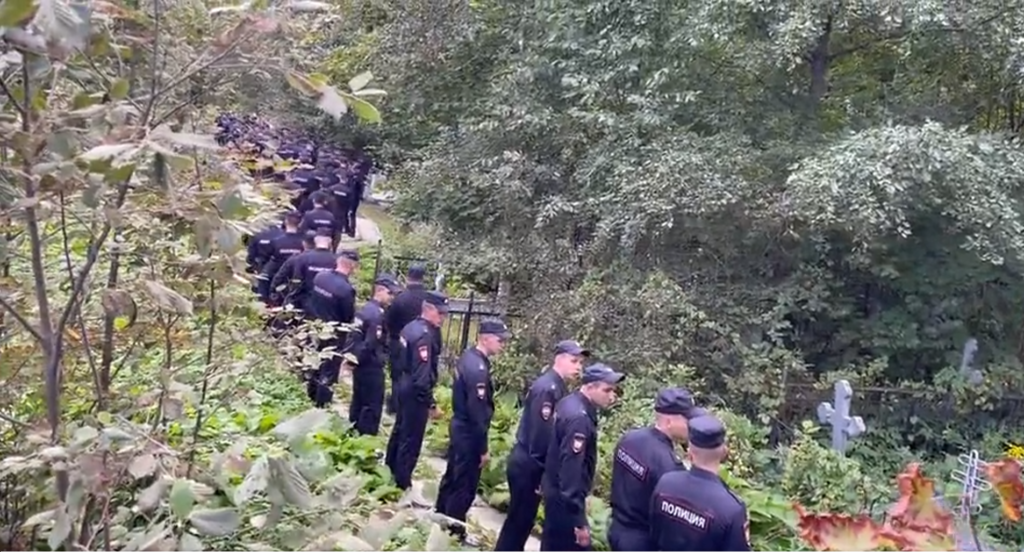 Screenshot from a video posted by @VALERIEinNYT of policemen at the cemetery on the day of Prigozhin's funeral.
In addition to Ukrainian sympathisers, of which there are many, large parts of Russia remain split over Prigozhin's sudden death. In one corner are supporters of the Wagner mercenary group clearly angry at what they see as a state-sponsored assassination; which on the other there are equally volatile supporters of Putin, including a significant number who believe the crash was staged so that fingers would be pointed at the Russian president.
The funeral was attended by a mere 30 individuals, amid tight security measures and a conspicuous absence of military honours mandated by a presidential decree.
Notably, President Vladimir Putin did not attend, choosing to keep his distance, as the ceremony remained an intimate gathering limited to close family and relatives.
The funeral service itself was shrouded in secrecy
The final farewell to Prigozhin, a man known for his shadowy influence in the world of private military contracting, took place under an unprecedented veil of secrecy. Contrary to the established protocol for individuals bearing the prestigious title of "Hero of Russia," Prigozhin's burial was devoid of the customary military honours.
His coffin should have been guarded by a military honour guard, accompanied by a military band, and a funeral team should have overseen the proceedings, culminating in a salute fired with blank cartridges.
However, none of these honours were bestowed upon Prigozhin. Instead, the ceremony was marked by heavy security, with fences and metal detectors reminiscent of high-level diplomatic compounds. One observer, Christo Grozev, an investigative journalist with Bellingcat, jested, "Prigozhin's grave is walled off by a bigger security perimeter than the US embassy in Baghdad."
Tatiana Stanovaya, a Senior Fellow at the Carnegie Russia Eurasia Center, added a layer of intrigue to the event. She asserted that Prigozhin's funeral appeared to be the culmination of a covert operation designed to eliminate him.
"Conducted under the strict oversight of the security agencies, the entire process was shrouded in secrecy and involved deceptive tactics. Attendance was restricted to a maximum of 40 individuals, all carefully vetted for their reliability and trustworthiness to ensure a controlled environment devoid of any disruptions."
"Notably, the state distanced itself from any public involvement in the funeral, despite Prigozhin's distinction as a Hero of Russia," she added.
The day following Prigozhin's interment, the Porokhovskoe Cemetery underwent extensive preparations to accommodate potential mass visits, with 14 dogs and corridors of fences deployed to secure the site. Significantly, the cemetery now features markers leading to Prigozhin's grave.
In a statement posted on Prigozhin's Press Service Telegram channel, it was noted that the farewell to Prigozhin occurred in a "closed format". The message extended an invitation to those wishing to pay their respects, saying, "Those wishing to say goodbye can visit the Porokhovskoe cemetery."
Prigozhin's death itself remains shrouded in mystery. He perished in a plane crash in the Tver region, with speculative theories ranging from an onboard explosion to possible foul play.
As the burial site of Prigozhin becomes a point of interest, questions surrounding the circumstances of his death and the cloak of secrecy surrounding his funeral continue to fuel speculation and intrigue, leaving the world to wonder about the true nature of Prigozhin's final chapter.