Putin "I feel your pain" propaganda backfires as Russian mothers criticise staged TV broadcast
A carefully choreographed attempt by Vladimir Putin to convince mothers of poorly trained and equipped Russian soldiers being killed in the Ukraine that he "shared their pain" looked like spectacularly backfiring on the Russian president last night.
In a televised meeting broadcast on State media timed to coincide with Mother's Day, a sombre looking Mr Putin was shown ensconced with a group of 17 hand-picked women around a table adorned with fresh fruit and ornate tea cups.
Observers also noted that only selected clips were shown, and that it was only put on television after the event at Putin's Novo-Ogaryovo residence outside Moscow had taken place.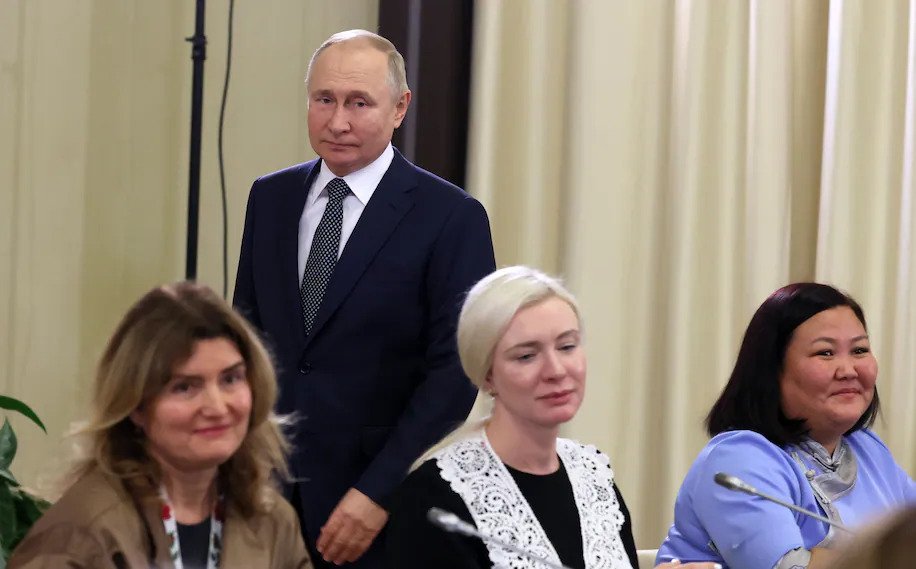 "I want you to know that I personally, the entire leadership of the country, we share your pain," Putin said, pausing and clearing his throat. "We understand that nothing can replace the loss of a son, a child, especially for the mother, to whom we all owe the birth."
"I want you to know that we share this pain with you and, of course, we will do everything so that you do not feel forgotten," Putin added.
He told one mother whose son died in Ukraine that "we are all mortal, and someday we will all leave this world."
"It's unavoidable. The question is how we lived," Putin said. "Some die and it's not even noticeable … But your son lived. His goal has been achieved. In this sense, of course, his life turned out to be significant, with a result."
But the state propaganda cut little ice with groups like the Council of Mothers and Wives, which has pleaded with officials to end mobilization and bring the men back home, and the veteran advocacy group the Soldiers' Mothers Committee, which processes thousands of complaints from soldiers and their family members. Neither was invited and both were distinctly unimpressed.
"We are not at all interested in this," Valentina Melnikova, the secretary of the Union of Soldiers' Mothers Committee, said when asked if her group would've sent a representative if invited.
Mrs Melnikova said in an interview last week that the amount of calls the committee received after mobilization was announced increased by "one hundred times."
"It's crazy that the conversation is still not public, even with the mothers who were cleared to see Putin," the Council of Mothers and Wives said in the group's Telegram blog. "Are they scared that some mothers will still blurt something out?"
An estimated 100,000 Russians have been sent to fight the Ukraine, included conscripted troops with less than two weeks training. Many have later been found wondering in the woods desperate for food and even without basic kit.
Despite grave legal consequences for criticising the war, Russian families have taking to social media to decry the conditions their sons find themselves in on the front line, and slamming poor leadership.
Tagged:
russia
ukraine