China and Russia are building an arsenal of cosmic weapons in a bid to achieve military dominance in space for decades to come.

Senior US and British military commanders have warned that Moscow and Beijing are spending "billions" on lasers, anti-satellite and hypersonic missiles, and space-to-space orbital engagement weapons.

One fear gaining traction in Washington and London, is that Russia and China will join forces to take control of vast sectors of the moon, rich in minerals and metals.

Concern over the increasing weaponisation of space followed the launch of moon missions by India with the Chandrayaan-3 programme in July, followed by Russia's Luna-25 mission on August 11th.

Both missions are heading for the moon's south pole where the Shackleton Crater is situated. The crater could prove crucial to future space missions and so-called "astro-politics" because it is believed to contain water in the form of ice which would be vital to any future moon bases.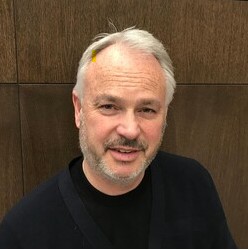 Pic courtesy of Tim Marshall

Author Tim Marshall said the race for control of sections of the moon like the Shackleton Crater had already begun.

He described the current space race as a "Klondike Gold Rush" saying the current space laws are not fit for purpose for the 21st century.

Marshall said: "At the moment, the Russians are trying to get in [on the moon] on August 21st, the Indians are looking at the 23rd August. Long term, the Chinese want a moon base by 2028, that's ambitious, one of the two blocks will have them in the early 2030's."

Air Vice-Marshal Paul Godfrey, the head of the UK's Space Command, also warned about the threat posed by China and Russia beyond the stratosphere.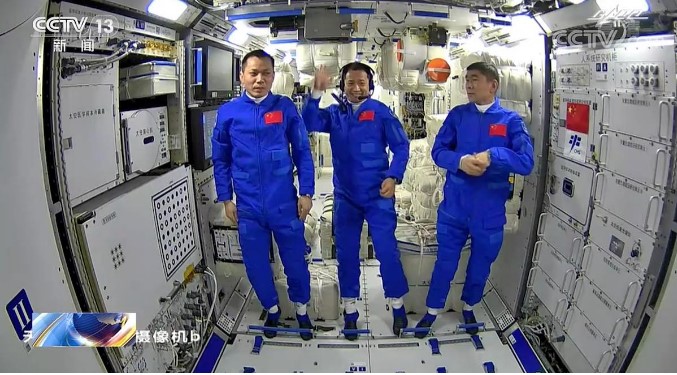 Chinese astronaut Tang Hongbo (left), commander Nie Haisheng (center), and astronaut Liu Boming (right) inside the Tianhe core module of China's space station. Credit: CCTV

Godfrey revealed that "billions" were being invested by China and Russia to explore space and create cosmic weapons. Beijing has technology that can "grab" and move satellites, while Moscow has anti-satellite missiles able to hit targets orbiting at 17,500 miles per hour.

He added that Beijing was looking at mining the moon after a lunar test mission in 2020 discovered a new phosphate mineral named Changesite-(Y) that could be used as fuel for nuclear fusion.

"China has released a white paper where they're looking at critical minerals on the moon," he said. "They've returned samples from the moon already. They are just looking to go further with that. Asteroid mining will be a thing in our lifetime."

General Bradley Chance Saltzman, the US Chief of Space Operations, made a similar disclosure earlier this year when he said that space had "fundamentally changed" in just a few years due to a growing arms race, singling out China as the "most challenging threat," followed by Russia.

He said "We are seeing a whole mix of weapons our strategic competitors produce. The most challenging threat is China but also Russia. We must account that space as a contested domain has fundamentally changed. The character of how we operate in space has to shift, and that's mostly because of the weapons (China) and Russia have tested and, in some cases, operationalised."

In a warning to the Senate Armed Services Committee, he added: "When describing space threats, it is important to account for two kinds: first, threats from space assets and second, threats to space assets."
Threats from space, the General said, include both China's and Russia's robust space-based capabilities, which allow them to find, target, and attack US military forces on land, at sea, and in the air.

The general continued: "Both China and Russia continue to develop, field, and deploy a range of weapons aimed at US space capabilities.

"The spectrum of threats to US space capabilities includes cyber warfare activities, electronic attack platforms, directed energy lasers designed to blind or damage satellite sensors, ground-to-orbit missiles to destroy satellites, and space-to-space orbital engagement systems that can attack US satellites in space."

The UK's Space Command, based at RAF High Wycombe, Buckinghamshire, was set up two years ago with an initial investment of £1.4 billion and now employs 500 people. Other western allies, including France, Germany and Australia, are also setting up military command centres focused on space. US Space Command is based in Peterson, Colorado, and employs 18,000 people.