Prime Minister Narendra Modi said India's successful Moon landing "belongs to all of humanity" as it became only the fourth country to land on the Moon, after Russia, the US and China.
The unexplored South Pole region of the Moon is believed to contain water in the form of ice, along with aluminium, iron, uranium, and the rare earth metal lithium.
The mission was regarded by space scientists as being particularly risky because the area is covered with deep ravines and craters and cloaked in shadow.
The landing comes just days after Russia's Luna-25 mission failed to land in a similar area on Sunday.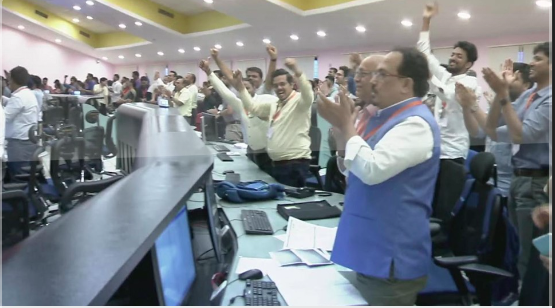 The successful landing was met with cheers and applause from mission control at Satish Dhawan Space Centre.
India's Prime Minister Narendra Modi joined a conference call at the space centre to watch the landing, waving an Indian flag when the spacecraft touched down.
Making a triumphant speech to the Space Research Organisation, he said India's successful Moon landing "belongs to all of humanity".
"This success belongs to all of humanity and it will help Moon missions by other countries in the future.
"I am confident that all countries in the world including those from the global south are capable of achieving such feats.
"We can all aspire to the Moon and beyond."
He was speaking from South Africa, where he is attending the BRICS summit. Prime Minister Modi earlier suggested the creation of a BRICS space consortium.
He said: "We are already working on the BRICS satellite constellation, but to move a step further, we should think about establishing a BRICS space exploration consortium. We must make our societies future-ready to make BRICS future-ready."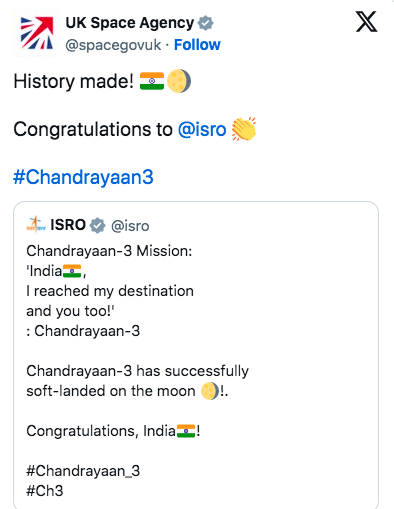 India's previous attempt in 2019, failed when engineers lost contact with the craft.
Chandrayaan-3, which means "Mooncraft" in Sanskrit, launched in July and has been repeatedly orbiting Earth to build up the speed for its journey.
The lander called Vikram, after Indian Space Research Organisation (ISRO) founder Vikram Sarabhai, touched down shortly after 1:30pm BST.
The Chandrayaan-3 mission will last for just two weeks during which time it will run a series of experiments to determine the mineral composition of the moon's surface.
Much of the work will be done by a rover, named Pragyaan, the Sanskrit word for wisdom, which will begin analysing dust and rocks as well as beginning the search for water ice.
Moon landings remain extremely risky and perilous undertakings and most space missions fail.
Luxembourg, Israel, Italy, South Korea, and the United Arab Emirates have all attempted to land on the Moon in recent years but all have failed.