Nuclear security risks are rising across the world for the first time in a decade, an independent watchdog has found.
The safety of nuclear power stations in conflict areas, the threat of nuclear proliferation and the storage of weapons-grade uranium were all examined by the Nuclear Threat Initiative as part of the organisation's annual security index.
Rising geo-political tensions between global military powers have seriously undermined the progress on nuclear security achieved since the end of the Cold War, the report said.
The Nuclear Threat Initiative, a Washington-based watchdog, analyses threats such as weapons proliferation and the storage of uranium as well as the threat from non-state actors.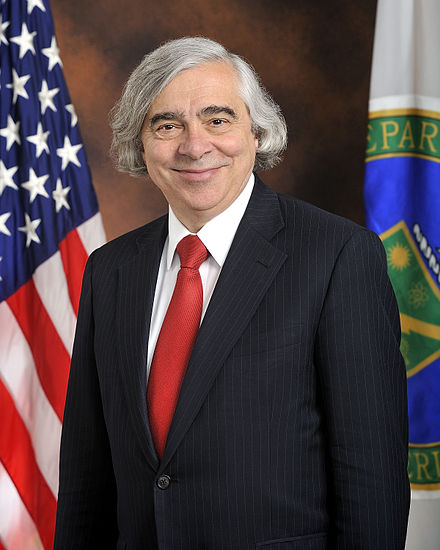 Earnest Moinz Pic Credit: Energy.gov
Earnest Moinz, the Chief executive of the NTI, writes in the introduction to the report that the diminishing global commitment to reducing nuclear risks is deeply disturbing. He says that the issue is unravelling hard-fought progress on nuclear security dating back to the end of the Cold War.
He added: "At a time of dramatic deterioration in global stability and order with political and social unrest paving the way for new forms of violent extremism, the world now likely faces a growing risk that malicious actors could obtain the materials necessary to fashion a nuclear weapon or a dirty bomb.
"And all of this is occurring while overall stockpiles of weapons-usable nuclear materials are increasing at an alarming rate."
The NIT findings follow claims by Dame Barbara Woodward, the British Ambassador to the UN that Russia's decision to invade Ukraine and conduct military operations close to nuclear sites threatened the entire international community.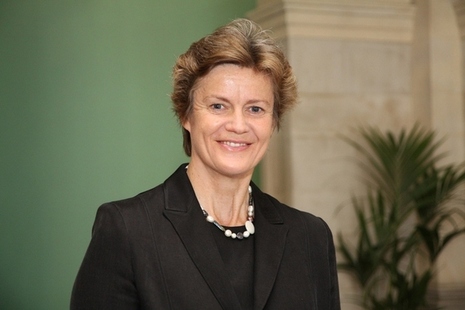 Britain's UN ambassador Dame Barbara Woodward
In a speech at the UN Security Council, of which Russia is still a member, she said: "Since the start of its full-scale invasion, Russia's reckless actions at nuclear facilities across Ukraine have threatened the safety of Ukrainians and the international community.
"Let me be clear, Russia's control of the Zaporizhzhia Nuclear Power Plant is illegal and continues to pose a serious threat to the facility's safe and secure functioning.
"The International Atomic Energy Agency's February report confirmed the continued presence of military personnel and activity across the site, and described a situation that is "dangerous, precarious and challenging".
"Unauthorised military vehicles and stores sit in turbine halls. Landmines in the vicinity of the plant endanger Ukrainian operating staff and delay maintenance work. Supply chains and associated logistics continue to be severely impacted by the conflict, and off-site power supplies remain vulnerable.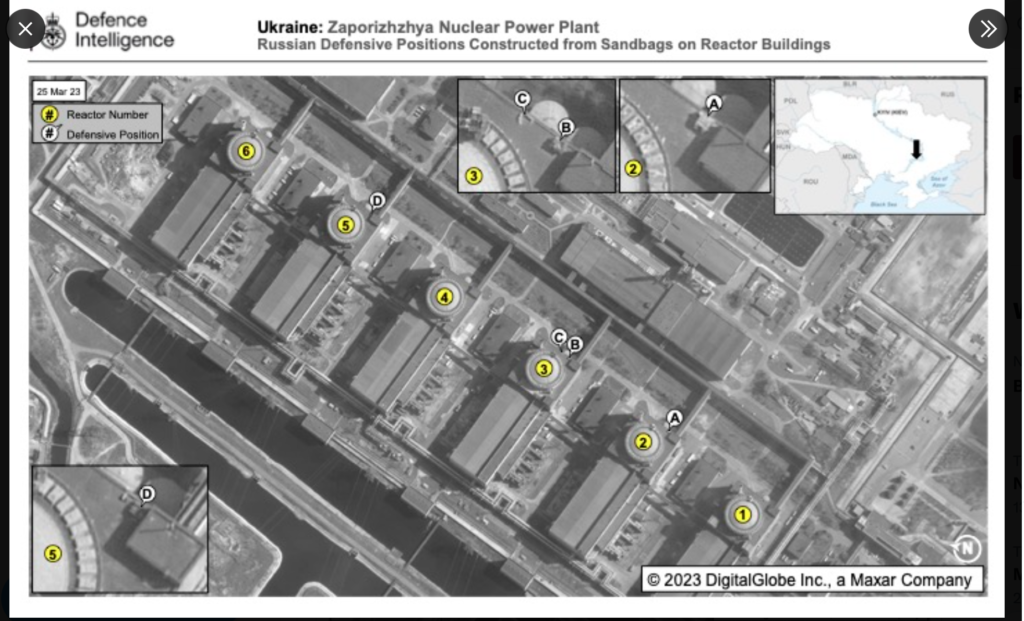 Credit: DigitalGlobe Inc., a Maxar Company
"New imagery shows Russian forces have established sandbag fighting positions on the roofs of several of the six reactor buildings. This indicates they have integrated the actual reactor buildings of Europe's largest nuclear power plant into tactical defence planning."
She also said that Russia's actions in Ukraine had violated 'seven pillars of nuclear safety and security' as set out by the IAEA's Director General Rafael Grossi.
The index also warned of the severe failings in the protection of weapons-grade nuclear material, with "little progress" made since 2020 toward improving security and threat prevention in counties that had it.
More than a third of countries and areas with nuclear facilities were found to have no regulatory measures in place for protecting those facilities during "a natural or human-caused disaster", despite the recent experiences in Ukraine.
The NTI found that stockpiles of separated plutonium are rapidly growing across the world.
Separated plutonium, along with highly enriched uranium, is a type of nuclear material that can be used to make a weapon.
The index found that "since 2019, global inventories of separated civil plutonium have increased by 17,000 kilograms, enough material for more than 2,100 nuclear weapons," mostly due to reprocessing for commercial nuclear plants.
Britain, France, India, Japan and Russia all have high levels of separated plutonium due to its use in nuclear power plants, while the United States also has a high supply due to dismantled nuclear weapons, the index found.
Iran and North Korea, two countries at the centre of geopolitical fault lines over their nuclear programs, were ranked last in the index for their ability to protect nuclear sites from theft or sabotage. The report found that risk environments had worsened in 12 of the 22 countries with weapons-usable nuclear materials, largely due to worsening political instability and rising illicit activity by non-state actors.
There are some areas where security efforts are improving. The index finds that many countries in the global south have improved in their rankings, perhaps showing that nuclear security is less about wealth and more about effort and attention.
Recent years have seen a sustained movement away from the use of highly enriched uranium, one of the materials that could be used to create a nuclear weapon.
Most countries have switched to using low-enriched uranium, but in 2021 Iran became the first country in almost two decades to produce it.