Dennis Rice, reporting from the Senate, Washington DC.
China is facing an extraordinary double whammy of sanctions over its aggression towards Taiwan and what one of the Ukraine's most powerful politicians termed as its "hypocritical" stance over the former Russian republic.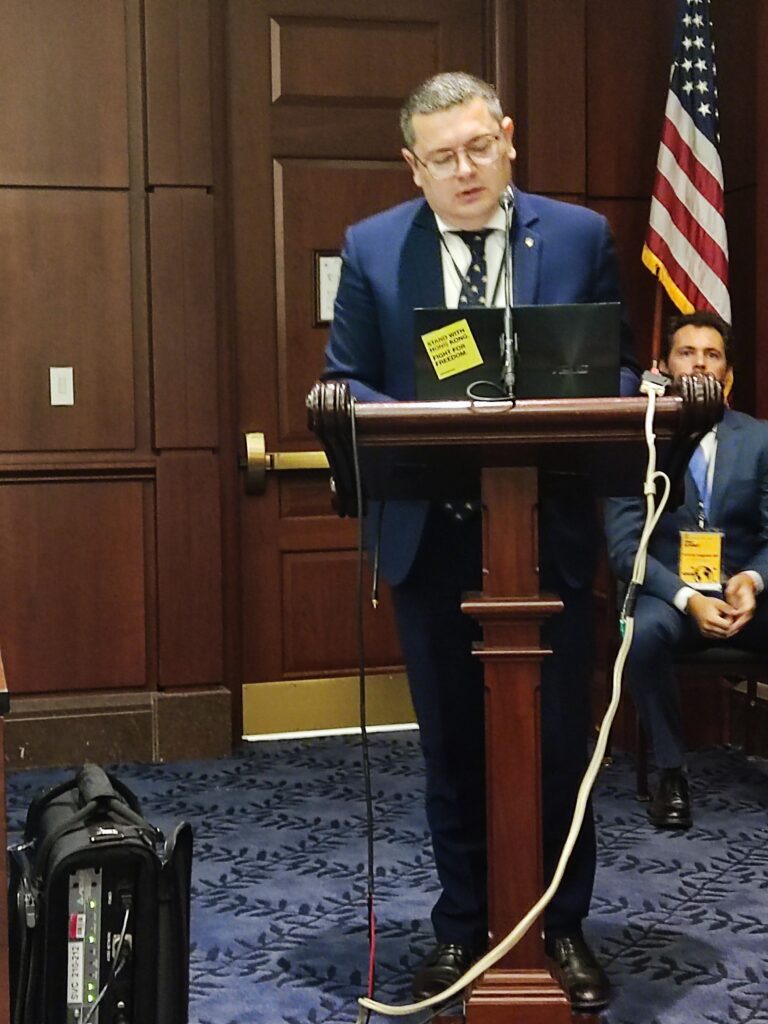 After addressing a historic meeting of representatives from pacific nations at the Senate, organised by the Inter-Parliamentary Alliance on China (IPAC), Aleksandr Merezjko, Chair of the Ukraine's influential Foreign Affairs Committee, spoke exclusively to NSN, saying he and his fellow Ukrainians felt "utterly betrayed" by their former close trading partner.
Merezjko earlier told a packed press conference at the IPAC event that Ukrainians had not been fooled by China's public claims that it was adopting a neutral position over the Russian invasion of the Ukraine.
Speaking to NSN afterwards, Merezjko, became emotional as he spoke of how China's continued buying of Russian oil and gas, while at the same time as hypocritically claiming neutrality, had helped fund the war against his homeland and indirectly resulted in the loss of thousands of lives, along with whole towns and cities.
Now he will work with the Ukraine's global partners to introduce secondary sanctions against China over its support for the Russian war against the Ukraine, which would follow hard on the heels of what appears to be certain sanctions against the Chinese over Taiwan.
Merezjko, a former professor of international law who only entered politics three years ago, promised that China would come to rue the invasion as much as Russia is now beginning to.
In a wide-ranging interview, he said it was also time for Western corporations, most notably firms in the UK and the US, who had made billions from trading with China and Russia, to address their consciences and help with the rebuilding of the Ukraine, either in terms of financial reparation or helping Ukrainian businesses and young people displaced by the war.
Merezjko said: "It is very easy to ruin us. Almost half of our economy has been ruined. We will need a lot of support, continuous support. Finance is important but also an investment in human capital in the rebuilding.
"Private businesses from the UK, the US, and elsewhere can help us address what might be one of the biggest future challenges – how we recover from the potential loss of a whole generation. They can help by investing in us so that jobs can be created which would encourage our young people to stay and assist in the rebuilding of our country.
"Those private companies engaged in producing military hardware can also help us to defeat Russia in the short term."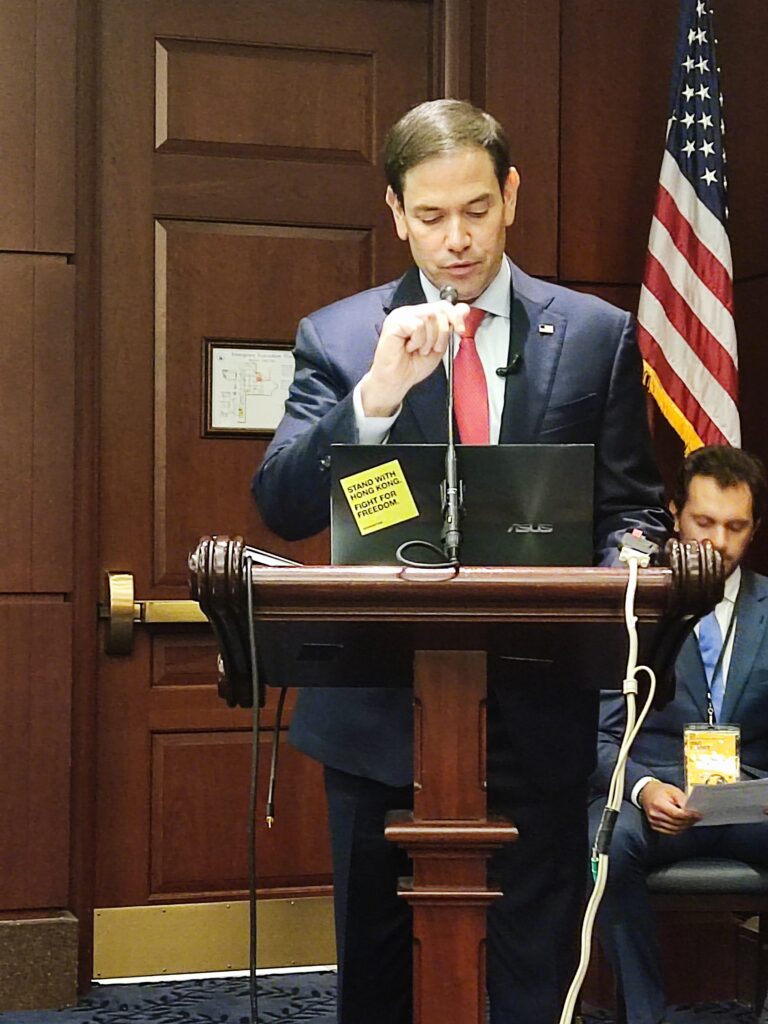 On the message he would like to send to western corporations who have made billions from trading with China, leading to a belief by the PRP that it was insulated against sanctions, as Senator Rubio told the IPAC meeting earlier, Merezjko said: "Of course we are interested in the economic isolation of Russia, and these countries should not help Russia undermine sanctions because it is immoral. Russia has committed genocide against the Ukrainians, and to us it is like Nazi Germany.
"At the same time, I understand that some of these corporations have to trade, we ourselves had China as a significant trading partner, but I would encourage these companies to attract more civilised capital. To trade more with western countries and to at least reduce their dependencies on China. You know, we are asking Germany to reduce their dependency on Russian gas, it is also logical to ask ourselves to review our trading relationship with China."
On how he felt about China's claims to be neutral, Merezjko gave an impassioned response: "I experienced life under Soviet rule for 20 years. To me China is like a Soviet country, only worse because they have more technology.
"They claim to be neutral and yes it makes me emotional. The Chinese pay money to Russia's war machine, which kills us. It makes me very angry. They are helping kill our soldiers and decimate our cities, and to me that is unacceptable.
"That is why I am in favour of introducing secondary sanctions, and while I am in Washington and afterwards I will be working very hard with our Western partners on this. Against China, and against India unfortunately, because I liked India very much. I lived there for one year. Secondary sanctions should be introduced against China and India by Western countries. Then perhaps they will rue what they have done as Russia is beginning to do now."
Sir Iain Duncan Smith MP was also at the event, having formed IPAC with his parliamentary colleague Baroness Helena Kennedy QC. He was one of the first Western politicians to be put on the Chinese sanctions list.
He too predicted that China would come to rue its coveting of both Taiwan and its attempt to undermine western sanctions against Russia by the West over the Ukraine. "Xi Jinping is already on uncertain ground over its appalling handing of COVID, which has cost millions of lives," Sir Iain said. "Losing face over Taiwan and also being potentially sanctioned over its support for the Ukraine as well starts to make his position just as questionable as that of Vladimir Putin in Russia. Now wouldn't that be a thing if they both ended up going over this?"