MI5 has created a new "Minority Report" research centre designed to combat the "insider threat" posed by traitors working for Russia and China.

The top-secret unit will be staffed by a team of forensic and clinical psychologists under orders to root out agents planted inside Britain's intelligence services by hostile states.

The psychologists will also play a role in recruiting and vetting MI5 and MI6 officers, as well as monitoring members of the intelligence agencies involved in what are described as "high risk" roles -meaning spies responsible for recruiting foreign agents and those officers involved in undercover operations.

Intelligence sources have said that the move to create a new research centre follows repeated attempts by China and Russia to infiltrate MI5, MI6, GCHQ, and other sensitive government institutions.

Both states have been actively trying to acquire Britain's national secrets for decades, either by using double agents or more recently, by computer hacking.

In January, MI5 issued a rare warning that an alleged Chinese agent had infiltrated Parliament to interfere with UK politics.

The security service said Christine Ching Kui Lee "established links" for the Chinese Communist Party with current and aspiring MPs. She then gave donations to politicians, with funding coming from foreign nationals in China and Hong Kong.

Most British executives, especially those involved in the defence, energy, or technology industries, who routinely travelled to or had dealings with China and until recently Russia, would be routinely briefed on the potential security threats they might face.

These could be, for example, having their hotel rooms bugged, phones and computers hacked, being the target of blackmail, or even forced into working for their intelligence services.

The advice given to senior executives would be, for example, not to take their personal phones or computers to a potential hostile state; assume you are being closely monitored both visually and electronically; and never assume that a beautiful woman sitting alone in a bar who suddenly makes conversation with you is simply fascinated by "your personality".

But, according to security sources, more recently, a fear has emerged amongst Britain intelligence chiefs that certain hostile states might attempt to recruit serving members of either MI5, MI6, or GCHQ. Although the risk is small, the heads of the agencies are obviously of the opinion that there is
no room for complacency.

To combat this potential threat, MI5 is recruiting a team of forensic, and clinical and forensic psychologists to help protect the UK intelligence agencies from the so called "insider risk".

The psychologists, known as the mind readers within the intelligence and security agencies, will attempt to identify members of Britain's intelligence services believed to be at risk of being recruited as double agents working for foreign states.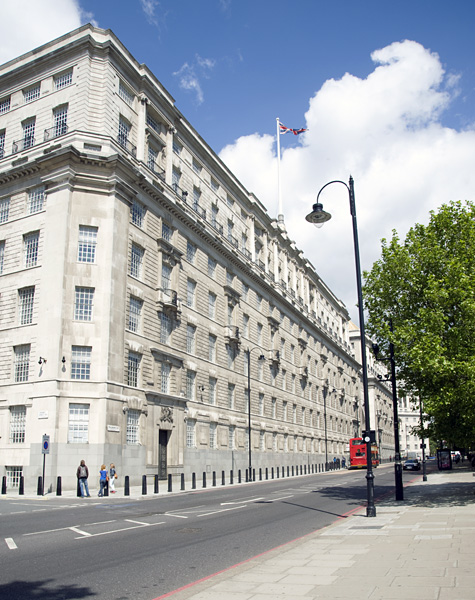 The new centre will form part of the Behavioural Science Unit (BSU) at Thames House, the headquarters of MI5 on the north bank of the Thames in London.

The existence of the new research unit was revealed in a recruitment advert on MI5's website.

The advert says: "As part of an expansion of the Behavioural Science Capability across the UK Government, we are establishing a new Research Centre.

"This behavioural-science-led cross-agency centre will undertake research and develop and deliver robust, evidence-based interventions to help the UK Intelligence Community, wider Government and industry partners to better identify and mitigate insider risk.

"We are seeking to recruit an experienced Consultant Clinical Psychologist with extensive research experience to specialise in the application of clinical psychology to internal security and risk.
"The role will bridge the research-practice interface between the new Research Centre and day to day clinical practice in UK Personnel Security Vetting. It will also identify opportunities for improvement in Personnel Security practice through innovation.

"The role will involve some national and international travel, so flexibility to be away from home for short periods of time may be required. Candidates will be given notice of travel in advance."

The advert also says that the psychologist will work with individuals in high-risk roles – such as agents involved in deep undercover operations.

Colonel Phil Ingram, a former military intelligence officer, said: "Russia and China have been trying to penetrate Britain's intelligence and security agencies. The research unit will be enhancing the security agencies' ability to counter any potential penetration attempts.
"The psychologists will be used to get a better understanding of all threats facing the UK whether they are hostile states, organised criminals, or terrorists. Examining their behaviours gives real insights to how they operate, their motivations, their strengths, and importantly, their weaknesses. They will help spies protect our secrets, intercept our enemies, and potentially recruit better agents."

The move to create the new research centre builds on the success of using criminologists, psychologists, anthropologists, and academics to "get inside the heads of terrorists" to establish whether people flagged as potential threats are "talkers or walkers", those who simply boast or those who are preparing to act.

The BSU has helped to foil in the region of at least 12, but possibly many more, terrorist attacks.

The team is passed intelligence by officers that is gleaned from a network of informants and the public. They then look for signs of unusual activity, such as an increasing sense of grievance, a desire to acquire skills and tactics, an attempt to identify material for their plans and logistical practice and
trial runs".

The BSU has now developed a database of knowledge from studying atrocities. For example, Roshanara Choudhry, who stabbed the MP Stephen Timms in 2010 after being inspired by al-Qaeda, let slip clues about plans for a big change in her life before the attack.

As well as quitting an English and Communications course at King's College London, she settled her student loan, fearing her parents would be liable for the debt, and emptied her bank accounts to stop the authorities having access to her money.

Research by MI5 shows more than 60% of so-called lone wolves unwittingly provide clues that they are preparing to strike. The work of the BSU involves picking up signs of such changing behaviour.
Not surprisingly, attempts to predict a crime before it happens has led to comparisons with the Hollywood science fiction blockbuster Minority Report.

In the film, the police use psychics to identify criminals before the crimes are actually committed.

Officers then arrest the criminals just minutes before the crimes are committed.
MI5's psychologists will attempt to pick up on signs of changing behaviour such as joining radical chat groups online and carrying out dry runs of a possible attack.

They will monitor online or use MI5's close observation units to monitor suspects' behaviour to see if it fits the terrorist profile.

Col Ingram said the intelligence agencies were recruiting clinical psychologists because "people are at the core of all they do." He added, "The need to ensure their workforce has the ability to handle the stresses of working with highly classified, sensitive and sometimes harrowing material.

"They need to be able to read people in a way to ensure they are not hiding anything that could lead to them being compromised by foreign hostile intelligence services or have anything in their personalities that could leave them vulnerable to exposing secrets.

"The other role GCHQ needs clinical psychologists for is to be able to assess people for their cyber vulnerabilities.

"We all know the person who knows their way round the procedures in the office that make it difficult to print, to access files, or save them for home working.

"Identifying that person so that risk mitigation measures can be specifically targeted requires a detailed understanding of all the people in the office. Psychologists are the only way to do this credibly.

"When it comes to understanding the behaviour of potential hosting groups or individuals and how to influence that behaviour then psychologists can be used to analyse people and suggest ways of manipulating their thinking by 'hacking their serotonin."