Porton Down scientists probe secrets of Russian "stealth" tank – helping Ukraine forces down even more
Intelligence chiefs have uncovered the secrets of Russia's most sophisticated operational tank after a virtually intact T-90M was captured by Ukrainian forces. Western scientists are examining in minute detail every aspect of the $5m (US dollar) tank, including its specialist armour, sensors and targeting systems.

The development follows the capture of a T-90M in almost perfect condition after it was abandoned by fleeing Russian troops late last month following Ukraine's lightning offensive in the Kharkiv region.

Specialist teams of scientists, understood to include British and US experts, have been examining the vehicle at an undisclosed secret location believed to be in Western Ukraine or Poland.

The scientists are gathering vital intelligence on the tank's sophisticated defence systems, which includes Nakidka stealth material that absorbs heat and radio signals, potentially cloaking it from Nato surveillance aircraft while offering protection from precision-guided missiles.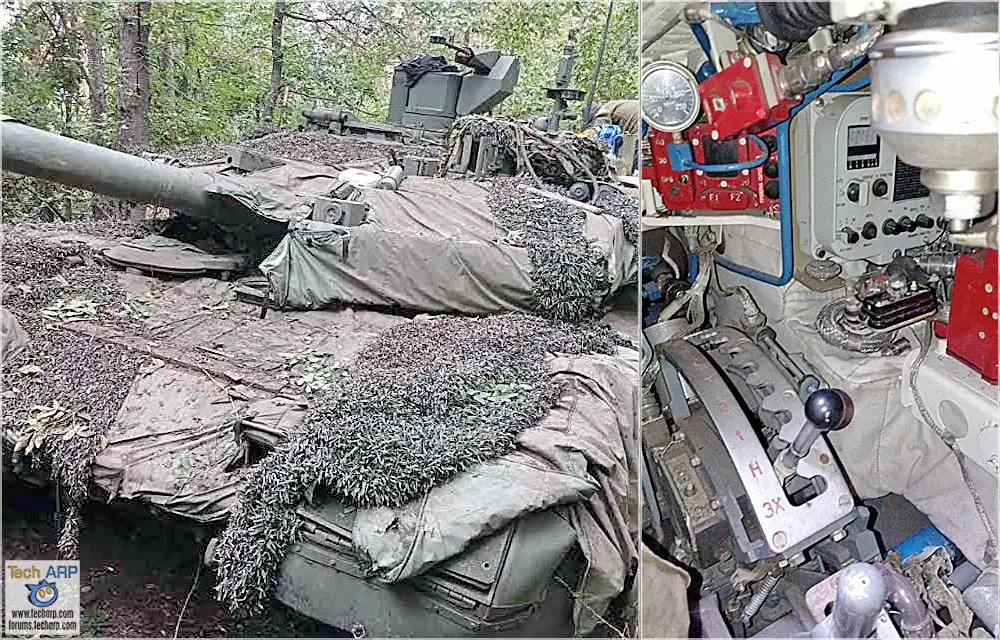 The Ukrainian Defence Ministry announced this gift on Twitter, cheekily asking its crew to surrender:
A senior defence source told National Security News: "This is a prime example of battlefield exploitation. Finding an intact T-90M will allow us to have a good look at every aspect of the tanks sensors, armour and weapon systems and hopefully exploit the tank's weaknesses. That intelligence will quickly be shared amongst our allies which will prove vital in future engagements."

It is understood that the intelligence reports on the tank's active protection system called Afghanit, which can intercept missiles at short range, will be given to Nato allies and to the Ukrainian defence ministry.

The T-90M, which has a crew of three, has the standard explosive reactive armour but its main metal composite protection was a secret.

Intelligence reports will also be written on the T-90M's computerised fire-control system as well as the 125mm guns' ability to fire guided shells, which have a longer range and are up to 20% more accurate than Russia's standard tank guns.

The tank has the latest Russian aiming device where the tank commander uses a panoramic sight with thermal vision to track targets: something that's standard on most Nato systems.

The vehicle also has an upgraded weapon system with a revised autoloader, which can fit longer projectiles, with much greater penetration than the standard T-90 variant developed in the nineties.

Just days after the tank was captured, Ukraine's Ministry of Defence tweeted photos of the T-90 and mocked Russia, saying: "The newest Russian tank T-90M was found in Kharkiv region in perfect condition. We ask its owner(s) to contact the #UAarmy. Please identify yourself by a sign: a white flag."

Brigadier Ben Parry, a Russian military expert, said: "This will add to the information that the West has gained by its access to captured Russian equipment that include missiles that have crashed in Ukraine without exploding.
"Like the tank, we will now be able to analyse those in detail and work out better ways to stop them."

Intelligence chiefs had thought that the Russians were holding back their advanced T-90Ms, which only became operational in April 2020, for fear they would be needed in a wider conflict with Nato. The T-90M was deployed to the frontline after Russia began to take heavy tank losses, which included 380 captured intact by Ukraine.
While the Russians have ordered 400 of the new tanks, it is believed only 40 have been delivered to the 1st Guards Tank Army, which receives the latest equipment, as it is supposed to defend Moscow and is the most loyal to President Vladimir Putin.

At the start of the war in Ukraine, the Russian military deployed older-generation tanks such as the T-72 and T-80, which were built more than 40 years ago. They proved to be vulnerable to portable anti-tank weapons supplied by Nato and to armed drones such as the Turkish Bayraktar TB2. Hundreds of T-72s and T-80s have been destroyed.


The T-90M was first brought into Ukraine in April, although only in small numbers. Russia's T-14 Armata is more technologically advanced but not yet officially operational.


The T-90M, also known as the Proryv-3 (Breakthrough-3), is not revolutionary in terms of design. The first T-90 model entered service with the Russian army in 1992, with the T-90M version becoming operational in April 2020.


Meanwhile, it has emerged that the UK and the US are to supply Ukraine with hundreds of air defence weapons, which can help protect against Russian air strikes.


The move came after Russia launched a series of missile strikes against several Ukrainian towns in the wake of an attack on the Kerch bridge in the Kerch Strait, Crimea, which Putin blamed on Ukraine's intelligence services.


The 12-mile (19 km) road and rail bridge, a prestige project personally opened by Putin in 2018, had become logistically vital to his military campaign, with supplies to Russian troops fighting in south Ukraine being channelled through it.


Ben Wallace, the British Defence Secretary, announced that the UK would provide Ukraine with advanced medium range air-to-air missiles (AMRAAM) – the first provided by the UK, which can shoot down cruise missiles. Alongside the US-provided National Advanced Surface-to-Air (NASAMS), the weapons will help Ukraine protect its national infrastructure.


Wallace said: "Russia's latest indiscriminate strikes on civilian areas in Ukraine warrant further support to those seeking to defend their nation. So today I have authorised the supply of AMRAAM anti-aircraft missiles to Ukraine.


"These weapons will help Ukraine defend its skies from attacks and strengthen their overall missile defence alongside the US NASAMS."


Hundreds of additional air defence missiles will also form the package, as well as hundreds of aerial drones and an additional 18 howitzer artillery guns.


Boosting Ukraine's air defences has been a key priority for UK military support, having so far provided a number of air defence systems. This has included Stormer vehicles fitted with Starstreak launchers and hundreds of anti-air missiles.


Alongside the military aid, the Defence Secretary urged his Nato counterparts to continue supporting Ukraine for as long as necessary as they review the decisions implemented following the Madrid Summit.


The meeting in Brussels will also be the first time Finland and Sweden will attend as official invitees.


Also set to be discussed is the defence industrial capacity, ensuring Nato allies can increase the production and stockpiling of munitions to allow for the continued support of Ukraine. The recent sabotage of the Nord Stream pipelines will also be discussed, as well as how to prevent future attacks on critical infrastructure.


British intelligence chiefs have also revealed that Russia is running out of men and equipment and, crucially, has very limited stocks on winter clothing for combat troops.
In a speech, Sir Jeremy Fleming, the director of the Government Communications Headquarters (GCHQ), warned this week that Ukraine is successfully "turning the tide" against the "exhausted" Russian forces, who are running out of ammunition.


He added that the Russian people are beginning to understand just how badly Putin and his "flawed" decision making have misjudged the "courageous reality of the Ukrainian defence."


He said: "So, far from the inevitable Russian military victory that their propaganda machine spouted, it's clear that Ukraine's courageous action on the battlefield and in cyberspace is turning the tide."


Giving the annual security lecture for the Royal United Services Institute (RUSI), the defence and security think tank, the intelligence chief said that Russian "gains are being reversed" at a "staggering" cost to Moscow in terms of people and equipment.


Fleming said: "We know – and Russian commanders on the ground know – that their supplies and munitions are running out.


"Russia's forces are exhausted. The use of prisoners to reinforce, and now the mobilisation of tens of thousands of inexperienced conscripts, speaks of a desperate situation."

He went on: "The Russian population has started to understand that too."


"They're seeing just how badly Putin has misjudged the situation. They're fleeing the draft, realising they can no longer travel.


"They know their access to modern technologies and external influences will be drastically restricted. And they are feeling the extent of the dreadful human cost of his war of choice."
Tagged:
intelligence
russia
united kingdom