CHINA has been accused by the United Nations of large scale imprisonment, systematic rape, enforced sterilisation, and torture against the Muslim Uyghurs and other minorities.
An explosive report by Michael Bachelet, the UN High Commissioner for Human Rights, details credible evidence that China's government is committing serious "crimes against humanity."
Among the UN's findings is that a "pattern of large-scale arbitrary detention" occurred in Xinjiang's detention centres from 2017 to 2019.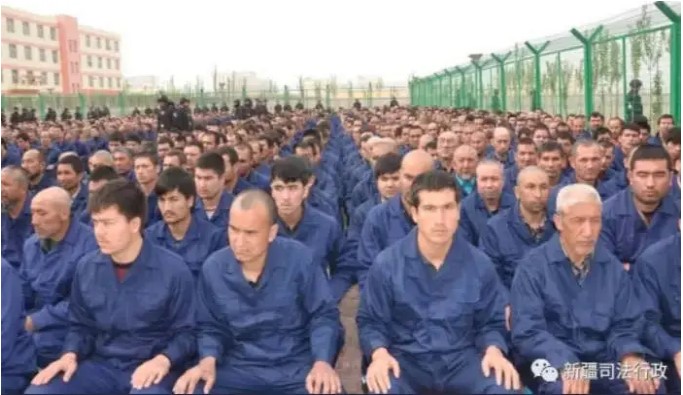 The 48-page report also reveals policies supporting forced labour.
China slammed the report as "manufactured," claiming it is completely illegal and invalid, insisting it serves as a political tool for western forces and anti-China countries to smear Beijing and use Xinjiang to contain China.
China maintains that what is happening is a security measure to prevent violence from militant Uyghur separatists.
This is not the first time China has been accused of carrying out such atrocities and is just one of the many reports detailing the human rights abuses carried out against the Uyghur minority population.
This report differs, however, in that it not only carries the weight of the UN but gives credibility to previous reports and confirms all allegations from various sources in the last five years.
Those campaigning for justice are hoping it will mark a turning point.
With the growing weight of testimony of victims and witnesses, and now the availability of high-resolution satellite imagery spanning the sheer scale of camps and detention centres, China is finding it increasingly difficult to hide.
The Chinese government previously denied the detention camps, dubbed as "re-education" camps, even existed but has since shifted to defending its actions as a reasonable response to a national security threat.
"What we're seeing here is a breach of human rights that is of such a scale that we haven't seen since the post Tiananmen Square crackdown in China," said Fergus Ryan, an analyst and China expert at ASPI's International Cyber Policy Centre.
China Director at Human Rights Watch, Sophie Richardson, says the UN report severely downplays the severity of the Chinese Communist Party's crimes by forgoing the use of the word "genocide", not disclosing the number of Uyghurs incarcerated and leaving out any mention of "organ harvesting".
Human rights groups want criminal prosecution and accountability to be the next step.
Several calls now have been made for an urgent international response and for member countries to put China firmly on the agenda at the upcoming Human Rights Council.
Action needs to be taken in the form of targeted sanctions on Chinese officials, legislature of imported goods, further investigation into claims of sterilisation and recommendations on actual persecutions.
Amnesty International's Nikita White said although the UN's report conclusions were "really strong and really serious", to allege genocide, the UN would have to prove intent which would be near impossible when access to Xinjiang is restricted.
The Uyghur people are hoping for more than just questions, they need answers about what has happened to their families.
The evidence of a state sponsored programme of torture and human re-engineering is now in front of those who can do something about it, and it is now up to the UN and its member countries to stand ready to support the people of Xinjiang in addressing the issues and recommendations set out in its report.